Saunastore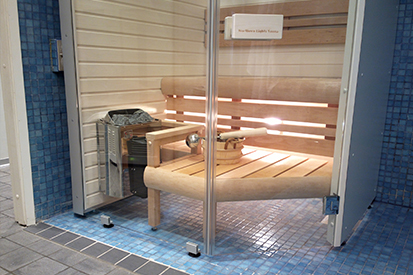 A sauna can fit in nearly any space
TEXT:ANNE KOSKI-WOOD | PHOTO © TAPANI AHO
Ever dreamt of transforming your bathroom or poolside into a spa by adding a sauna? It is not complicated. Just send your measurements to Saunastore and they will do a free 3D-plan of your space with a sauna.
The ready-made sauna package will be delivered to your door and can be assembled in a couple of days. Sound easy? "We have over 20 years of experience in designing and delivering saunas," says Saunastore's CEO, Tapani Aho. "We look after our clients every step of the way, from design to assembly. We are Finns, and the sauna is part of who we are."
Saunastore only has its own designs in its sauna collection. Aura is the most popular, a traditional Finnish sauna with modern, spacious, Scandinavian design with a lot of glass. A new model Aho is specially proud of, is Northern Lights Sella. Sella is built around really comfortable sauna chairs and has both a traditional stove and infrared as a source of heat. "I think the sensory impressions are very important for enjoying a sauna. You need to throw some water on the stove to see and hear how it sizzles," he says.
In some cases, the most suitable place for the sauna is in the back garden, on a patio or next to a swimming pool. "Very often, you don't need planning permission for our saunas," Aho says.
You can also find sauna accessories from Saunastore, such as high-quality linen and sauna pillows.
Subscribe to Our Newsletter
Receive our monthly newsletter by email