Sidsel Hanum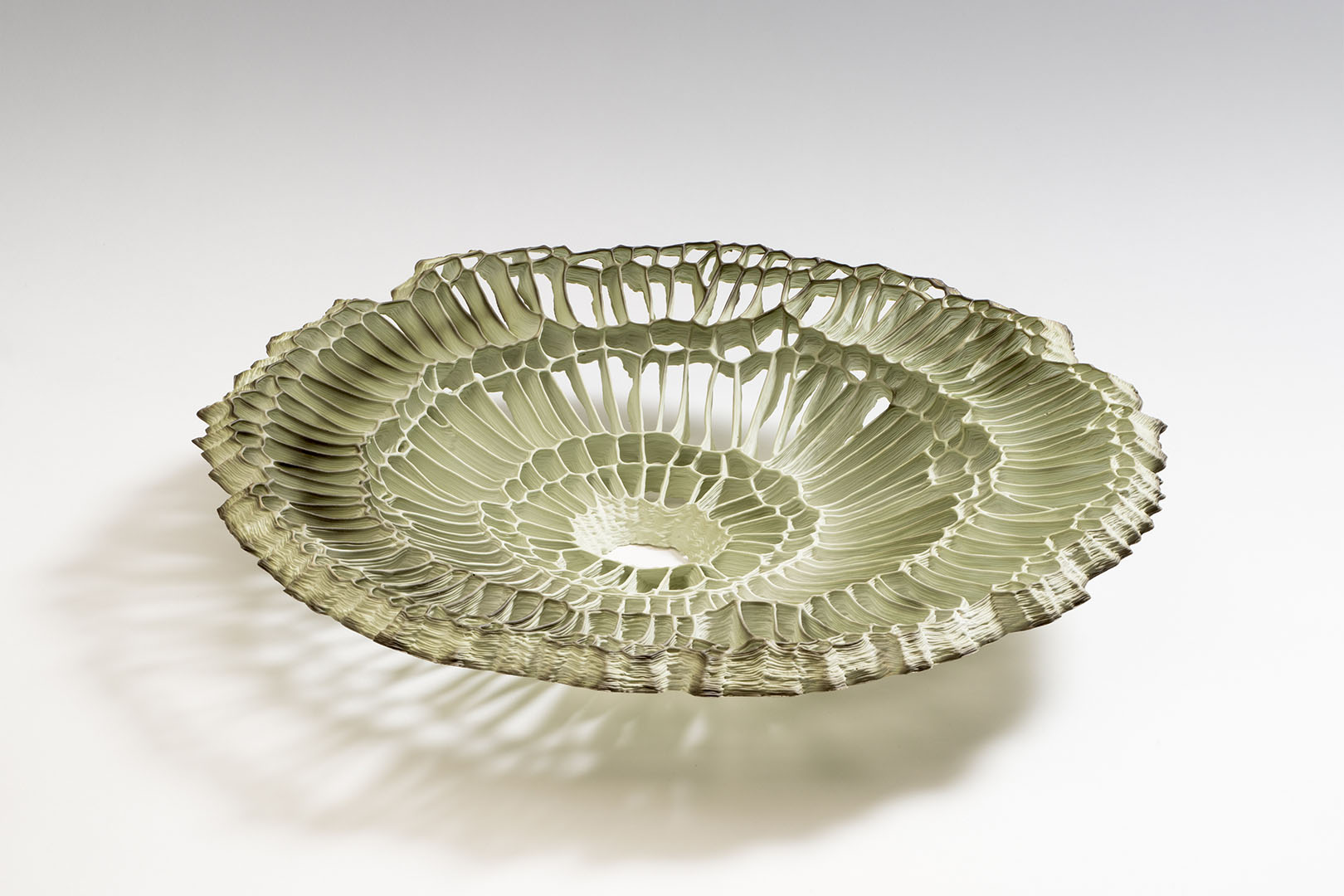 Layered expressions – pushing the boundaries of ceramic arts
TEXT: JULIE LINDEN | PHOTOS: DANNEVIG FOTO AS
Basing her artistic craft in the ancient tradition of ceramic mends, Sidsel Hanum has become a household name among Norwegian ceramists. With a multifaceted skillset she has forged a distinct and exploratory path for herself, inspired by old and current events, elements of nature as well as their universally applicable patterns.
A career artist since graduating from the Academy of the Arts in Oslo in the beginning of the '80s, Hanum is aware that she is more than averagely interested in art – and it shows in her enthusiastic way of speaking about her craft. "I have always been an artist, always working with clay, pottery and porcelain… it's what I need to do, the craft speaks to me," she muses.
The Niniveh Garden. Porcelain, slip trailing in a mould, sprayed with water and then coloured with the metal chlorides cobalt and chrome. Fired to 1,130 centigrades in a reduction oil-firing.
Together with her husband, Arve Rønning, an artist in the realm of sculptures, she works out of her studio on Borøy island outside Tvedestrand in southern Norway – a beautiful place that comes with a natural proximity to nature and its oeuvres. "It's a gorgeous place – I love it here. I love having my studio so close to the water, I feel perfectly in tune with the different elements of nature; I think that shows in my art."
Wandering and wondering
While Hanum also creates wheel-thrown pottery, her notability has emerged from the distinctive technique of ceramic mending. Utilising this technique in innovative, new ways, including a particular kind of string layering, she found herself taking her art in a brand new direction.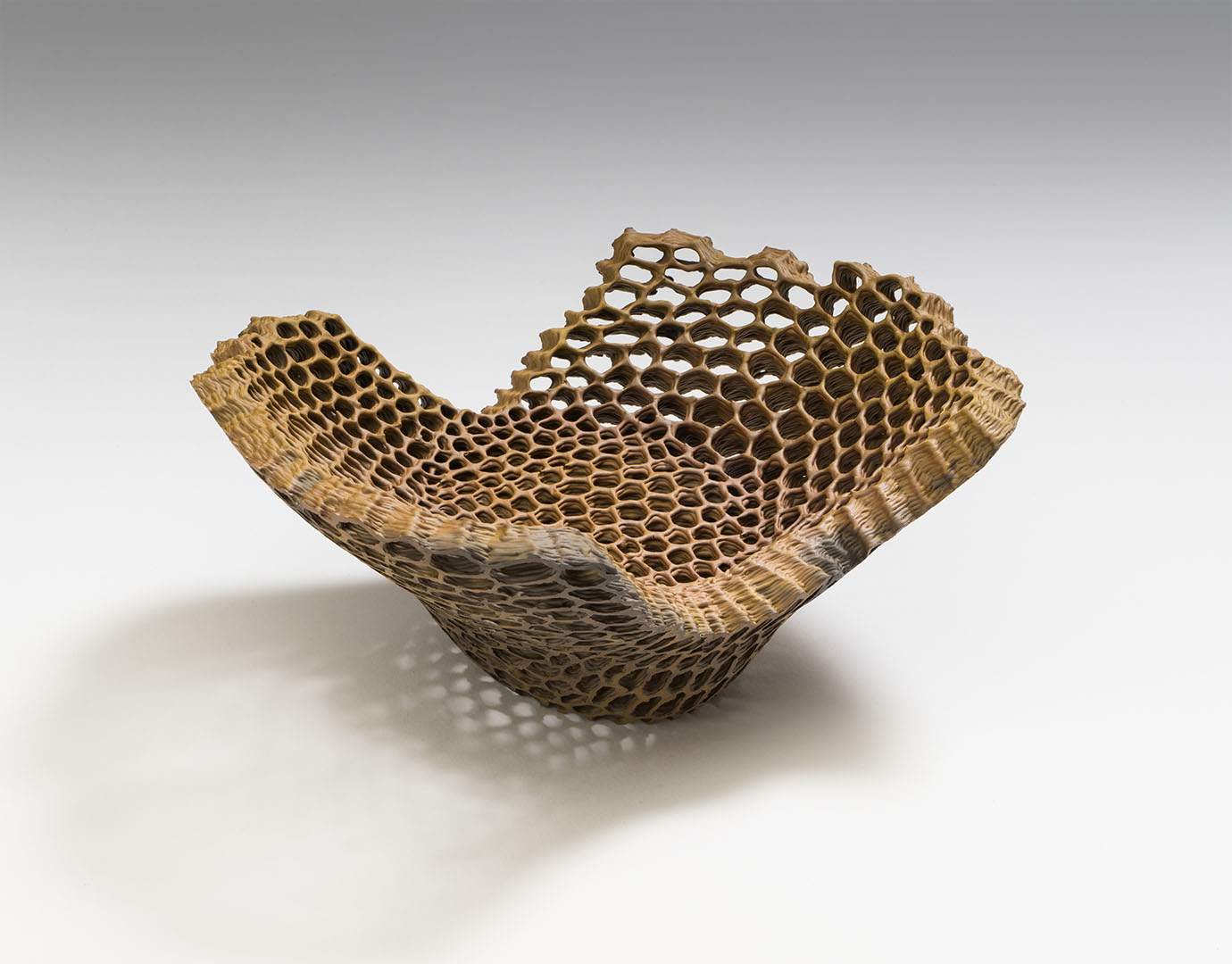 The Bumblebee-Room. Porcelain, slip trailing in a mould, coloured with the metal chlorides iron and titanium as a mix, and copper. Fired to 1,130 centigrades in a reduction oil-firing.
"Earlier exhibitions and grants have allowed me to dive deep into this form of art making, giving me the opportunity to develop this technique in a new way – and for new purposes. I enjoy going on journeys within the craft, allowing myself to wander off, finding new solutions along the way. I think it's through this process of discovery that new, wonderful kinds of art are created."
Constructions of surprise
She explains that she works long hours, often letting the art emerge as it sees fit. Using strong colours and agents, she is particularly motivated by the diversity and surprise element of her work. "You can't force anything, and you never really know what you'll end up with. Copper tones – when oxygen is extracted – will turn red… and layered colouring will make for a surprising element no matter what," she laughs.
While approaching the fluidity and flexibility of ceramics with a keen curiosity, Hanum has made careful construction and layering her signature expression. "There is a slow and meticulous process to this technique, grounded in the element of construction. I build things, in many ways. This is where my surroundings come into play yet again, as I view everything around me as a construct of some sort."
All the Oakleaves. Porcelain, slip trailing in a mould, sprayed with water and then coloured with the metal chlorides titanium and copper. Fired to 1,130 centigrades in a reduction oil-firing.
An American hurricane, an Iraqi garden
She explains that stories from around the world, particularly Asia and America, inspire her greatly. A keen radio listener, she recalls working in her studio while news broke of the onset of Hurricane Irma in 2017. "It was an instantaneous, spontaneous reaction," she says. "I kept taking in stories of the hurricane's destruction and came up with the title Irmas Øye ['Irma's Eye'], from which I created a brand new piece."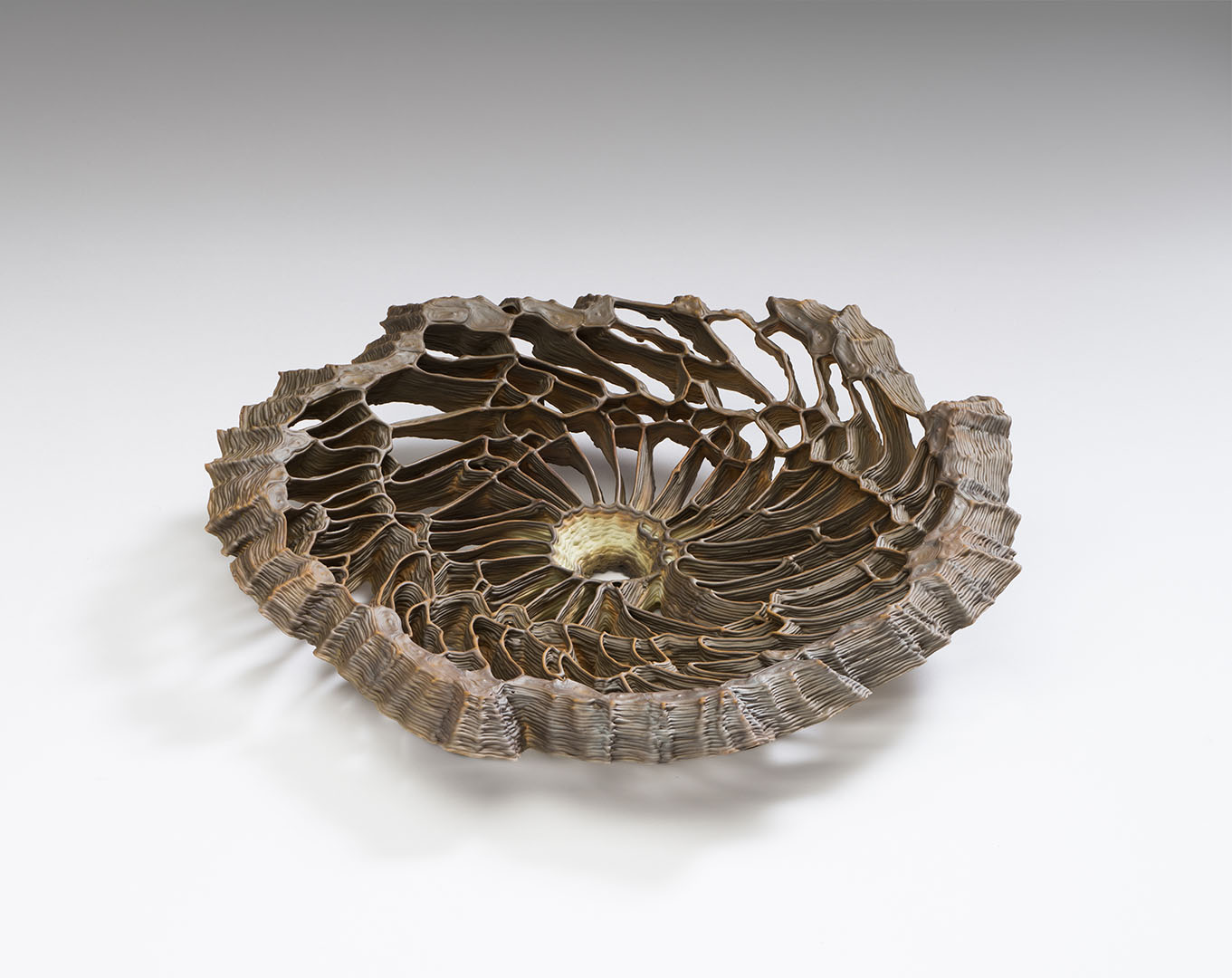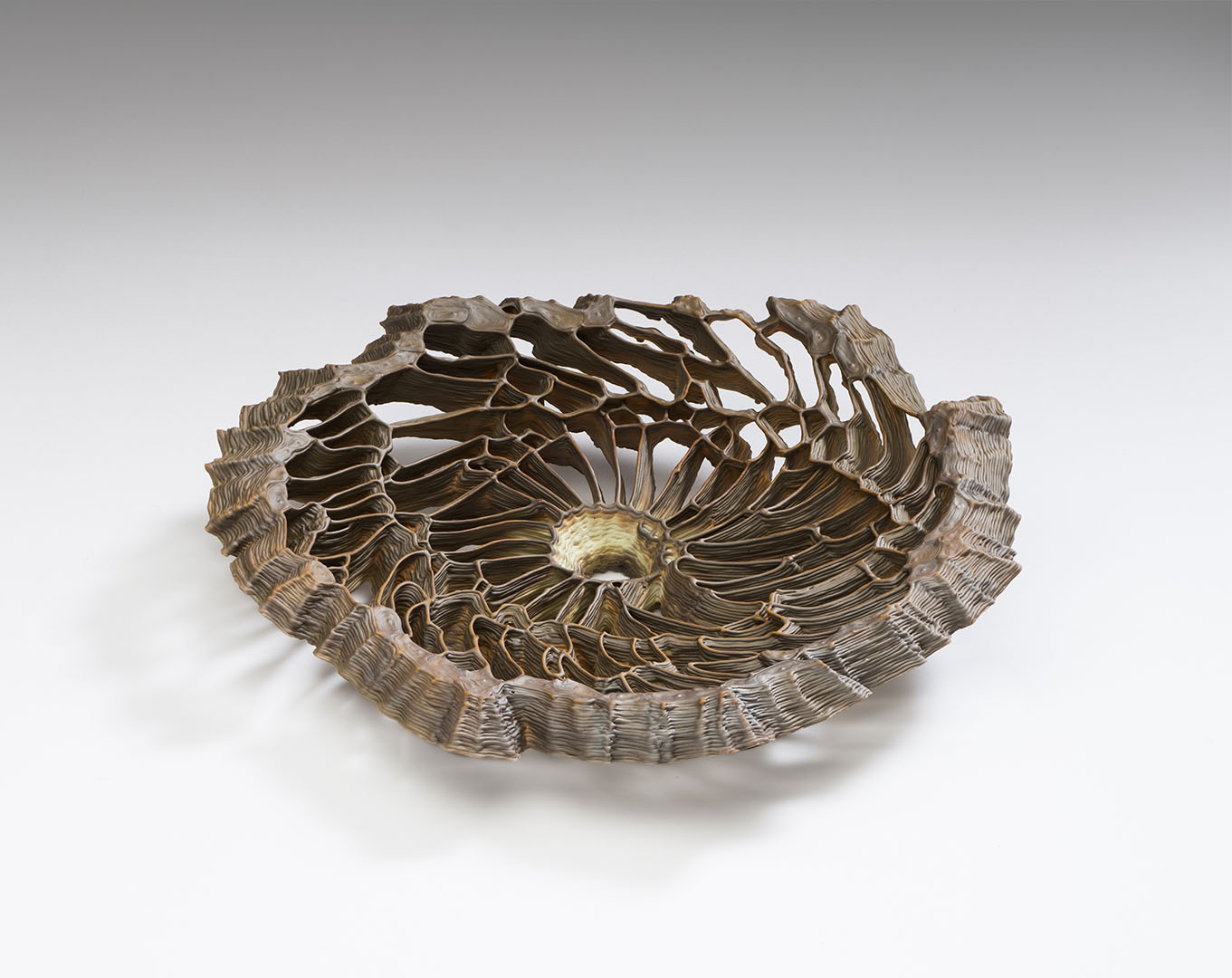 Sidsel Hanum Irmas Øye ('Irma's Eye')
Similarly, Humlerommet ('The Bumblebee-Room') came to her as a meditation on the threat of endangerment to the bumblebee species, and The Niniveh Garden was inspired by the destruction of the Hanging Gardens in modern-day Iraq. "I like using news stories from near and far in my work, simultaneously reflecting on their importance," she says, underlining her deep respect and appreciation for cultural complexities and diversity.
Sidsel Hanum is the first ever recipient of Finn Erik Alsos' Memorial Prize (2018). In 2015, she was awarded Tvedestrand's Culture Award, and in 2010 she received The Craft Prize from the Relief Fund for Visual Artists and the Culture Award from Aust-Agder County.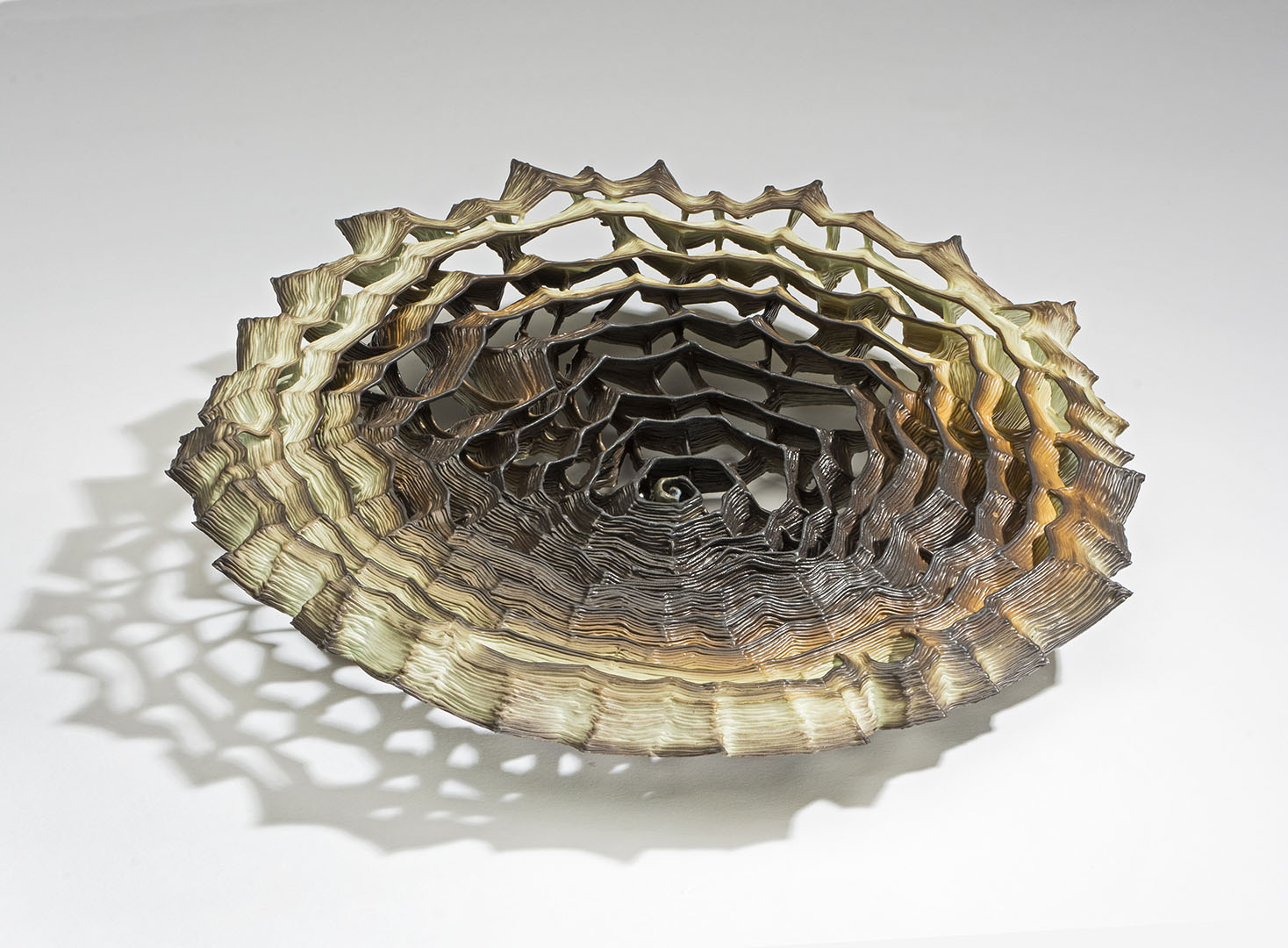 The Wavecatcher.
Experience Sidsel Hanum's art in 2019:
Hanum will exhibit her works at Kunstnerforbundet gallery in Oslo between 24 October and 24 November 2019.
View Hanum's art at House of Norway at the Museum Angewandte Kunst, as part of the Frankfurt Book Fair between 10 October 2019 and 26 January 2020.
Visit the art gallery of Hanum and her husband Arve Rønning, Borøy Kunsthandel, outside Tvedestrand between 29 June and 11 August. The gallery will be open every day between 12pm and 4pm.
For information on upcoming exhibitions and point of contact, please see:
Web: hanum.no
Facebook: Borøy Kunsthandel
Instagram: @sidselhanum
Left: Sidsel Hanum. Right: Air. Inspired by a red coral found outside Gili Air, Indonesia
Subscribe to Our Newsletter
Receive our monthly newsletter by email