Storytelling in Scandinavia
By Japleen Kaur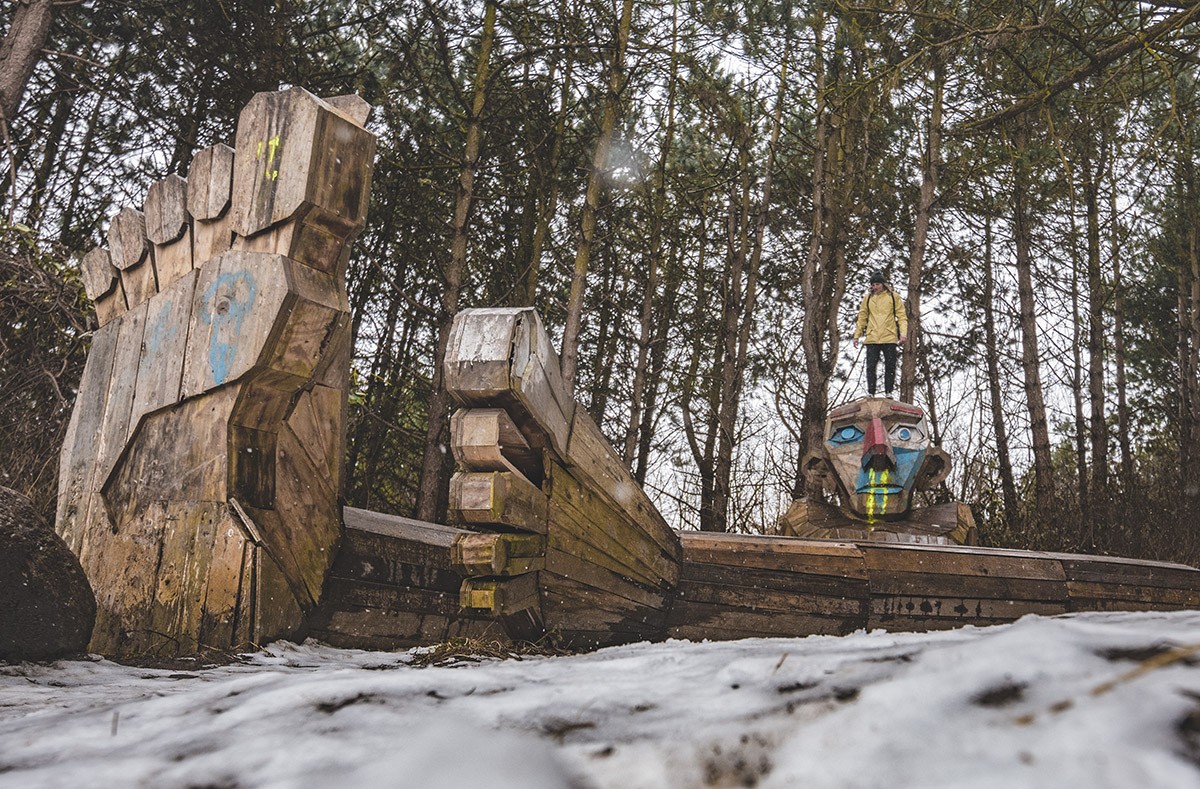 Scandinavian stories, told by India's top travel influencers
When I was in school, I had a piggy bank labelled 'for northern lights'. Throughout high school, I diligently made it a home for loose change and dreamed of travelling to the Nordics. In India, most of us feature one of the Scandinavian countries at the top of our bucket lists. You can place a safe bet on that.
As I grew older, my 'things to do in Scandinavia' list grew: sip on coffee in Denmark, live in a small town in Sweden, experience nature in its rawest form in Norway, and visit the faraway world of Greenland – often pegged as a once in a lifetime experience.
Though I haven't yet managed to visit any of the countries, and the piggy bank remains untouched, I have virtually been to these destinations, courtesy of some amazing Indian travel creators. The Nordics are still inaccessible to many of us in India, so when these influencers reach such places, it ignites hope and makes the journey feel less intimidating.
Here, seven Indian creators who have travelled to Scandinavia share their stories from this stunning region and offer a glimpse of the Nordics through their eyes.
Savi & Vidit – @bruisedpassports
Savi and Vidit have travelled to over 100 countries together, but their tales from Scandinavia are the ones to bookmark. "We have an ongoing love affair with Nordic regions and have explored Denmark, Finland, Iceland, Norway and Sweden, and the Faroe Islands. Greenland is on our bucket list and we definitely want to explore it in 2023."
Only a handful of Indian creators have been to the Faroe Islands. "Before visiting the Faroe Islands, I always thought of them as somewhat far-flung and inaccessible. However, after visiting, I recommend them to every passionate traveller I meet. It is one of the most beautiful, unspoilt, and rugged corners of the world. It was truly special driving through its unspoilt panoramas, dramatic fjords, scenic cliff-top villages with less than a dozen houses, and glacial valleys. An unmissable hiking trail in the Faroe Islands is the one that will take you to three mountains – Krosstindur, Húsafelli, and Malinstindur."
When it comes to food, they recommend trying rye bread, delicious smoked fish, and hot comforting stews – especially when the temperatures drop. One thing she wishes more people knew about is the Hoyma Music Festival that takes place there in November. For travellers who want to experience more than just nature, festivals like these offer a local cultural perspective.
Sharanya Iyer – @trulynomadly
Putting India on the map, one dive at a time, Sharanya transports you to the depths of the ocean with her images and words. She recalls a family trip to Iceland in 2015.
"I wasn't a content creator when I went to Iceland, and would want to go back now, especially to Norway and Finland to experience those countries with a more observant eye. But when we were in Iceland, there were hardly any tourists, and no other Indians."
Her biggest Iceland tip is to embark on a road trip. "The vast landscapes of endless waterfalls, mighty mountains and extremely well-made roads are a joy to drive through. Having your own vehicle also gives you the opportunity to stop anywhere, and enjoy the scenery at your own pace, which I am a big fan of. Seven to ten days is the minimum amount of time one should give to Iceland!"
"An experience that worked out beautifully for my entire family was the trip to Silfra fissure. It was there where I saw unparalleled visibility underwater while snorkelling between two continental tectonic plates for the first time. You can go on Langjökull Glacier, or inside Thríhnúkagígur Volcano on a journey to the middle of the earth inside an accessible magma chamber – it was just an adrenaline rush that left us admiring the region every single second that we were there."
Sharanya also reveals that the boom in travel to places like Iceland increased after the popular Hollywood song 'Gerua' was filmed there starring superstars Shahrukh Khan and Kajol.
Riaan George – @riaangeorge
Riaan is not only a luxury travel influencer but also a journalist with over two decades of experience. His tryst with Scandinavia began in Ahus, a town in southern Sweden.
"A large population in India comes to the Nordic regions for nature and its impeccable gifts. But I would recommend coming to Sweden if you love design. The small town that I visited on a work trip, gave me a sense of the clean, crisp aesthetics that is missing elsewhere in Europe. A niche travel sector of design enthusiasts will have a gala time there, guaranteed."
Siddhartha Joshi – @siddharthajoshi
Siddhartha previously led the design team of a Norwegian company in India. He thrives in extremes and is drawn to wild climate conditions and adventures. As such, he has visited Norway extensively and has nurtured a nuanced understanding of how to make the most of travelling there: "I've learnt how to slow down and enjoy my own company after travelling across the Nordic regions."
He believes in couch-surfing in Norway for budget travellers. "I have mostly couch-surfed whenever I've been to Norway. Once when I was in Bergen, I stayed with a lovely family who regularly took me out for hikes and road trips. They became such good friends by the end of the trip that last year when they came to India, they stayed with me in Pune (a city in Maharashtra, India) and experienced the festival of Diwali. It's connections like these that make travelling to different corners of the world so worth it."
For him, the coffee culture stands out in the region. If you are a black coffee aficionado, the Nordics should be your next trip.
Kritika Goel – @kritika_goel

Kritika is one of the most respected YouTubers in India, telling detailed European travel stories. Her favourite destinations are Iceland and Svalbard in Norway.
"Firstly, get ready to embrace the Scandinavian climate. The weather is quite cold and unpredictable even during summertime and winters are harsh, so pack multiple layers, thermals and waterproof gear to keep yourself protected. Secondly, Scandinavia is a cashless society so besides having some emergency cash on you, you'll be better off using your card everywhere," she says.
Kritika notes that learning about 'friluftsliv' – the Scandinavian concept of leading an outdoor lifestyle – was particularly powerful. "It is basically the idea of getting outdoors and connecting with nature and it's really inspired me to incorporate more of it into my life. One of our guides there spent weekends in a basic cabin without any electricity, living without disturbing nature and I thought that was so fascinating."
Aakanksha Monga – @aakanksha.monga

Aakanksha is the youngest creator of the lot. Fresh from a trip to Norway, she is helping the GenZ generation of India travel via her simplified storytelling.
"Camping across Norway has been one of the highlights of my life. Camping has helped me lower my trip costs and added so much value to the entire journey. The campsites and hiking trails are impeccably well maintained. The experience is hassle free and easy, barring a few rules that can be researched according to the specific locations."
Aakanksha describes the summer as nothing short of magic: "witnessing the midnight sun has trumped every other adventure I've had. My brain couldn't comprehend that the sky was brightly lit at 2 AM. Remarkable would be an understatement."
"Something that I want to showcase about this region is the welfare and sustainable practices. We can learn so much about living and thriving in a community from Norwegians. People happily pay higher taxes for better quality of living."
Aakriti Rana – @aakritiranaofficial

Aakriti decided to capture her love for Scandinavia in a pre-wedding photoshoot, during a trip to Iceland with her then fiancé, in March 2023.
"Both my husband and I are hardcore mountain people. So for us it was a no-brainer to plan a holiday to Iceland before we officially got married. And what better location for a pre wedding shoot than that, right?"
Aakriti recommends a longer trip to experience the best that the country has to offer – whether it is frozen waterfalls or ice caves. March is a great month to visit to marvel at winter in Iceland.
Abhinav Chandel – @abhiandnow
Abhinav is the kind of traveller who doesn't go by 'must do' itineraries but paves his own path with the guidance of locals and maps. On his trip to Denmark, he explored Copenhagen on foot and recommends that everyone does the same.
"Three of my most memorable experiences in Denmark were going in search of the six forgotten giants with a local friend (the editor of Scan, Lena Hunter!), catching the sunset from the round tower and walking through Freetown Christiania. Going beyond the regular is something I'll always hold close to my heart."
Abhinav lives in the mountains of India and inspires many to travel on the offbeat track. For him, being in Denmark during Easter turned out to be more magical than he expected. "I stocked up on Easter chocolates and devoured them in minutes. The only thing I shopped from there to bring back home was those chocolates. And understanding the concept of 'hygge'."
Top three travel influencer tips for exploring the Nordics:

1. Travelling to the Nordic regions is expensive and thorough planning should be done in advance.
2. Vegetarians might find it difficult - cities like Reykjavík have ample options for vegetarians but remote regions may pose a problem. Carrying your own food or shopping from supermarkets is wise, and skyr is a delicious protein alternative.
3. Book your stays and research well. Often, you can get to know your hosts before you travel, and they may be able to advise you on domestic travel, local airlines or road travel options.
Subscribe to Our Newsletter
Receive our monthly newsletter by email