TENTE: Reinventing the wheel
Text: Signe Hansen | Photos © TENTE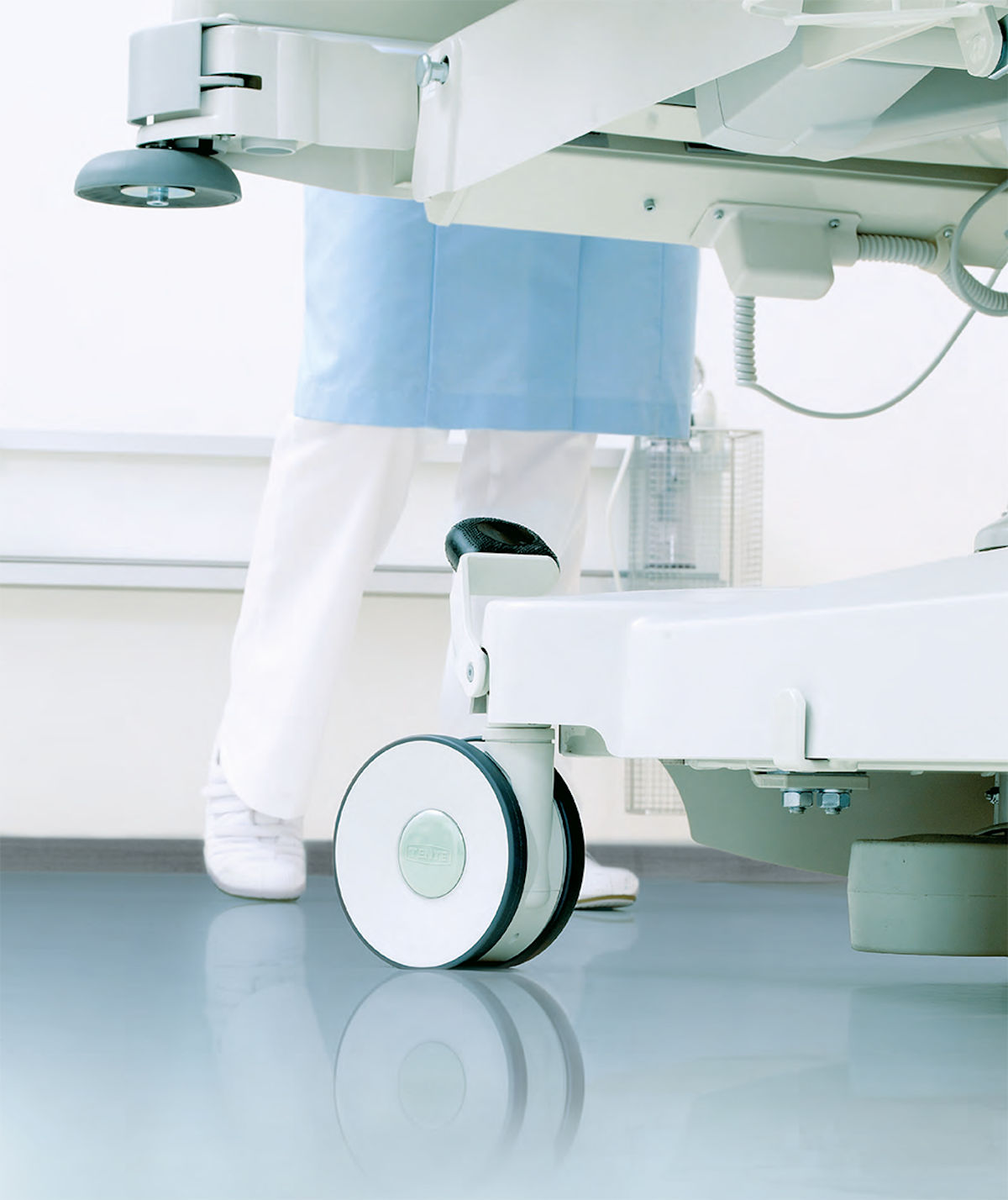 T he invention of the wheel might have been a while ago, but TENTE keeps it rolling. With special ergonomic, hygienic and acoustic features, TENTE's wheels make life safer, quieter and less straining for staff and patients at hospitals all over the world.
Hospital beds, food trolleys, and IV poles – almost everything in a hospital is on wheels, and while most people might not think about it, the quality of the wheels can make a huge difference to the people working with and around them. Noise pollution, the spread of bacteria and work injuries can all result from a less than well-rounded wheel concept.
Working with and talking to employees at hospitals, TENTE in Hasselager, a subdivision of the German Tente-Rollen GmbH, has developed a number of special features for their wheels. Bo Christensen of TENTE explains: "We spend a lot of time talking to hospital staff about the challenges they experience in their everyday work. This approach has, among other things, resulted in our safety wheel, which helps prevent accidents and work injuries, and our electrical wheel, which spares staff the physical strain of pushing heavy beds and equipment."
Pulling up to one tonne, the electrical wheels lighten the burden of employees significantly, while the Linea safety wheel allows operators to brake with an electrical hand-operated brake. The wheels are also easily incorporated with the robot technologies increasingly used in hospitals.
Preventing the spread of bacteria
One of the greatest issues affecting hospitals today is the spread of bacteria, and the wheels rolling around halls and operation theatres can aggravate the problem. To prevent this, TENTE's wheels are made entirely in a synthetic material that gathers fewer bacteria and is easier to clean than metal. Another issue often negatively affecting hospitals is noise, and for this reason TENTE offers wheels specifically adapted to different types of surfaces. "The right wheels can make a huge difference; a food trolley, for instance, can be incredibly noisy, but with our wheels, that noise can be reduced by up to 90 per cent, and that will make a very positive impact on how the hospital environment is experienced by both patients and staff," stresses Christensen.
Facts: TENTE manufactures wheels with a load capacity of five kilogrammes to 12 tonnes. The wheels are compatible with hospital beds, robots, trolleys and more. TENTE supplies products to various sectors. Web: www.tente.com
Subscribe to Our Newsletter
Receive our monthly newsletter by email