The Hirschsprung Collection: A piece of Danish art history
By Heidi Kokborg | Photos: PR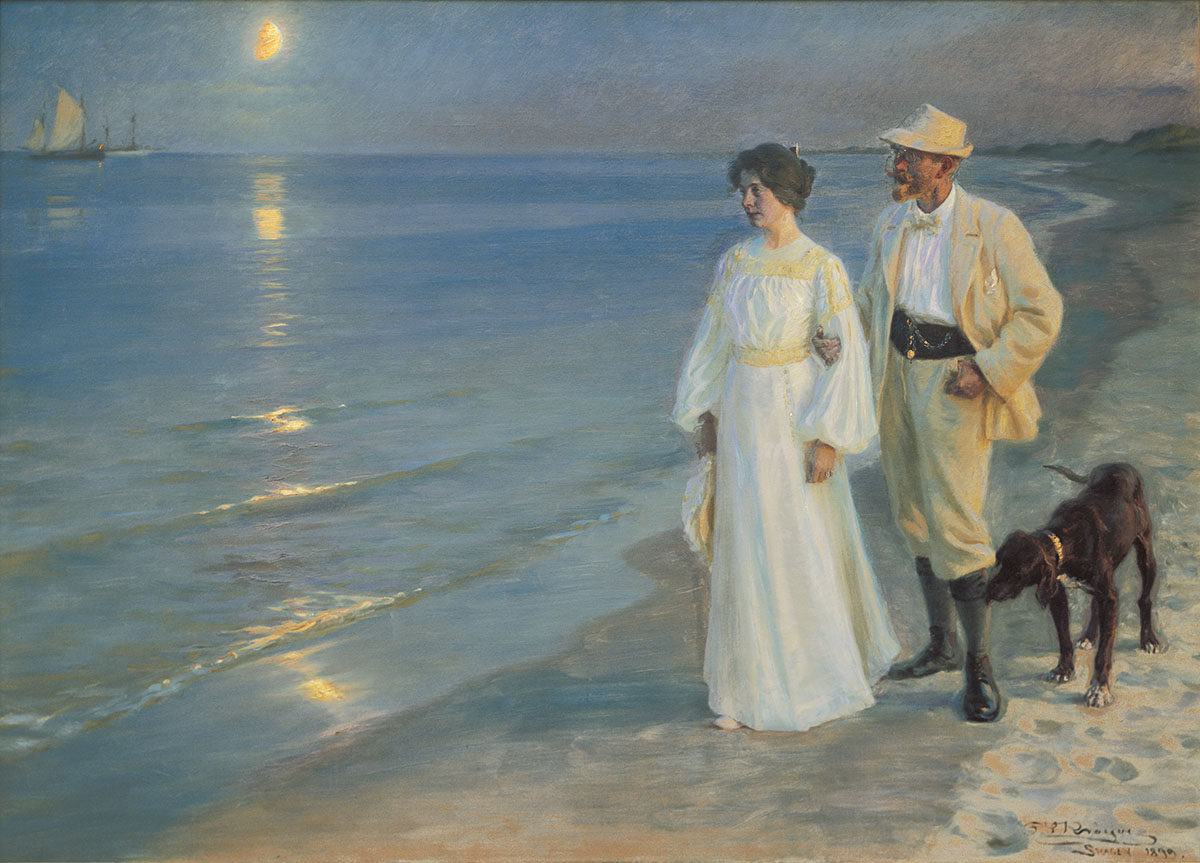 The Hirschsprung Collection houses tobacco manufacturer and art collector Heinrich Hirschsprung and his wife Pauline's private collection of Danish art. With its idyllic location in Østre Anlæg park, its cosy, home-like atmosphere and its impressive art collection, the museum should be on your list of cultural things to do when visiting Copenhagen.
Nestled in the beautiful Østre Anlæg park close to cafés, metro stations and the Botanical Garden, The Hirschsprung Collection couldn't ask for a more perfect location. The museum opened its doors to the public in 1911 and houses the private art collection of Heinrich Hirschsprung (1836-1908) and his wife Pauline (1845-1912).
"The couple donated their collection of Danish art to the Danish nation. Since day one, the museum has been decorated with furnishings from artists' homes to create a cosy, almost home-like atmosphere. Many visitors think the museum was once the home of the Hirschsprung family; however, that is not the case. The couple had the museum built specifically to house their art collection," explains Gertrud Oelsner, museum director at The Hirschsprung Collection.
Heinrich and Pauline Hirschsprung were both art enthusiasts. Over the years they built a rather extraordinary collection of Danish art from the 19th and early 20th century – from the Danish Golden Age of art to the Skagen painters and the Symbolists. The collection contains major masterpieces by artists such as C.W. Eckersberg, Christen Købke, Anne Ancher, P.S. Krøyer and Vilhelm Hammershøi.
"It is the biggest collection of Skagen art outside of Skagen. If you love P.S. Krøyer's paintings, then a visit to the museum is a must. The collection also includes 25,000 letters from artists written in the 19th century. In the collection, you'll also find several art sketches and smaller paintings made for private homes. It's a chance to get very close to the artists and almost get to know them," says Oelsner.
A museum that feels like home
A second-generation immigrant and a tobacco manufacturer, Heinrich Hirschsprung's family was of German-Jewish origin, and probably no one could have foreseen that this man would one day be the proud owner of an impressive collection of Danish art. His father opened a tobacconist's shop in the end wall of the prestigious Hotel d'Angleterre in 1826, and in 1856, Heinrich Hirschsprung and his brother Bernard took over the company.
During this time, Heinrich Hirschsprung fell in love with a Danish girl named Pauline Jacobsen. Born into a wealthy Jewish family, Pauline's guardian refused to give the couple his blessings. However, when the Second Schleswig War broke out in 1864 and Pauline's guardian got sent to the frontlines, the young couple seized the opportunity to get married.
"Both Heinrich and Pauline Hirschsprung had a passion for art, and during their marriage their art collection grew steadily. They purchased their first piece of art in 1866. The collection is very much a reflection of Hirschsprungs' own time. The family had many friends from the art and music scene, and they were known for supporting both well-known and lesser-known artists," says Oelsner.
When the couple decided to donate their collection to the Danish nation in 1902, they already knew that they wanted a museum to house their collection. Hirschsprung didn't want the museum to be a grand building, like so many of the other art museums at the time; he wanted it to feel like home.
"The museum very much reflects Heinrich and Pauline Hirschsprung's values. They wished for the museum to be open to the public and to have a home-like atmosphere. When setting foot inside the museum, it should feel like entering a private home with cosy furniture," explains Oelsner.
Bertha Wegmann – an artist ahead of her time
Until 29 May 2022, you can experience the special exhibition Bertha Wegmann: Painting in Many Languages. Wegmann (1847-1926) was an exceptionally talented artist who grew up in Denmark. She was a cosmopolitan figure who spent the vast majority of her adult life living and travelling to metropolises around Europe, such as Munich and Paris.
"This exhibition tells the story of a female artist with an interesting story. Being a female artist during this time was not without its challenges. Ultimately, Wegmann had to move to Munich to take private lessons as women were not allowed to study at official art schools in Copenhagen," explains Oelsner.
The story of Wegmann is also the story of one of the best-kept secrets in Danish art. While the Hirschsprung family and a few other prominent families supported her, she never got a breakthrough in Denmark, despite her dazzling portraits and mesmerising landscapes paintings. "She was an extraordinary artist who mastered almost every artistic expression," reflects Oelsner.
Two thirds of the Bertha Wegmann exhibition are kindly lent to The Hirschsprung Collection by private owners.

Web: www.hirschsprung.dk Facebook: hirschsprungskesamling Instagram: @hirschsprungskesamling
Subscribe to Our Newsletter
Receive our monthly newsletter by email