TMP
Text: Nicolai Lisberg | Photos © TMP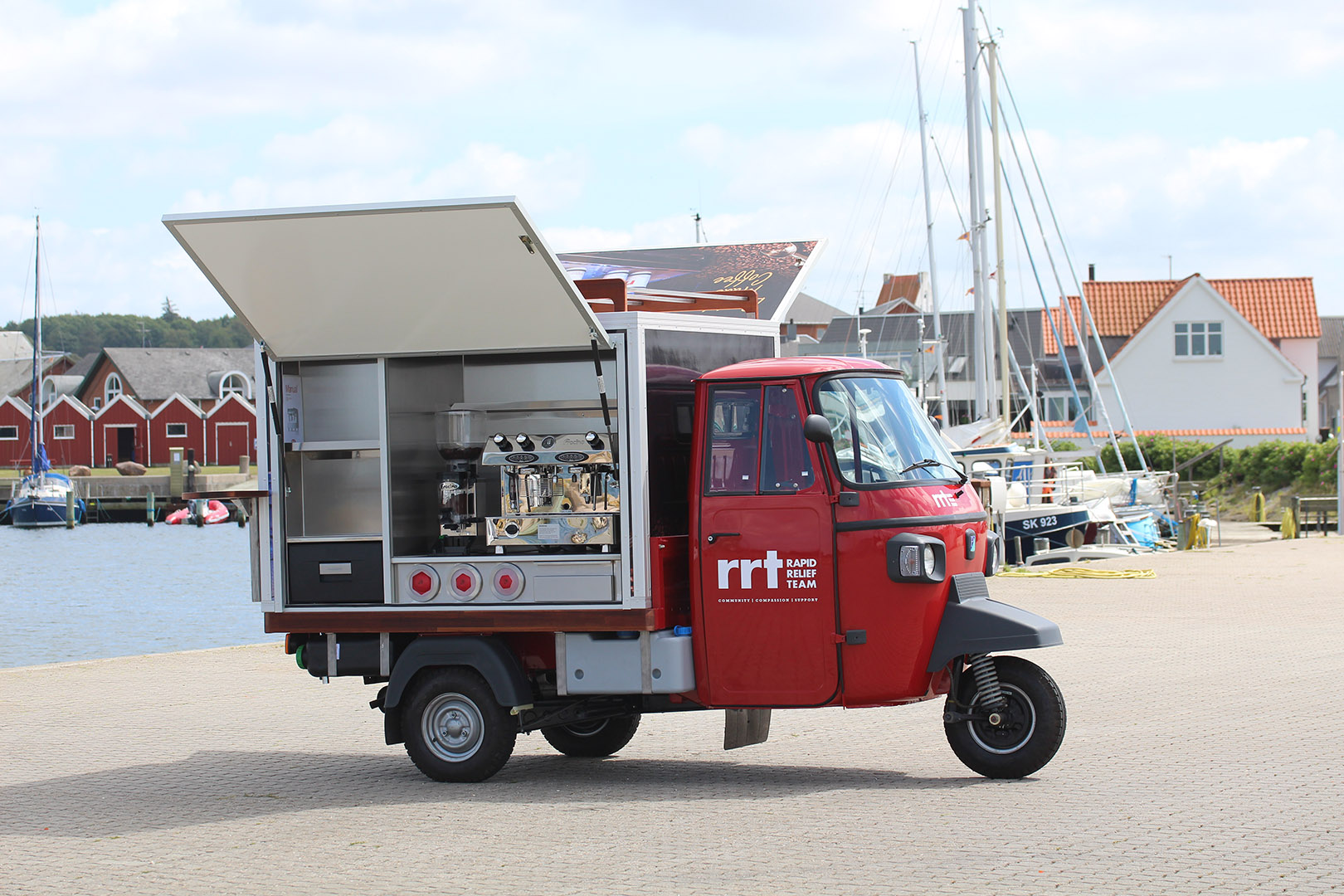 Create your own independent, mobile business
T MP is specialised in building a wide range of street food service trucks for almost every purpose imaginable. This year, a full electrical coffee van, allowing indoor use, has just been launched.
The concept of street food is rather simple: your personal food service truck allows you to bring your business directly to your customers, instead of the other way around. It is all about flexibility, and the opportunity to run your own independent business. Few people understand this better than TMP, who since 2013, have operated with the mantra 'more with less', designing and building street food service trucks for their customers.
"Our customers need to fit a lot of things into a very limited space. Therefore,creating an enticing, charming and compact unit with great mobility is one of our key ambitions. Put simply, our clients want to run an independent, flexible business, fully rent-free, and where they can decide when and where to meet their customers," says Thomas Møller Pedersen, CEO at TMP.
Whatever you want
Many of the street food trucks use the Italian icon Ape 50 as the base. It is used for the production of coffee, waffles, beer, juice, pizza and more, and the compact size provides excellent flexibility. There is the traditional Chassis model or the slightly bigger Ape 50 box,providing more space for the business.
TMP have also started making bigger models, such as the Ape Classic 400, for bigger-capacity needs, and electric-engine vehicles to meet the increasing eco-friendly branding needs aswell as the need for indoor use. The Ape Classic 400 can be built with two stations, allowing the business owner to fit a coffee bar on one side and, for instance, a juice bar on the opposite side.
One of the new inventions from TMP is a fully electric coffee van of exceptionally compact size, making it fit through doors and into elevators in shopping centres and larger office buildings. "There are places such as airports and offices where you can't use a traditional petrol engine, and we've seen an increasing demand for this new fully electric model, as it can be used indoors as well," says Møller Pedersen. "Over the years, we've acquired extensive experience of designing a wide range of street food service trucks to fulfil the specific needs of the customer. We have, for instance, designed a coffee truck for a library that wanted a coffee machine combined with some book shelves, and we've also built a street food truck with corner tables for a client who wanted a coffee machine on one side and the possibility to serve cakes from the other side, when using the truck for promotions at petrol stations. If you can imagine it – we can build it."
Delivering quality
The trucks can vary a lot in design, but they all have one thingin common: the quality of the materials TMP uses. Stainless steel and real wood are very often integrated in the solutions. The coffee machines are among the best on the market, all with electrical grinders. The business owners can adjust the amount of coffee the machine makes from time to time, and all coffee machines are delivered with water filters as well.
"Quality is very important to us, but it is equally important to keep the pricing competitive. We recently had a customer who was impressed by the quality of the materials and how affordable the price actually was. Depending on the exact model, you can get a truck from around 12,000 euros. One customer's simple calculations, based on the cost of materials needed for making a good cup of coffee, showed that if he could sell 15 cups of coffee a day, he would have paid off the truck in a year," Møller Pedersen concludes.
Subscribe to Our Newsletter
Receive our monthly newsletter by email