Tomine Harket: Being real and breathing better
Text: Linnea Dunne
T he daughter of one-third of '80s synth-pop outfit a-ha and featured on Alan Walker's recent hit single, Darkside, Tomine Harket could easily write her biography just by name dropping. But as someone who grew up exceptionally aware of people's keenness to judge you through a lens of the fame of people close to you, the Norwegian singer does no such thing. She is her own woman, and all she wants is to be real.
"I think I'm definitely more cautious than other people. I feel like I can see through others; I can always tell when I meet people and they don't care and then two seconds later, they treat you differently. It's just fake and I don't like it – I would never treat someone differently because they're famous, maybe simply because I grew up with it so it's normal for me and no big deal. We're all just human beings, we all have feelings," Tomine Harket reflects. She insists that her childhood was quite normal, just like any Norwegian childhood – but then, she mentions going on tour and experiencing music video shoots in Cuba, and it is clear that growing up the daughter of music icon Morten Harket of synth-pop trio a-ha could never be entirely mundane. "It's hard to say, because I don't know what it would be like not to have a famous dad. I guess it was a little odd that everyone knew who he was, that people would stare and want to take pictures with my dad," she admits. "You realise quite early on who wants to be your friend and who just wants to meet your dad!"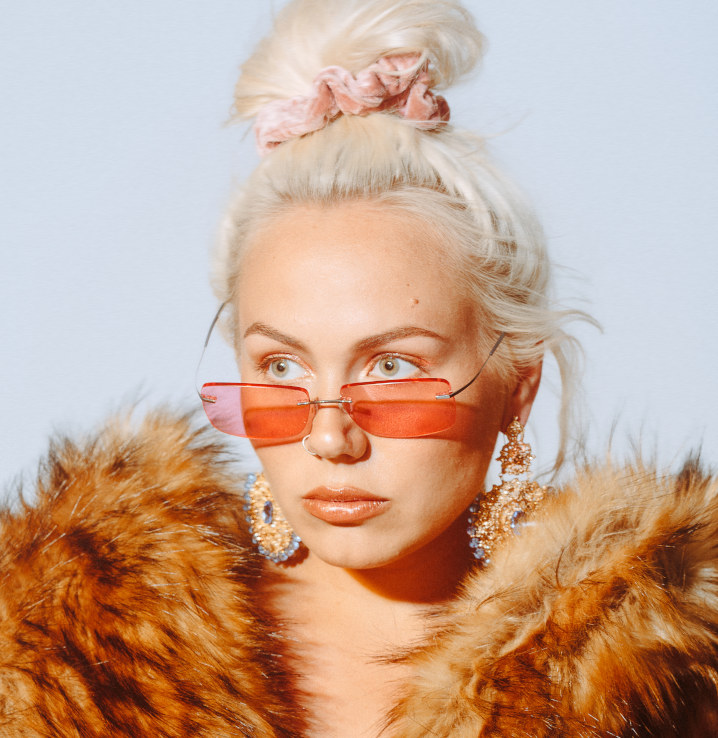 That Harket would follow in her dad's footsteps is not something she seems to have had to think about particularly long or hard. "I always wanted it," she says plainly. "When I was really young, I wanted to be like Britney Spears and Christina Aguilera, and then I started doing musical theatre and eventually realised that the music bit was my main thing." Of course, that hyper-developed awareness of other people's expectations of her showed its face also when she set out to navigate the world of music making and collaborations. "I get a lot of people who send me stuff and want to collaborate. And I get it, they message me because I'm my dad's daughter and I have a name, and they feel like their song will be bigger and get more attention if I'm on it," she explains. "But it can't just be anything. It doesn't matter if I'm Morten Harket's daughter; people still won't buy a song if it's bad. I understand that when you have a name, you'll get attention faster – but you'll just lose it if you're no good."
Success with Unge Ferrari
And yet, a direct message on Instagram was exactly how she met Unge Ferrari, the Norwegian hip hop and R'n'B artist with whom she made the hugely successful Hva Er Vi Nå // H.E.V.N // EP. "I didn't think much of it at first when he sent me stuff, because I get it so much, but then I was like, 'wait, this guy is actually really cool'," she recalls, describing what sounds like a very organic, symbiotic partnership. "I came into the studio and it was this producer's bedroom with a sock over the mic, but it just sounded so professional when it was done, and then we released it and the feedback was great. That's when we decided to do something more."
What started as a commitment to doing something different and avoiding clichés about love ended up being about exactly that: love. "We made the four tracks really quickly, and it was all really natural. Sometimes you can't decide beforehand what you're going to make; when you're in the studio you can't stop it from being natural – so it became an EP about love, and it got huge," says Harket. Together, she and Unge Ferrari went on tour, selling out wherever they went and adding extra dates to meet the demand, and the singer acknowledges that they were really lucky: "We had really loyal fans who showed up for everything we did."
Deeper, more personal solo material
Prior to working with Unge Ferrari, Harket had been busy with all sorts: acting on stage in musicals, doing voice-over work for Disney films and other animated cartoons ("it's more dramatic and you have to over-act because people can't see you; it's so much fun," she enthuses), taking part in television competitions, and releasing her own material. As such, going solo again was a natural thing to do. "I've always been writing away on my own stuff, but I don't like releasing different material all at the same time; I need to be able to breathe," she says.
Judging by the title of her latest single, she has managed to do just that: Breathing Better is one in a series of new tracks the singer has been working on, and the line "I'm better off being on my own" suggests that she is finding her groove. "It's really exciting that I'm finally here and can release these songs. They mean a lot to me, and they're deeper and more personal – more me, I would say," she says, adding that she loves being involved in every single aspect of bringing a new release into the world. "It can be a pain in the ass to work with me, because I always have an opinion and want to be in control of everything. For the cover of Breathing Better I was sitting there ripping up pictures of myself, creating the cover. I love that, love being a part of every single thing – it makes it more real."
Integrity and authenticity
Though she would fit the bill perfectly alongside other new, glowing Norwegian pop stars such as Astrid S and Sigrid, Harket is by no means an inexperienced newbie – and there is a grounded, mature streak to her music and demeanour that is less prevalent on the tracks of her peers. That integrity of hers and the insistence on being real are present in everything she talks about, including her appearance on the recent hit single Darkside with Alan Walker. "My stepdad was one of the writers on the track, and he asked if I wanted to try it out. I was a little conflicted at first – I really liked it, but it's so extremely different from what I usually do. I wasn't sure if doing this was allowed?" she explains. "But it's his song, and I'm renting my voice to it. With every project I do, I've learnt something new, and it would've been stupid of me to say no to this." Indeed, Darkside has had over 35 million streams on Spotify alone at the time of writing, and Harket describes the shock when watching the number rise rapidly by the second upon its release. "It was insane! Here in Norway, you're kind of used to being happy when you see it going up by a bit every week…" she laughs.
It seems to be a love-hate thing, her relationship with her home country. She describes the sound of recent Norwegian pop stars as "really authentic – it doesn't feel like it's a thousand people trying to make something work, it feels like someone sat down and wrote down their feelings" but ascribes it to the weather and having to go through freezing cold winters. "It's so freezing, I don't even know how we survive. Your face freezes when you go outside, like if you tap your nose it'll fall off! Maybe that's what makes us real," she jokes, but quickly admits that she could never fully leave. "I'm always tempted to, but any time I do I just miss Norway so much. There's just something about our nature, our trees, everything, the air, the water… There's something about Norway that's so special."
Facebook: tomineharket Instagram: @tomineharket Breathing Better is out now and available on Spotify and other streaming and download services.
Subscribe to Our Newsletter
Receive our monthly newsletter by email