Topi Ruotsalainen
Figurative painting
TEXT: MARI KOSKINEN | PHOTOS © TERO RUOTSALAINEN
Topi Ruotsalainen is a Finnish contemporary artist whose paintings often show people in different groups or settings. However, the main topic is not the people themselves, but what is about to happen – the story between the lines.
"I have always drawn – as long as I remember – and my subjects were almost always people," says Topi Ruotsalainen. He has two master's degrees in arts, and he works in his studio in Espoo. He also teaches a weekly class at the Kauniainen School of Fine Arts.
"Figurative painting comes naturally to me, and for me it is about storytelling," Ruotsalainen explains. Originally from Kuopio, he compares his indirect storytelling with the way Kuopio people talk; you need to read between the lines. "Storytelling, what is about to happen – the interaction and communication, even tension, between the characters let the spectator create the story. I don't aim to give answers, but I can leave hints of what my story behind the painting is. But in the end, what matters most is the spectator's own interpretation."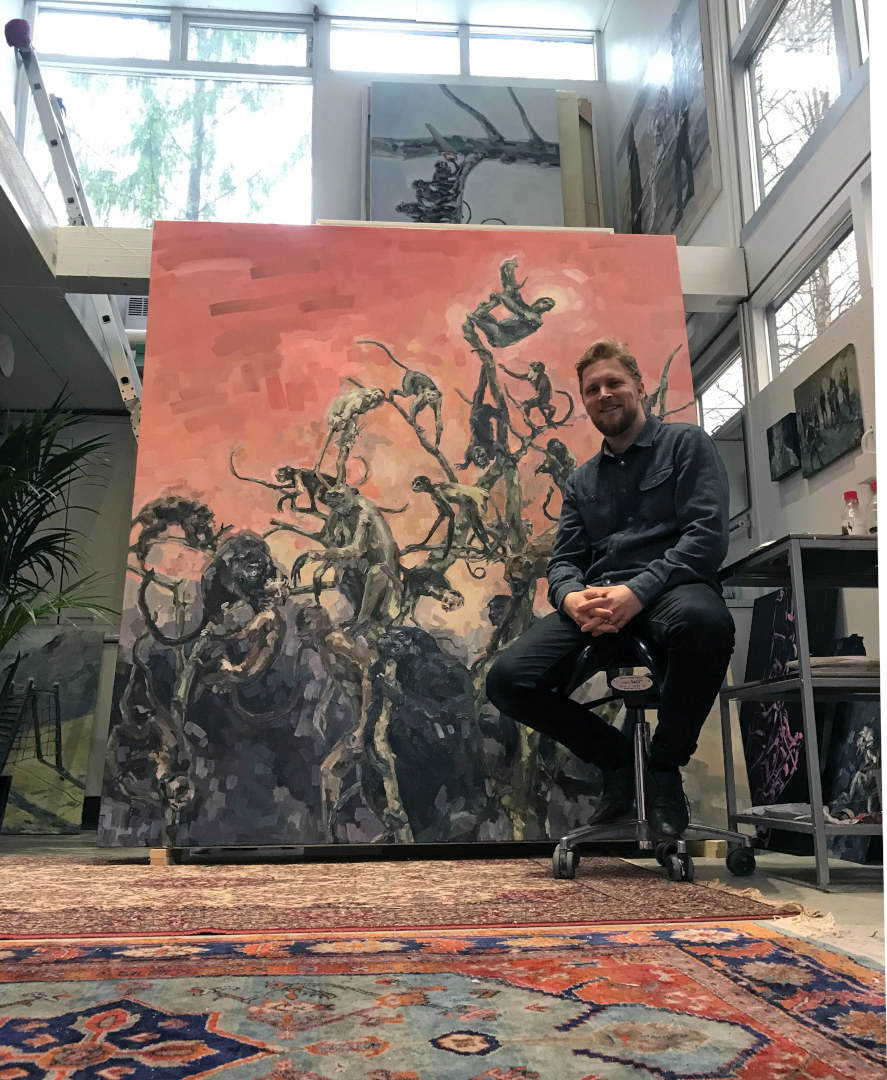 Topi Ruotsalainen in his studio.
The artist continues: "My next exhibition, Planet of the Apes, will take place at the Galleria Heino this spring. It shows a new theme, inspired by my visits to La Specola Zoological Museum in Florence, Italy. When I saw the immortal stuffed monkeys at the museum, I felt a compelling need to paint them."
At the museum, the monkeys are displayed alone on the shelves of the cabinets, but in his paintings, Ruotsalainen stages them in different postures and groups – that creates the story. "Again, the monkeys are not the main theme; my aim is to illustrate an alternative perspective, where there are both scientific, religious and mythical aspects. The greatest themes of art are eternal. A dead monkey is immortal, and in its lifeless eyes we face our own conscience."
Planet of the Apes
20 April to 16 May 2019
Galleria Heino, Helsinki
Ruotsalainen will also take part in the exhibition Mind the Gap – Silence and Masculinity, which opens later this year.
Facebook: topicontemporary
Instagram: @topistudio
Subscribe to Our Newsletter
Receive our monthly newsletter by email