Trapholt: An art, design and hygge immersion
Text: Signe Hansen | Photos: Trapholt
Almost two decades after the museum gained world notoriety for a piece of art involving a goldfish, a blender, and an on button that proved too tempting to be left alone, Trapholt is still exploring the full scale of art and audience engagement. Museum director Karen Grøn tells Scan Magazine about the museum's vision and its new exhibition on the senses and 'hygge'.
Set in a beautiful sculpture park overlooking the water of Kolding Fjord, Trapholt attracts visitors from near and far. Many come not only because of the array of art and design exhibitions, but also to experience the museum's eye-catching architecture by star architect Boje Lundgaard, its one-of-a-kind house by Arne Jacobsen, and its large collection of Danish furniture design.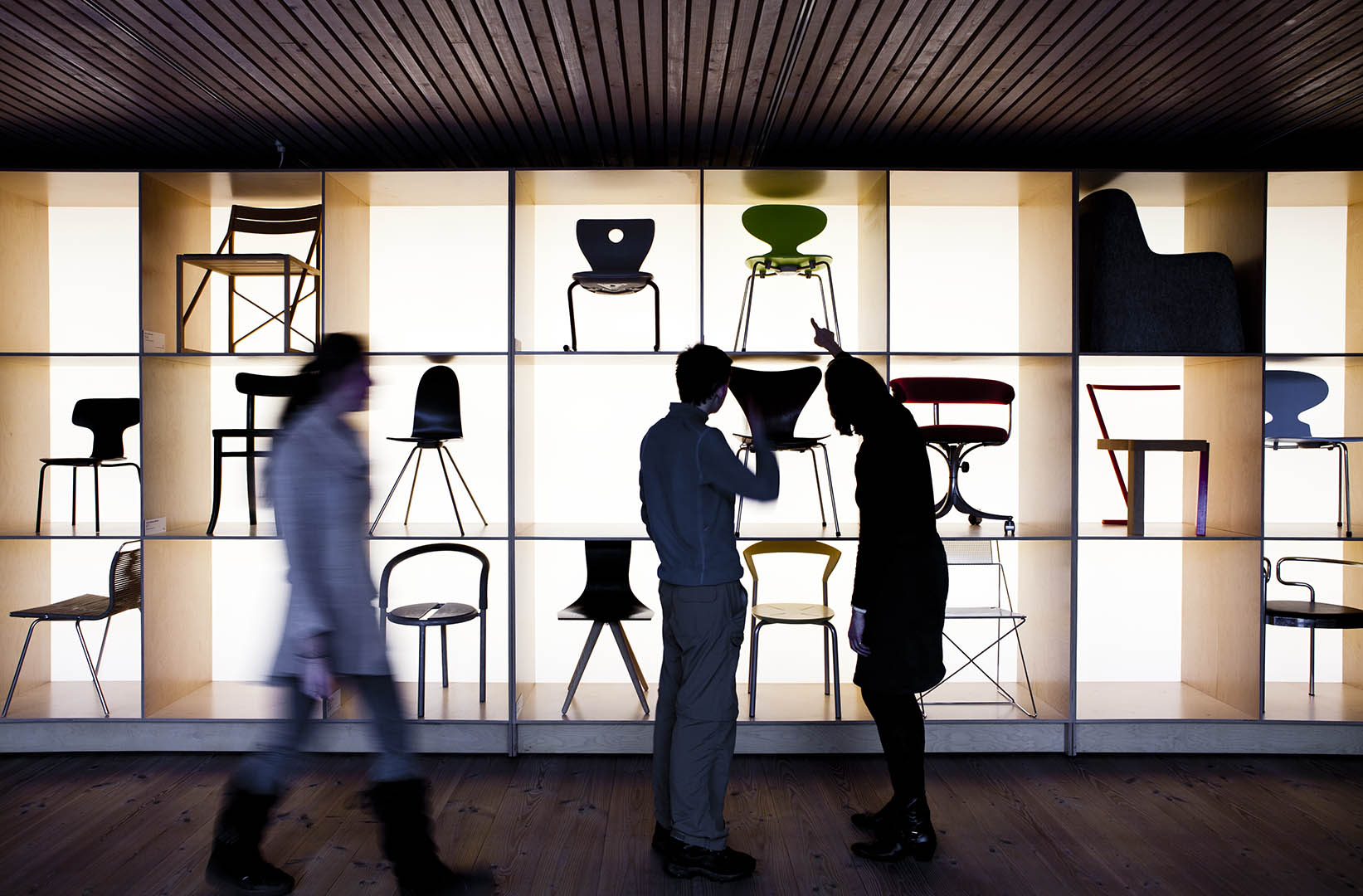 However, the experience at Trapholt is not limited to visual impressions; in the museum's upcoming exhibition SENSE ME, guests can explore the nature of our senses. "SENSE ME is not only an exhibition that you go to see – it's an exhibition that you go to do, and in that way it's very characteristic of our museum," explains Grøn. "We are known to do large, grand exhibitions that combine art and design and include most of the space, and in which we invite our visitors not just to learn or contemplate, but also to try and explore. That's one of the distinct characteristics that make our museum special, and this exhibition in particular focuses on exploring how our senses are interconnected in surprising ways."
SENSE ME presents art installations by contemporary artists such as Olafur Eliasson as well as works by early 20th-century artists such as Wassily Kandinsky. Part of the exhibition explores the Danish concept of 'hygge' through Danish design, with which Danes decorate their interior in order to create this multisensory situation combining light, smell, taste, sound, tactility and so on.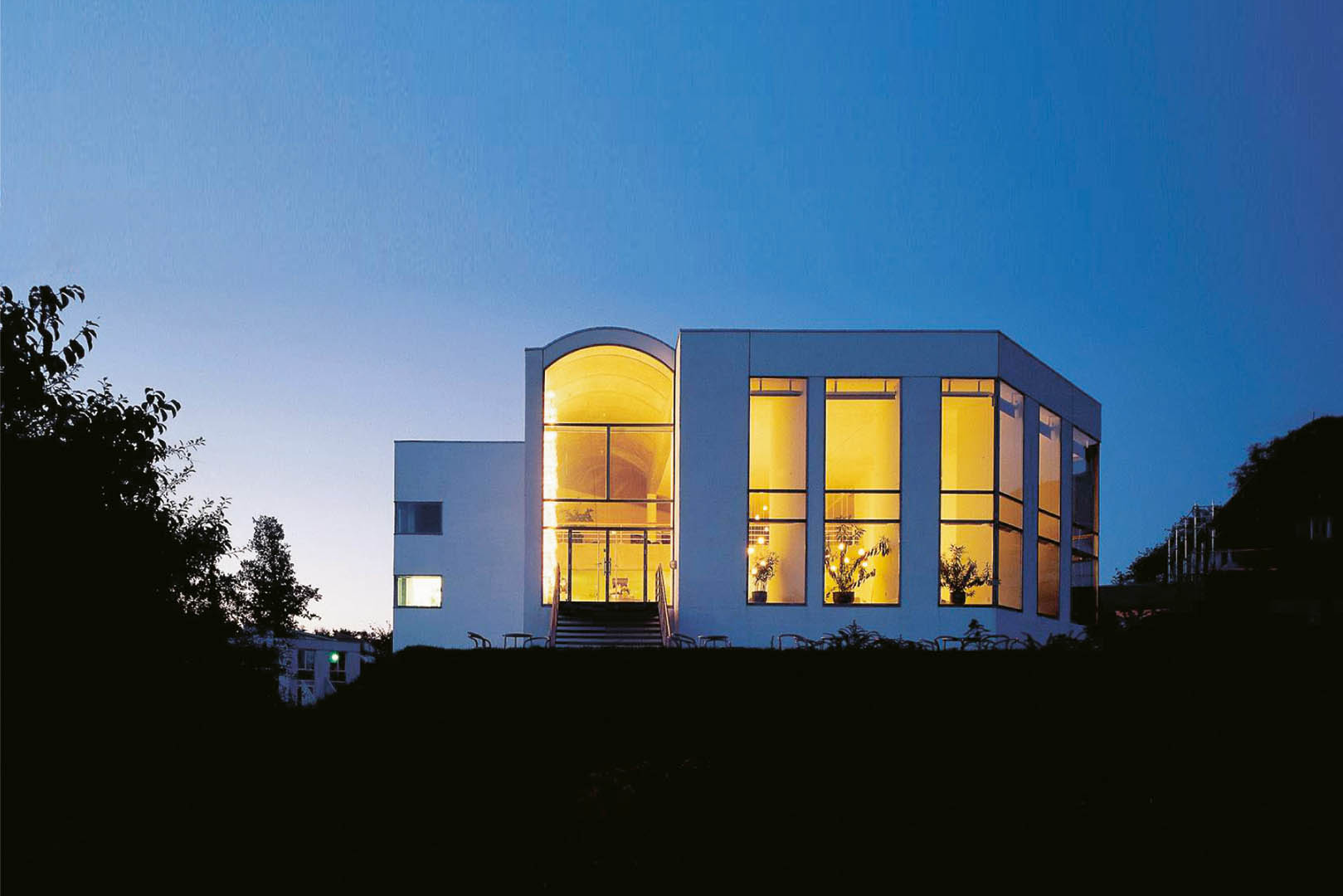 Art, architecture and design
On top of Trapholt's all-encompassing special exhibitions, the museum is also widely known for its captivating architecture. Among the museum building's characteristic features is the 100-metre-long museum corridor, from which you can enter the many museum galleries. As the guest walks through the corridor, it literally gets higher and higher, closer to the ceiling, as the building's foundation follows the ground's natural slope towards the water in the Kolding fjord. This, along with other architectural gems and the unique chance to visit the one-of-a-kind Cube flex house, designed by architect Arne Jacobsen, attracts architecture fans from all over the world. "The house was designed by Arne Jacobsen just before his death and is one of our main attractions; it's one of his major works and can only be experienced at Trapholt," explains Grøn. "As everything – exterior as well as interiors – is created by Arne Jacobsen, it gives a strong impression of who he was and what his vision was."
The museum presents modern art, applied art and design, as well as a permanent display of paintings by the artist Richard Mortensen. "I think it is one of the things our guests really appreciate – the fact that we combine architecture, applied art, design and art in an involving way," Grøn says.
The visitor at the centre
Trapholt's strong focus on involving visitors in exhibitions and artworks is part of the museum's DNA and felt in every corner of the museum. One of the ways it shows is in how the museum presents its permanent collection in YOUR exhibition, where visitors, through easily accessible but professional tools, are invited to design their own exhibition with the museum's large collection. Once a year, the best entry is turned into a real exhibition at the museum. "We're a museum that seeks to create all-encompassing, relevant experiences with the visitor at the centre. You get everything in a visit: the wonderful sculpture park, restaurant, arts, crafts, and architecture, as well as the chance to become part of it all," says Grøn
Facts: Trapholt is located in Kolding in southern Denmark, on the mainland of Jutland. With 2,500 square metres of exhibition space, Trapholt is one of Denmark's largest and most popular museums of modern art and design outside of Copenhagen. Trapholt opened in 1988 and added additional exhibition space and collection storage in 1996. In 2006, the museum acquired Arne Jacobsen's Cube flex summerhouse from the architect's family. SENSE ME opens mid-September, 2019. The exhibition will include works by: Olafur Eliasson, Wassily Kandinsky, Georgia O'Keeffe, Jeppe Hein, Margrethe Odgaard, Memo Atken, and Anne Patterson. Web: www.trapholt.dk Facebook: Trapholt Instagram: @Trapholt
Subscribe to Our Newsletter
Receive our monthly newsletter by email