We Love This – February 2020
Text: Ingrid Opstad | Press Photos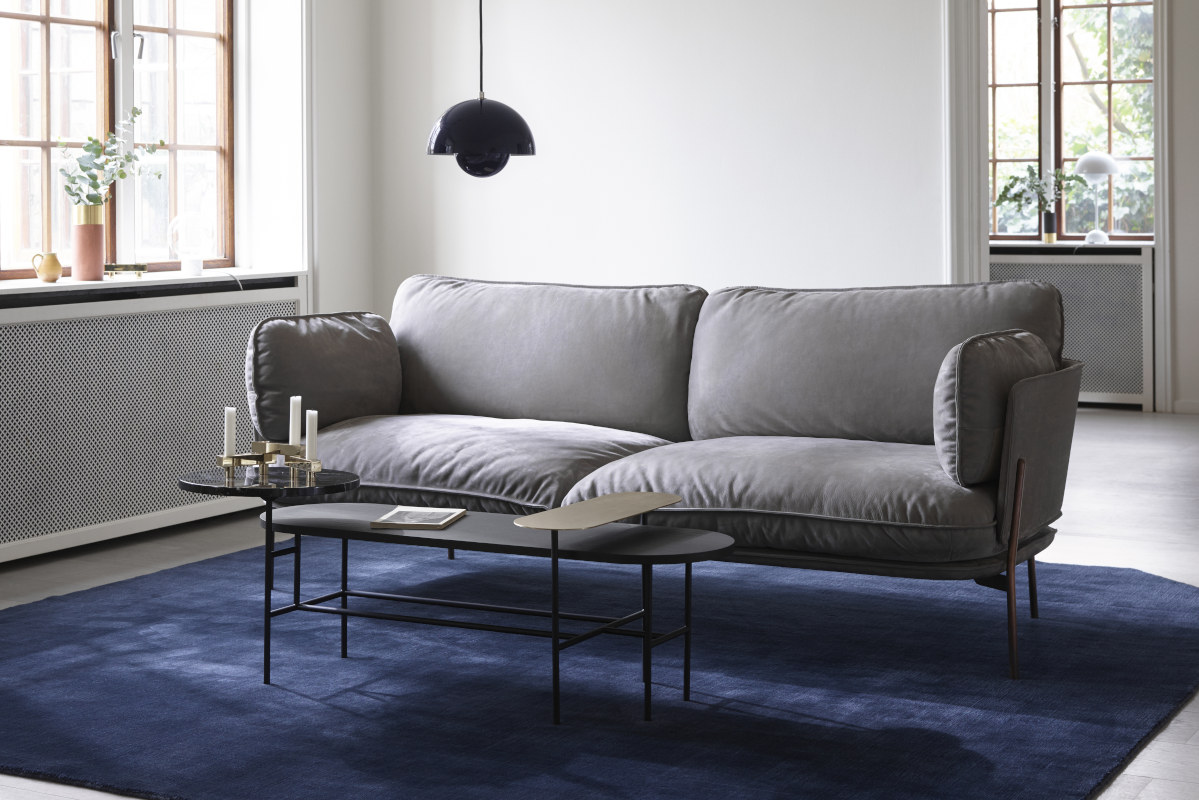 This year is all about Classic Blue, according to Pantone, who selected it as the colour of the year for 2020. We show you how you can add accents of this rich, calming and timeless shade to your home and life to be right on trend.
Inspired by the shapes of gemstones, the Moor rug is designed by All The Way To Paris and produced by &Tradition. It focuses on shape, colour and texture without any patterns, which makes it a versatile item that brings a room together both emotionally and aesthetically. The rug is handloom-woven, a production technique that produces a dense, soft and highly exclusive, velvet-like expression.
&Tradition, the 'Moor' rug, £2,852.97
Skandinavisk has collaborated with Tekla to produce a limited edition bathrobe in a blue reminiscent of the sea and distant shores. The bathrobe is inspired by Scandinavian bathing culture – in all weathers – and the thick, oversized design offers deep pockets and a substantial hood for protection against the elements.
Skandinavisk x Tekla, bathrobe, £115
This Norr tray from Danish brand Skagerak, part of a limited edition blue collection, will help you enjoy a calm moment. The simple, rectangular form and the tactile leather grip make it easy to carry, whether for servings in bed, on the balcony or around the fireplace. It's time for some hygge.
Skagerak, 'Norr' tray, £79
The Doze lounge chair by Norwegian design duo Anderssen & Voll arose from a desire to create a design with a modern expression, referencing the ideas of Scandinavian design with hints of 1970s design for a contemporary perspective on the archetypical lounge chair. With its calm, blue tone, it is perfect for lounge areas in hotels or offices, as well as for relaxing at home in front of the TV or with a good book.
Muuto, 'Doze' lounge chair, £2,308
The Troll vase takes its name from a famous painting by the 19th-century Norwegian artist Theodor Kittelsen, which depicts a mythological water spirit rising from the dark waters of a forest pond. This trio of beautifully rounded vases displays a gradient of colour due to the change in thickness of the glass – a lovely addition to any home, and a simple way to add Classic Blue this year.
Menu, 'Troll' vase, £50
Subscribe to Our Newsletter
Receive our monthly newsletter by email