Wilno Rustfri Aps: An adventure of steel
By Camilla Pedersen | Photos: Nørgaard Storkøkkener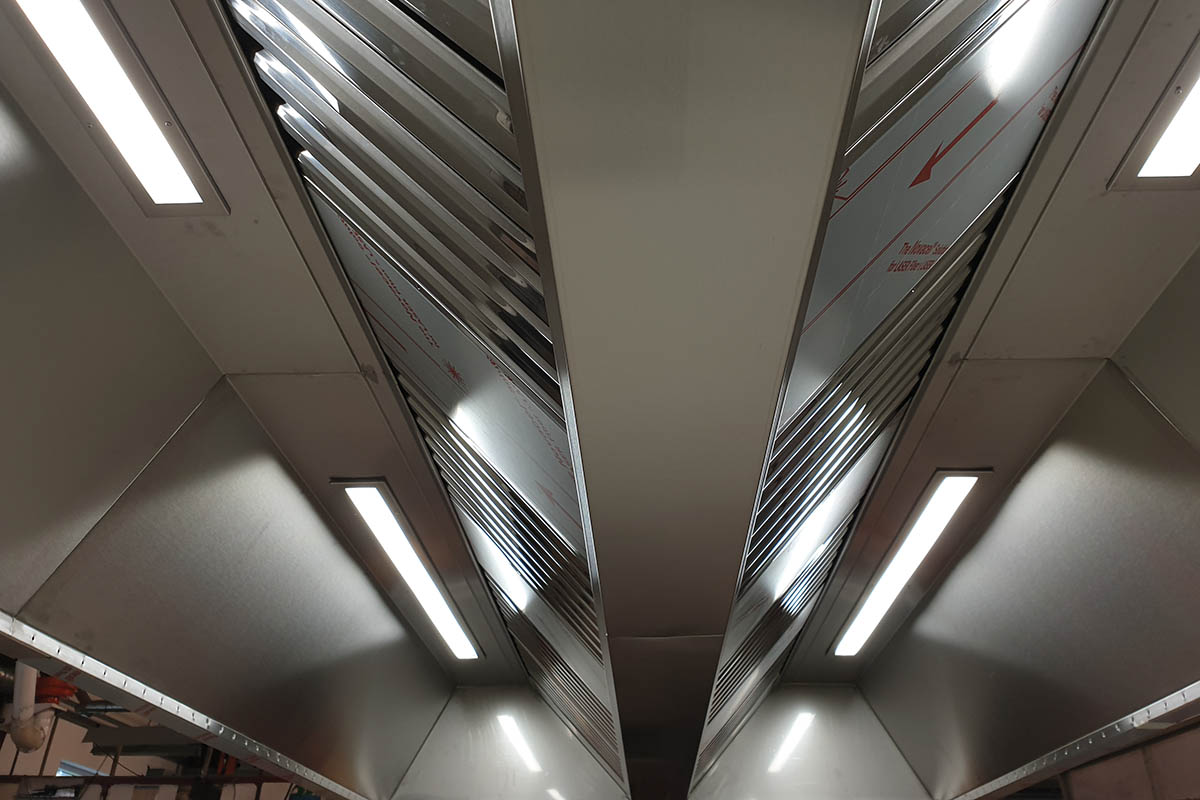 C hocolate dispensers, bar tops, kitchen counters, food trucks – no two days are the same in Wilno Rustfri Aps, a family-owned company that has fulfilled stainless steel orders for professional kitchens for over 30 years.
One minute he's on the phone to a customer, the next he's preparing sketches that need to be sent off for approval before he creates the prototype – and then it's off to the production facility where he might join his team of smiths in the production of orders that are in progress. As the owner of Wilno Rustfri Aps, Claus H. Olsen wears many hats in a day – and he likes it that way. "I've been part of the company since my dad established it in 1985 and never considered a change of paths. When I started out, I mainly swept the floors while learning the craft and the ropes of running a business, and in 2013 I took over," Olsen says.
Wilno Rustfri Aps specialises in stainless steel kitchen furniture for professionals. Worktops, cooker hoods, refrigerated counters and many more kitchen essentials are made to measure based on the needs and wants of the individual customer, and always with an uncompromising focus on quality. "Much has changed since my father started the business back in the day. There are stricter regulations, and the internet has introduced fierce competition. People want fast delivery and low costs. But while we always strive to keep up with the changing times, some things will never change – for instance, our constant focus on customer service and quality," Olsen says.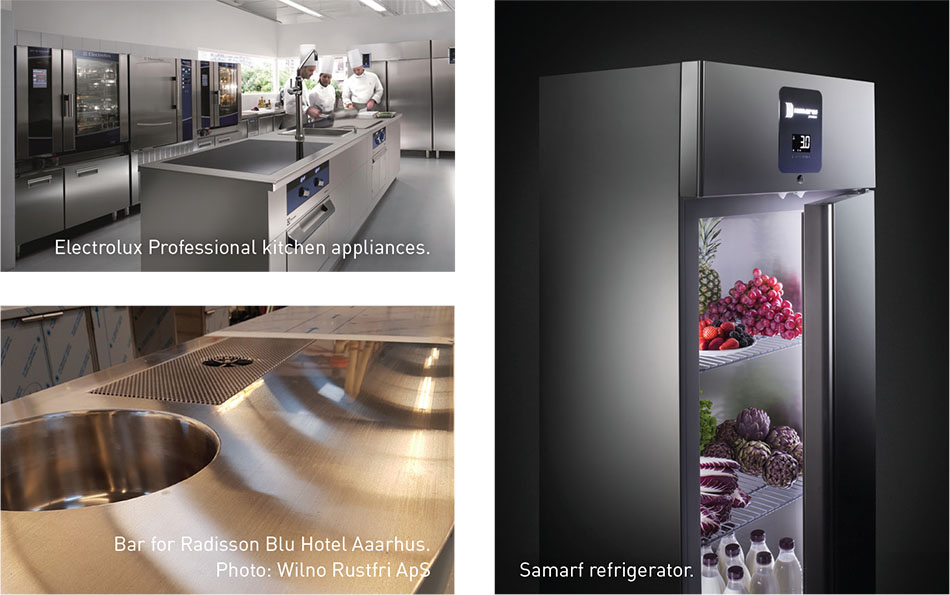 From idea to finished product – all under one roof
Throughout the years, Wilno Rustfri has produced and delivered stainless steel solutions to hotels, restaurants, cafes, an airport lounge, elderly care homes, schools and canteens. "We have no standard products, and that's what makes it fun – even after more than 30 years," says Olsen. And while he and his team produce quite a few countertops and cooker hoods, there are also the odd jobs – like, for example, the chocolate dispensers that they made for all of Peter Beier Chocolate's shops. "We created a solution of dispensers of stainless steel that not only had the right look, but also kept the chocolate from melting, while of course adhering to regulations from the Danish Veterinary and Food Administration," says Olsen.
The production facilities can handle up to 12-metre-long steel furniture. "We produced 12-metre-long and three-metre-wide cooker hoods last spring. Orders like that call for appropriate production facilities. The same goes for the eight-metre-long U-shaped bar that we created for Radisson Blu in Aarhus. Each order is unique, and it's always exciting to go on a journey with each customer, no matter if they're big or small," Olsen enthuses. "An important part of the process is to work out what is the right solution for them, and this is where I get to use my extensive experience to guide them."
All parts of the process, including sales and administration, take place under the same roof on the outskirts of Helsingør, also known as the hometown of Shakespeare's Hamlet and located 40 kilometres north of Copenhagen. "Our Danish suppliers source the steel from trusted suppliers in Finland and Germany, and we then process it here in our production facilities. It simplifies the process for everyone that there are no intermediaries, and it's my guarantee that we deliver the best quality possible."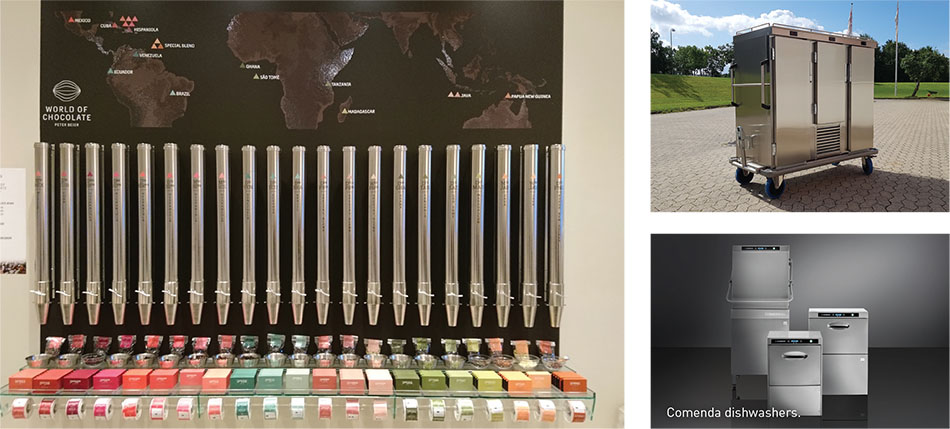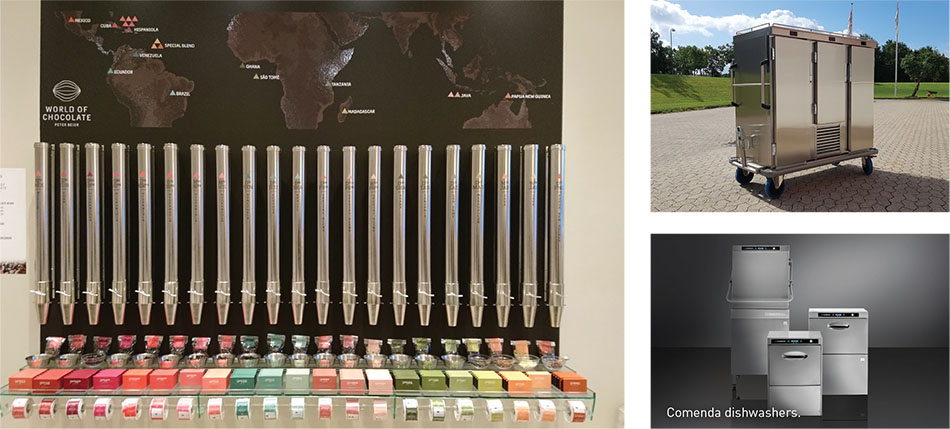 A new chapter
Simplifying processes also made Olsen see new opportunities. Wouldn't it be great to also be able to supply large kitchen machines that would complement the professional kitchen furniture? Olsen seized the opportunity and started the webshop Nørgaard Storkøkkener in 2014, selling fridges, freezers, ovens, dishwashers and other big kitchen machines for professional kitchens. All products are from Electrolux, Samaref and Comenda – Italian quality brands selected with care. "Every two years, I participate in an Italian trade fair for kitchenware. It's important for me to see and feel the products, so I know that we're offering our customers the very best products on the market. I also need to make sure it's possible to get spare parts for the machines. In the unlikely event that an issue arises, a solution is only a phone call away, as I like to say to my customers," Olsen smiles.
Nørgaard Storkøkkener is running under the same roof as Wilno Rustfri. "It just made a lot of sense to be able to offer customers the full package – not just tabletops and other furniture, but also ovens, washing machines and so on. It makes the process simpler for the customers, who can then have most of their professional kitchen needs looked after with only one point of contact – just like the Eventyr Lounge in Copenhagen Airport did after I set up the second business. Nørgaard Storkøkkener supplied refrigerators, freezers, dishwashers and ovens, while Wilno Rustfri delivered countertops, and – even though it's not something it usually produces – also shelves and wine racks. It shortens the processes, and everyone can rest assured that the quality is second to none throughout," Olsen says.
wilno.dk norgaard-storkokken.dk
Subscribe to Our Newsletter
Receive our monthly newsletter by email