Zunshine Living
Text: Signe Hansen | Photos © Zunshine Living
F or many people, living on a houseboat is a lifelong dream, but unfortunately for most, the cost of achieving it means it never becomes reality. With a brand-new, module-made houseboat, Danish company Zunshine Living is set to change that.
Having been four years underway, Zunshine Living's new houseboat, Zunshine Living 114, has finally reached the waters – and it has made quite a splash. With people streaming in for the official introduction of the houseboat, owner and founder of the company, Peter Poulsen, could confirm that many people, like himself, dream of life on a houseboat. "We had upwards of 300 people come by every day, and I must admit, I was a little surprised at how many came by and told me that they had dreamt of a houseboat all their life. One even told me, 'I haven't only dreamt of it but tried to realise it several times, but every time I failed because of the price'," he says. "But now it's achievable for the wider part of the population, not just the few and the rich."
Indeed, based on a platform of 160 square metres and priced at 2,200,000 DKK (approximately 260,000 GPB), including 25 per cent VAT in Denmark, the price of a Zunshine Living 114 is comparable to the price of property on land.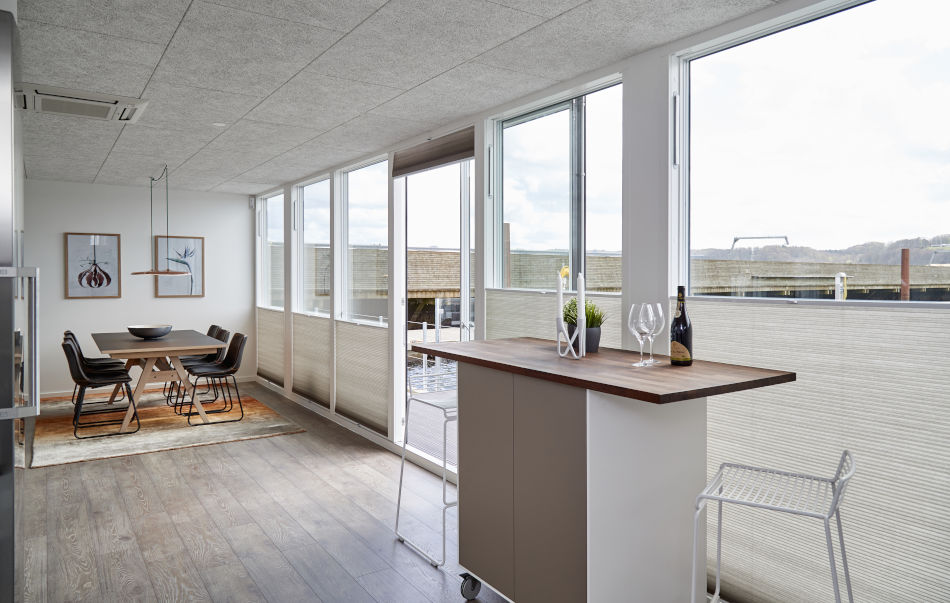 A houseboat for everyone
When many people, especially couples in their 40s and 50s, dream of moving into a houseboat, it is often based on a mix of practical and romantic ideas – the wish for lower maintenance and the beauty and serenity of life on water. However, while many companies before Zunshine Living have attempted to create a solution to make the dream come true, none have succeeded at making it achievable for more than a few.
"Previous projects have been well-intentioned, but what has happened is that so many expensive compromises have been made that, in the end, the products have been out of reach for the wider audience," explains Poulsen. "That's why we have spent significant resources on developing a beautifully designed houseboat with unique qualities at a price within reach for everyone – and we have succeeded!"
Quality and safety
That the Zunshine Living 114 can be produced at prices significantly lower than other houseboats is in large part due to the fact that both the residential part and the platform are composed of modules constructed in factory production. The process means that boats can be built safely and efficiently all year round and are easily transportable. "The streamlined process means that the quality and efficiency are always the same; from the moment we lay down and prepare the concrete platform until the finished houseboat is ready is just a matter of days," explains Poulsen.
Another advantage of the Zunshine Living 114 houseboat's streamlined design is that the legislative process will be the same for all boats. Furthermore, with a total weight of 73 tonnes, the boat is a remarkably stabile houseboat and, most importantly, thanks to built-in polystyrene in the platform, 100 per cent unsinkable and without any need for on-land maintenance.
Energy efficient
Available in three different models with different room layouts, Zunshine Living 114 can be used as both a second and primary home. Noticeably, however, the boat is equipped with all the comforts and conveniences of a primary home and comes with a number of high-quality fittings, such as a Svane kitchen, Siemens appliances, and hardwood floors. Besides all this, the boat is serviced by a complete heating and cooling system with individually adjustable units in each room, as well as built-in solar panels, making it highly energy efficient. "The boat is a top-insulated, low-energy construction with an estimated heating cost of just 1,940 DKK yearly," says Poulsen.
Most importantly, of course, the boat is designed with a wonderfully open glass façade and prepared for a roof top terrace so that, despite its comforts, its habitants will not forget that they are, indeed, living the dream.
Facts: - Zunshine Living 114 is a BR15 low-energy structure, supported by a solar panel system. - A Zunshine Living 114 is priced at 2,200,000 DKK (including 25 per cent Danish VAT) excluding delivery costs. www.zunshineliving.com
Subscribe to Our Newsletter
Receive our monthly newsletter by email