25hours Hotel Indre By: Turning heads: Copenhagen's colourful new retreat for travellers and locals
By Lena Hunter | Photos: Stephan Lemke.
In March this year, Copenhagen got a little more colourful. The reason? 25hours Hotels, the international hotel group renowned for its vibrant interior design, restaurants and bars, opened its first property in Scandinavia, in one of the hottest locations in the Danish capital.
Nestled in the heart of Copenhagen's cobbled Old Town, a stone's throw from the city's classic postcard sights, shopping streets and a direct train to the airport, the spot could not be sweeter. But despite being enveloped by Danish history and design, 25hours Hotel Indre By has eschewed the conventions of Scandinavian minimalism.
Spread across four historic buildings, the hotel is resplendent in bold palettes and patterns, bespoke textiles and over 100 artworks curated by the international art consultancy VISTO. The look is opulent but never overcooked, thanks to the sharp creative eyes behind the concept.
"The history of the location has a huge influence on the design. Our team of anthropologists, historians, designers and hospitality experts will identify a storyline based on the location, and then search for an interior designer to bring it to life. We work with different designers for every 25hours Hotels property," explains sales and marketing manager Linda Faust.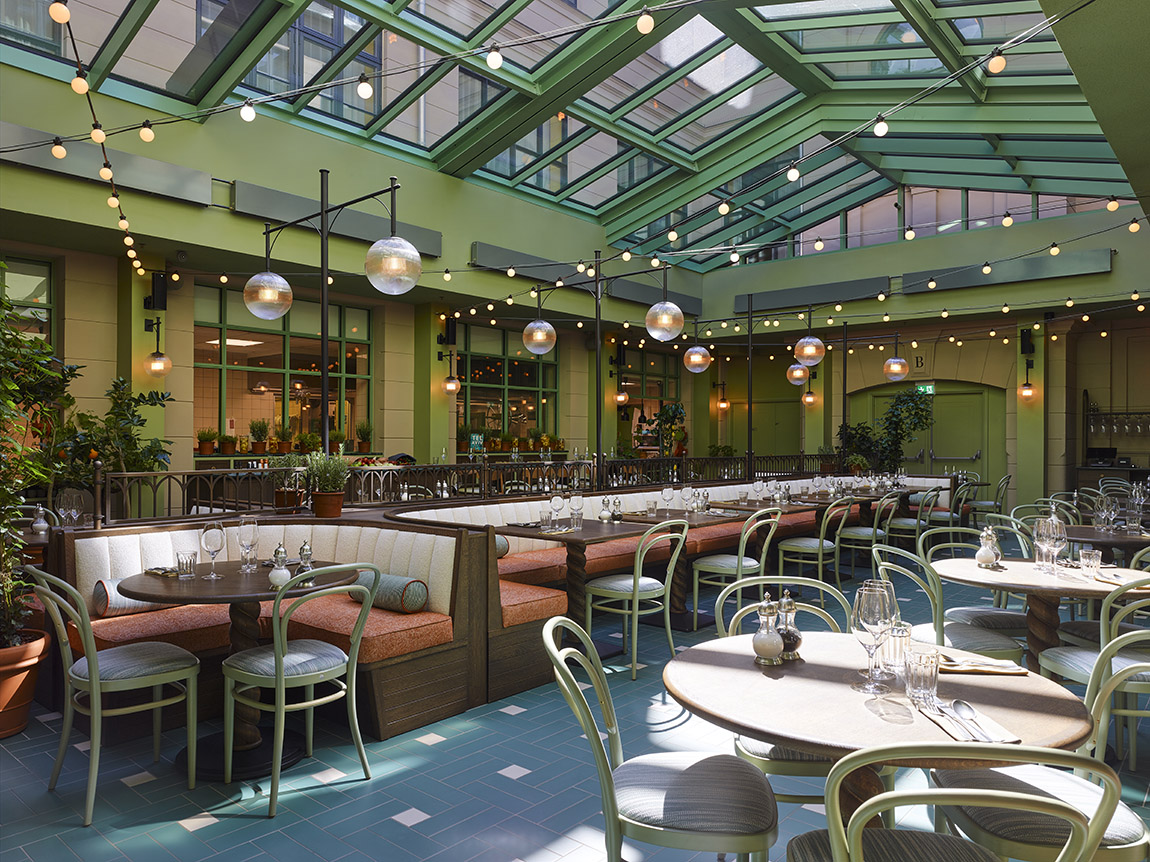 A bold and beautiful urban oasis
Based in an old university building, the Copenhagen hotel takes inspiration from the overarching concept of 'Coming of Age'. "We worked with the themes of passion and knowledge and collaborated with Martin Brudnizki Design Studios in London. We deliberately chose them so as not to go the New Nordic way, and to express more energy and vibrancy in the design," says Faust.
The artful rooms range from 'Medium Single' to 'Gigantic', including bike rental. "Every room is distinct – it's like exploring different worlds," says Faust. Speaking of little universes, some rooms even have direct access to the charming Secret Garden on the first floor. "Surprisingly, there's total peace and quiet in the garden, even though you're right next to the city's biggest shopping street. We also have an outdoor sauna, gym and wellness facilities. We want to be more than just a place where people sleep and check out of," says Faust.
Case in point: 25hours Hotel Indre By is also home to four bars and eateries, which have quickly become favourites amongst Copenhagen locals and guests alike. "They're open to everyone. As in our other hotels, 80 per cent of our bar and restaurant visitors are locals. We think it's a much richer experience when you visit a city and mix with locals," says Faust.
Copenhagen's new local hangout
Enter the hotel, beneath a playful awning that proclaims 'We will never grow up', and you won't find a reception. Instead, you'll be greeted by the photography-filled Italian Café Duse, run by acclaimed pastry chef and author Melissa Forti, who designed the afternoon tea for the Royal Academy of Arts in London. "She's incredibly talented and in December she'll be serving Christmas cakes and pastries with a twist. It's a great spot to break up a Copenhagen shopping marathon," says Faust with a smile.
Beside the café is the colourful Israeli inspired Restaurant NENI, which celebrates its roots with a Levantine menu and mural of Tel Aviv, and the decadent Assembly Bar – a meeting point for coffee, cocktails and snacks, decorated with stunning jacquard fabrics by the Finnish textile artist Kustaa Saksi.
"We've placed the reception as far as possible from the hotel entrance, so you don't feel like you're in a lobby," explains Faust. "We really want to make everyone feel welcome and that our doors are always open." And there's more revelry downstairs. The atmospheric basement speakeasy, Boilerman Bar, might be the hotel's best-kept secret, with a slick cocktail menu and boardgames embedded into the tables.
25hours Hotel Indre By might be a newcomer, but it's no shrinking violet. "We're something different. You can find the conventional Scandinavian design aesthetic everywhere, so even if you're coming to Copenhagen to explore that scene, it's a breath of fresh air to stay with us," says Faust. "We're an explosion of colours, patterns and textiles and don't have the typical Danish food – though you can find it just seconds from the hotel. Especially for frequent travellers, it's a treat to experience a different side of Copenhagen."
Web: www.25hours-hotels.com Address: Pilestræde 65, 1112 Copenhagen K Instagram: @25hourshotel_copenhagen Facebook: 25hoursHotelCopenhagen
Subscribe to Our Newsletter
Receive our monthly newsletter by email