A historic experience at Rekkedal Gjestehus
By Synne Johnsson | Photos: Rekkedal Gjestehus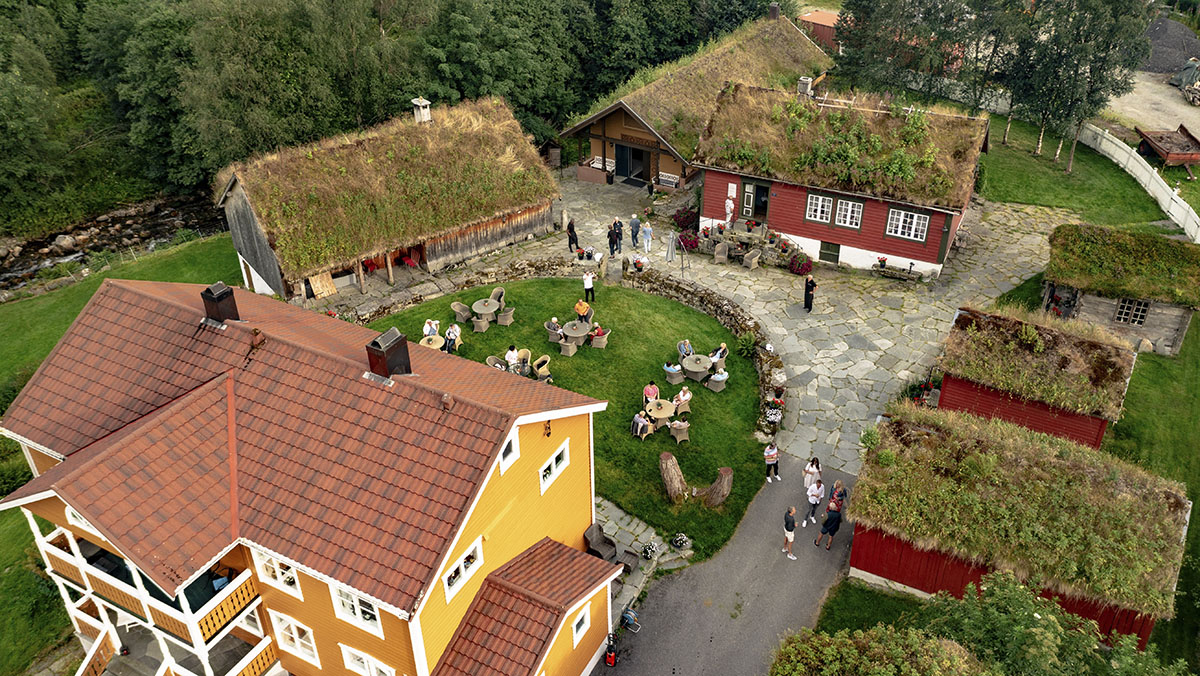 With a history going back 20 generations, and tucked between snow-covered mountains and fjords, the old farm Rekkedal Gjestehus invites guests to experience history, local food, culture and nature.
Having grown up at the farm, Karen Rekkedal became the first female owner when she took over in 2021, alongside her husband Tov Lerheim. They further developed the guest house her parents started at the farm nearly 30 years ago, offering lunch, dinner and various activities for groups of all sizes.
According to Rekkedal: "It's a farm with a very long history. Archaeological discoveries from here date back to the year 500. Our family history goes back to 1550 and starts with a man named Einar. I am of the 20th generation."
The different buildings on the farm are all in exceptional condition, preserved true to the time they were built and fully insulated. The oldest buildings date back to the 1590s and are all open for guests to see how the Rekkedal family lived at the time.
Local food of high quality
Rekkedal Gjestehus serves lunch as well as three and five-course dinners, catering for all visitors, from families to private parties and business events.
All the food, cooked by the hosts themselves, is based on local products, with each menu tailor-made for guests' individual wishes and budget. To drink, Rekkedal offers local apple juice as a non-alcoholic option and a selection of wines from Piemonte in Italy, which they import themselves. Meals are served in any of the five buildings fitted for diners, depending on the size of the group. The smallest building can take up to 16 people and the largest up to 80.
"This used to be a farm with a lot of animals. We have a storehouse from 1590, with old furniture from that time and various old items from the farm. We use those for quizzes, because it's impossible to google the answer," Rekkedal says.
"We also have what we call Gamlestova, the old sitting room, from 1870, which can take up to 16 guests. When it was built it housed 12 people across three generations. It's perfect for lunch for a smaller group."
Grindløda, a barn from 1860, has room for up to 50 people. The fully insulated barn was completely restored in 2002, with a wine cellar added, built from materials from a 1640 church, which can fit 18 people.
In the newer buildings, from 2010, there is room for even larger groups. In the 'new barn', 80 people can enjoy a barbecue on the large fireplace in the middle of the room. The hosts offer grilled sausages of venison, lamb or tenderloins, accompanied by a buffet of various sides.
Tailor-made experiences for groups of all sizes
But Rekkedal is much more than a restaurant. Surrounding the farm are endless hiking and walking routes, and the hosts regularly arrange walks in the nearby area to complete the visitor experience.
"We collaborate with various guide companies that arrange hikes up the many mountains in the area. We try to facilitate everyone in the group. Especially in bigger groups, there's always someone who wants to run and others that struggle to even get to the top," says Rekkedal.
"Therefore, we try to organise lower-threshold walks and activities that everyone can do together, so everyone feels included. Of course, if they want tougher hikes, we can organise that too – we customise the experience for each group."
The guest house is open all year. During the winter season, there is a separate food menu for ski groups, where skiers can end their trip with a feast. For groups travelling from other places in Norway, or even from abroad, Rekkedal can arrange boat trips across the fjord or bus transport. When businesses want to organise conferences or events – or even for weddings – guests can stay in the local town of Sæbø, and Rekkedal arranges everything from transport, to a glass of sparkling wine on arrival and the dinner itself.
Whether it's a business, family or group of friends looking for a cultural experience filled with history and delicious local food, Rekkedal has something for everyone. "With such a long history, I'm of course very proud to show visitors the farm and the area, and to serve our guests here. I really like how quiet and peaceful it is here – it's a perfect break from the loud and busy lives many people lead in the bigger cities."
Web: www.rekkedalgjestehus.no Instagram: @rekkedalgjestehus Facebook: rekkedalgjestehus
Subscribe to Our Newsletter
Receive our monthly newsletter by email