AIX: Past masters
Liz Longden | Photos © Antonius Van Arkel
T he importance of understanding history is at the heart of AIX's architecture and, with two nominations in this year's World Architecture Festival (WAF) awards, the Stockholm-based architects have shown that the past can, and should be, a beautiful and relevant part of our present.
The rural ruins of Sweden's oldest surviving church and a 100-year-old university campus may not, at first glace, appear to have much in common. But both have been developed by AIX to international acclaim, with a common philosophy: that historic sites should be preserved not as relics, but as living sources of inspiration which help us to move towards a better future.
AIX take on projects from across a number of disciplines, including new constructions. However, with a studio dedicated to the renovation of historic buildings and the development of culturally important sites, a sensitivity towards the interplay of past and present permeates all their work.
It was this awareness which made them the perfect partners for both Sustainability House, a major new building on a campus of Stockholm's Royal Institute of Technology (KTH), and Kata Farm, a protective shelter over the site of a thousand-year-old Viking church. These two very different projects, united by the importance of historical continuity, have both been nominated on the 2018 WAF shortlist.
A living complement
The brief for Sustainability House was to create a new building to house academic offices, in a location which is surrounded by listed buildings and situated within the bounds of Stockholm's National City Park. This meant that the building had to not only be functional and innovative, but also respect the heritage and restrictions of the site and complement the existing architecture.
"If you're building on a culturally or historically important site, there are a lot of things, like pieces to a puzzle, which have to fit together," explains lead architect Sven Ahlénius. "You have to ensure a kind of continuity with the past, but at the same time, try to create something that has contemporary relevance, and which is also built as sustainably as possible. So those are the kind of questions that we work with a lot at AIX and which were also relevant here."
The result was a building which Ahlénius describes as a "contemporary complement" to the existing buildings. Hand-laid red bricks and an intelligent play on perspective, which makes the building appear narrower, ensure that Sustainability House blends in harmoniously with its surroundings. Yet a bold window configuration gives an unashamedly contemporary aesthetic. The building's functionality is also focused on the needs of the present, with the maximising of internal space, the opening up of the ground floor with large windows and clearly defined entrances, and, not least, a gold standard sustainable building certification ('Miljöbyggnad Guld') from the Sweden Green Building Council.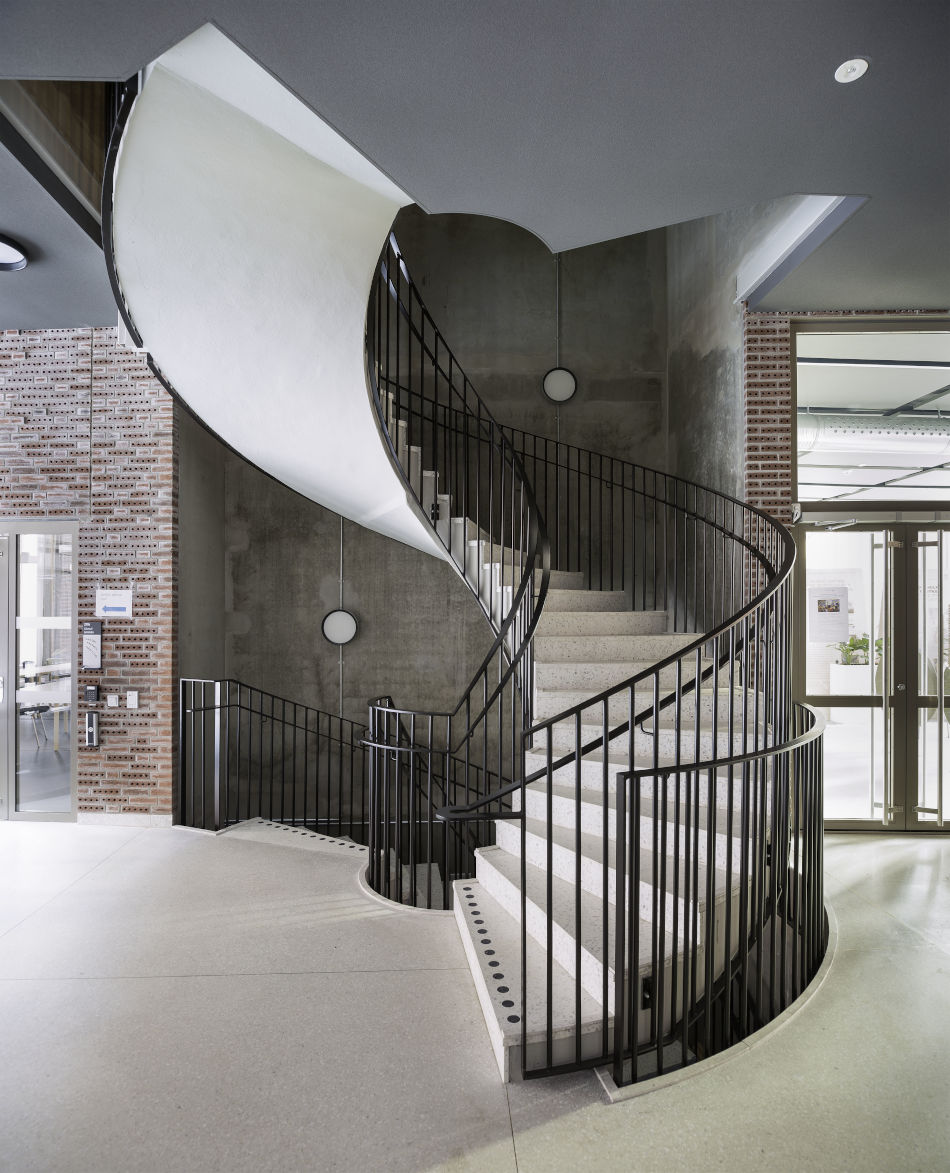 Telling a story
For Magnus Silfverhielm, lead architect on Kata Farm, historical continuity also has a more philosophical sense. The site in Varnhem, Västra Götaland, contains the crypt and foundations of a church dating from 900 AD, constructed on the orders of a Viking woman, Kata, and which may be Sweden's oldest surviving room. AIX were asked to design a protective shelter for the ruins, which could also serve as a visitor centre.
Silfverhielm explains that the project was an opportunity to make a statement about the importance of history to contemporary society, particularly regarding the often forgotten role of women in Swedish history and the positive impact of contact with other cultures. The arrival of Christianity, Silfverhielm points out, brought with it new technologies and building techniques from abroad, which made the building of the stone church possible. "It is very important, particularly in the times in which we're living, to tell this story of how the development of our country has always been dependent upon influences from other cultures," he says.
Kata Farm pays homage to this peaceful co-existence of cultures in the symbolism of its triangular roof, which represents the religions of Christianity, Judaism and Islam, united by their common origin in the figure of Abraham. Strategically placed windows offer views onto the nearby medieval abbey, giving context of the development of Christianity, while Kata's grave is visible through a glass floor. The choice of wood as a building material is not only sustainable and blends in harmoniously with the rural surroundings, but was also the material used on the first church on the site. Even the assembly of the wooden roofing boards is inspired by the construction techniques of Viking longboats.
"Architects have a very important role when it comes to cultural heritage," Silfverhielm says. "We draw energy from a site and try to understand the significance of what has stood there, to then create something new that will link people to that past for generations to come."

Web: aix.se
Subscribe to Our Newsletter
Receive our monthly newsletter by email