AKI, a new take on a timeless light source
By Linda A. Thompson | Photos: AKI
Laura Ercole's glass oil lamps were born in response to the loneliness many felt during the Covid pandemic. Reimagining a timeless functional and sacral object for the modern age, the AKI oil lamps encourage us to connect to our inner selves, others, as well as the divine.
In 2020 we all felt fragile, unsafe and our human nature resurfaced prominently. At that time, the necessity of relating to our souls and the inexplicable became part of a sudden throwback. We stayed inside our homes to shelter, like our ancestors did in caves. Like in the beginning, we relied on fire to illuminate the darkness both as symbolic and physical phenomena.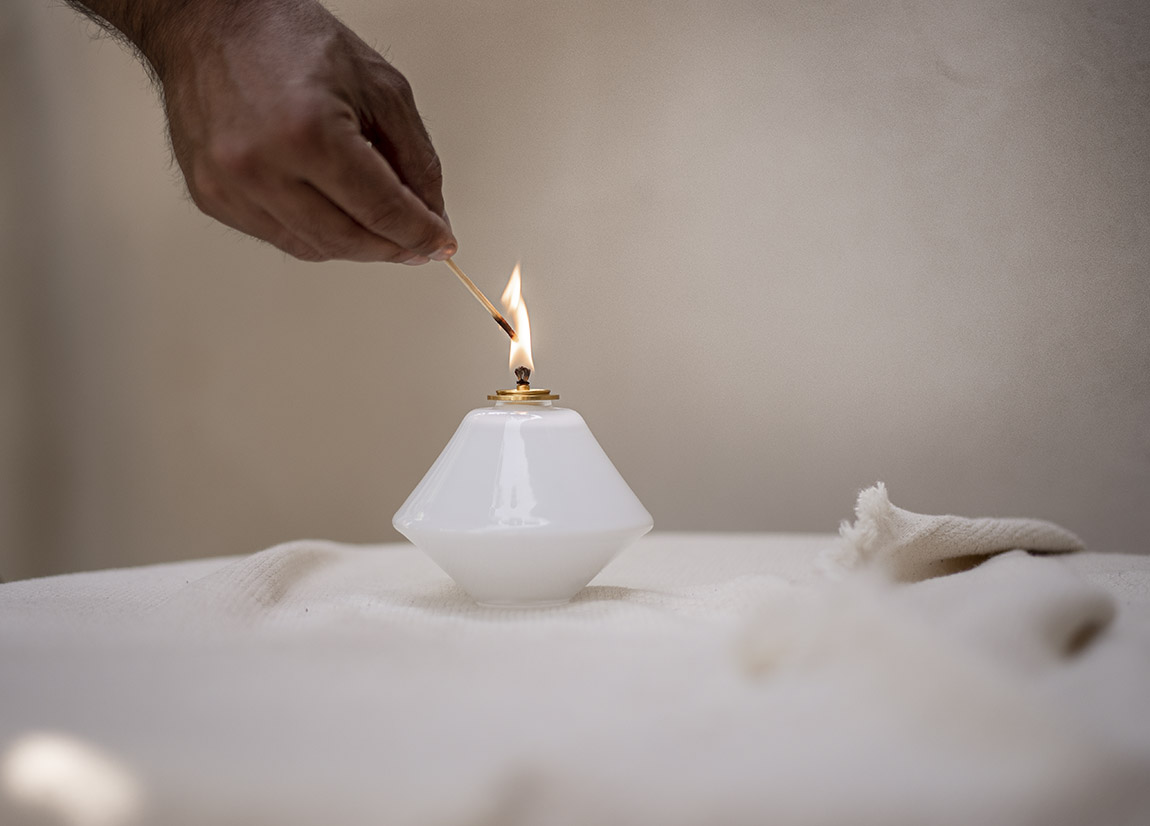 The power of fire and its living presence again became synonymous with home, protection and warmth, and, simultaneously, it reclaimed its role as a medium to connect us with the unknown and the divine. In the company of a lively flame, we dedicated time to thinking and reflecting; to baking and cooking; to writing, painting and manual activities. All these things helped us to take care of ourselves and others, to find comfort and cultivate hope.
It's why Laura Ercole, a designer based in Trento, Italy, decided to reimagine the oil lamp and make it a key part of her Animacontemporanea design brand in 2020. "Everything developed with Covid, when people were forced to stay at home and we were feeling lonely. The AKI oil lamp was a way to make them feel connected to others and to remind us of our basic needs as human beings – as well as to feel part of a community," she explains. "AKI comes from Japanese and signifies 'sparkle', 'bright' and 'hope', a perfect name for my little oil lamp, crafted to keep you company. In today's digital society, I think it is important too to have an icon that connects us to our humanity and others."
An antidote to screen light
Brighter than a candle, the soft glow of an AKI oil lamp is particularly special. It's an antidote to the harsh blue light of the screens that dominate our modern lives. A light that our ancestors would have known. A light that links us with our past and our future.
On an emotional level, it's a light that allows us to step away from daily pressures and focus on ourselves. The gently dancing flame encourages us to slow down and find a moment of calm, quiet contemplation. In its presence, we can connect with our inner emotions and improve our spiritual wellness – a dimension that's so often forgotten amid the hustle and bustle of these complex, uncertain times.
On a physical level, the light of an AKI lamp creates a warm, relaxing atmosphere. It helps us escape from the digital world, unwind and live in the present moment. It sparks a sense of wonder, revealing the hidden beauty in our surroundings – not only in the areas it illuminates, but in the pockets of darkness and shadows it leaves behind.
A mesmerising shape
AKI's design is unique among other oil lamps in the market that are reproductions of old ones, reinterpretations of traditional oil lamps or simple round-shaped thin glass globes. Ergonomically shaped to stay in your palm, AKI offers a grip to move it securely. The eye-catching design is a smart feature as the lamp keeps spinning if accidentally hit with no danger for your furniture or oil spills.
The lamp's original shape has mesmerised many customers since Laura launched the AKI oil lamp range. "I wanted my lamps to be durable objects to cherish and pass on, as a testimonial to great European craft, keeping in mind a sustainable way of living. So enhanced durability is connected with conscious consumer choices to reduce the products we buy and resources we need to produce them," says Laura, who purposefully used glass for her oil lamps – a material that can be recycled time and time again. "This also gives you the meaning of long life, of something that comes from the past, is in the present and can go into the future."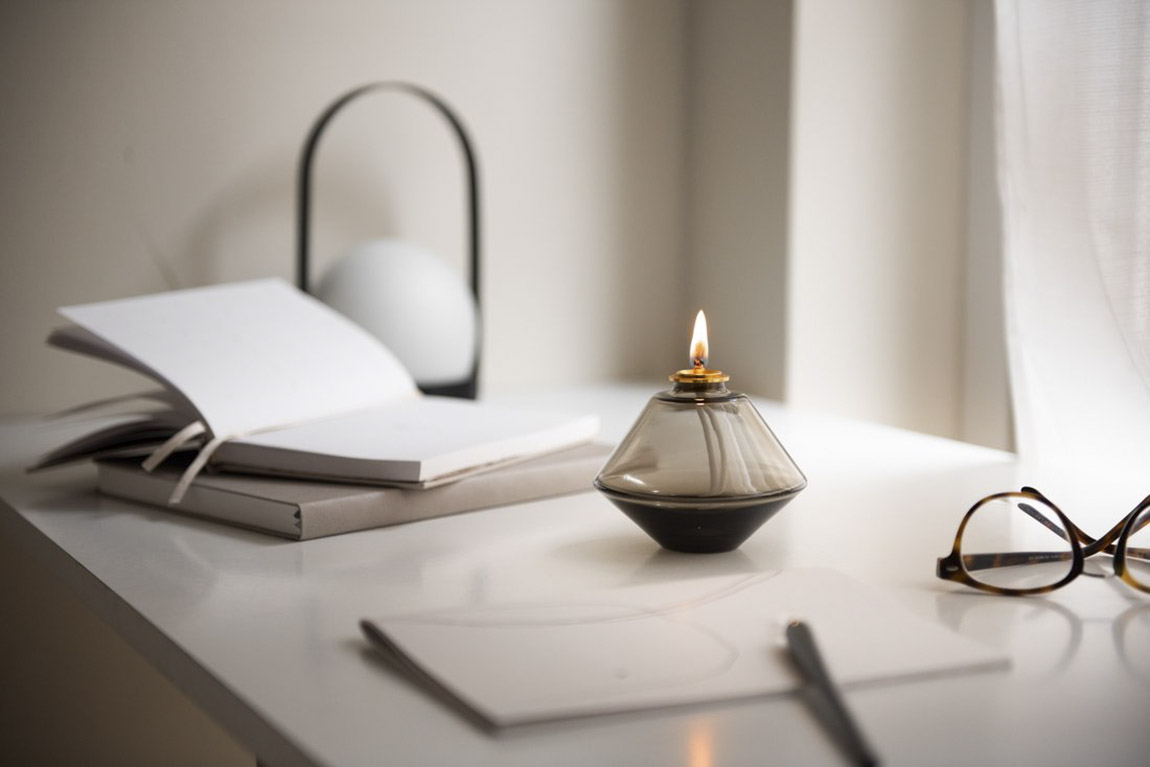 AKI lamps are easy to clean and refill and can be repurposed and used to hold a small bouquet of flowers, or as a reed diffuser. "These are all welcoming rituals," Laura explains. "So, when somebody comes into your home, and you want to create a warm cosy atmosphere, you simply light a candle or an oil lamp, arrange some fresh flowers or spread a relaxing scent. In this sense, AKI is really connected to your personal dimension. It's not just an oil lamp."
No longer essential for light, oil lamps have acquired a new significance – one that goes beyond its continued religious usage. In our increasingly busy, fast-paced lives, it offers comfort and companionship. It adds beauty to our living spaces. And it encourages quiet reflection, bringing moments of calmness and clarity that connect us to our inner selves and enhance our spiritual well-being.
The story of the oil lamp is the story of us. And it's a story that's still being written.
Web: www.akilamps.com Instagram: @aki_oillamps
Subscribe to Our Newsletter
Receive our monthly newsletter by email