Alukin: High performance without the fuss
TEXT: LIZ LONGDEN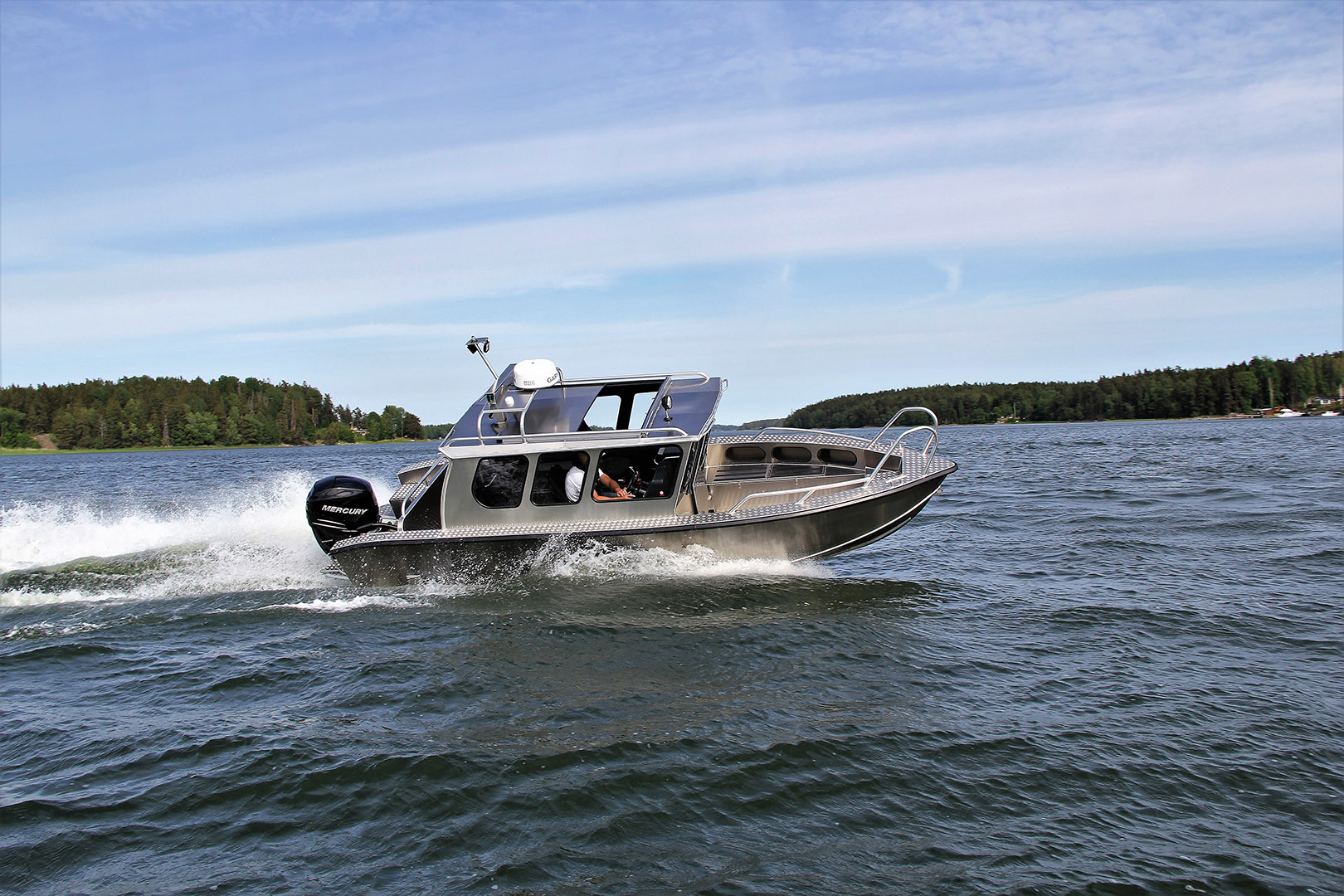 Few things give a sense of freedom like speeding across open water, but boats can require a significant investment of time, energy and money to maintain. Swedish company Alukin, however, has more than ten years' expertise in crafting boats from aluminium, which not only combine performance, sustainability and style, but are also maintenance free, allowing their customers to relax and enjoy the ride.
When husband and wife Peter and Maria Nikula couldn't find a boat to meet their own needs, they decided to take matters into their own hands and design their own. Their first model was released onto the market in 2008, and their company Alukin has since gone on to become one of the most sought-after names in aluminium boat production. "Our inspiration came from our own need for a sustainable, maintenance-free boat that gives a sense of freedom and a clean conscience," explains Maria Nikula.
Alukin's current range includes a variety of models, from smaller, open vessels to large cabin boats that can transport heavy machinery, and family weekend boats. There are, however, some things that all Alukin boats have in common. These include performance, with hulls designed to promise great handling at all speeds; an aesthetic of stylish clean lines; and optimal comfort. Since aluminium is fully recyclable, Alukin's boats are also a smart choice for the environment, and because the material requires no maintenance, they are perfect for those who prefer to spend their time using their boat rather than painting it. Finally, their high durability ensures that the boats can perform in almost any weather, whether they are transporting goods across an archipelago or zipping across a lake to the summer house.
"Our boats are often used by businesses as a vital piece of equipment or mode of transport that can be used in just about all weathers, apart from thick ice," Nikula says. "But we have just as many customers who use the boats for leisure, because they like the fact that they are functional, hardwearing, comfortable and can basically be used all year round."
Scandinavian engineering, global appeal
There are few places in the world where the weather varies so dramatically between seasons as in the Nordic countries, and this is one of the reasons why all Alukin boats are built and tested in Sweden and Finland — if a boat can cope with Nordic weather, it has a good chance of coping anywhere. Another, however, is that Nordic-based production ensures that the Nikulas can closely monitor the design and manufacturing process. "It's important for us that production is based in Scandinavia, not only because our roots are here, but also because that places it close to our biggest market," Nikula explains. "That means we have full control over the whole supply chain, from the drawing board through to assembly." Customers are also welcome to visit and see their boats being made. "There are no secrets," Nikula adds. "We're very open and happily share our expertise."
Unsurprisingly, Alukin is also beginning to turn heads further afield. Last year, the company became a part of Nimbus Group, Scandinavia's leading boat manufacturer, which has helped to increase Alukin's exposure outside the Swedish market, while this year saw the launch of Alukin in Finland. And Nikula believes that interest in aluminium boats is continuing to grow worldwide.
"We can see that there's a strong demand for sustainable and functional aluminium boats, not only in Scandinavia and some other parts of Europe, but also in other parts of the world," she says. "Environmental concerns are becoming increasingly important, and the fact that aluminium boats are fully recyclable is significant both now and for the future. At the same time, the fact that users are liberated from time-consuming maintenance and can use the boats over different seasons, means that they are becoming more and more common in a marine context."
Alukin's success has not gone unnoticed by the business community either, and last year it earned the accolade of 'Superföretag' (super company). Conferred by the Swedish business magazine Veckans Affärer, the award is an honour that recognises solid, sustainable growth and business acumen.
Despite the plaudits, however, Nikula pledges that Alukin has no intention of resting on its laurels and will continue to develop functional and versatile boats to ensure it remains at the forefront of the aluminium boat market. "Developing new models and making sure that the latest technology is available will always be an important part of our business," she says. "Staying true to our original concept of stylish design, high functionality and long-term sustainability, we'll continue to bring out new models to meet new challenges that arise."

Web: alukin.se
Subscribe to Our Newsletter
Receive our monthly newsletter by email