Amboss Toys: Fall in love with these Italian-styletoy scooters – an award-winning, active toy for toddlers that screams style quality and value
By Karin Blak | Photos: Ambosstoys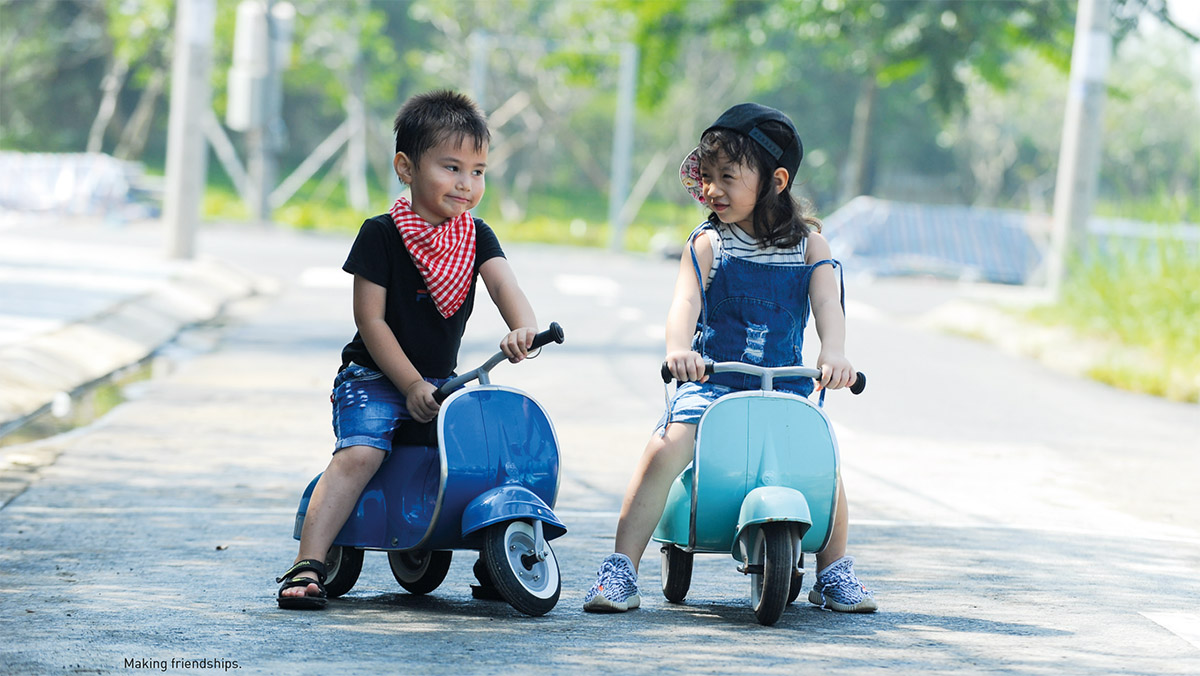 Making dreams come true doesn't happen overnight. No one knows this better than Elisha Ruesch and Nguyen Nguyen, joint founders of Ambosstoys. Developing the prototype of their child-sized scooter, the award-winning PRIMO Scooter, took them eight enduring years and heartfelt determination.
Nguyen and Ruesch began working together when setting up their workshop in Vietnam, restoring motorbikes and classic cars. Their showroom in Switzerland provided the outlet for their craftsmanship.
In the years that followed, both became parents and, as happens with many parents of toddlers, they noticed the poor quality of toys and how easily they broke. The plastic was not durable enough to last longer than a season, nor were the toys recyclable.
They turned their disappointment into a success story. They had the skills and craftsmanship to produce toys in materials that would last long enough to be passed on from sibling to sibling, perhaps even creating heirlooms that would be adored by generations. Having restored many scooters in their workshop, they decided to model their first toy on the classic Vespa.
From idea to reality
Developing a new product without investment money or experience from a similar project proved to be a steep learning curve for the pair. But Ruesch and Nguyen persevered; their energy, time and, most of all, their desire to create quality toys in timeless and affordable designs, were all they needed to make this dream come true.
Shaping the clay prototype with their bare hands, they didn't stop until they were both happy with the result. Eight years after they first began to design and mould their idea, the PRIMO Scooter was born.
These brightly coloured, ride-on scooters are solidly made of sheet metal, powder-coated for protection, and in the timeless style of 1960s Italian scooters. Who could resist falling in love with these cheeky little metal movers?
Packaged to be easily assembled on arrival, these small three-wheel scooters are a dream for any toddler, aged around one and a half to three.

The success story
In 2019, Ambosstoys attended the New York Toy Fair and, as Ruesch says, it was a matter of "either go big or go home". They wanted to stand out so chose a large booth in a position where they would be seen. But that wasn't all. They cleverly exhibited examples of their old collection of full-size Italian scooters, some of which had been modified, or "pimped", with electric motors, made into sidecars or three-wheeled vehicles. Among these, they placed their cute and colourful toy scooters.
Their eye-catching stand caught the attention of retail stores as well as bigger suppliers, and orders began to come in. The most exciting order of them all came from the Museum of Modern Art (MOMA) in New York, who adored the PRIMO and wanted it as part of their design collection.
Seeing the PRIMO at the museum shop touched Ruesch deeply. "It was amazing," he says, "to see our product in the window of the MOMA shop and then remember the process we went through. It was such an emotional moment."
MOMA had placed the scooter in a large window at their SOHO Manhattan NY shop, standing on its own, a shining example that spoke for itself: this was a design that possessed longevity, quality, craftsmanship, and value – exactly what the two entrepreneurs wanted the name of Ambosstoys to stand for.
Adding to their success, the PRIMO scooter won the Best Toys for Kids Award 2019 and later the Toy of the Year award 2021. From that moment on, the scooter became a must-have for suppliers of toys and orders began flooding in.
Resilience through the pandemic
As the pandemic hit retail throughout the world, orders were cancelled, and a different kind of challenge presented itself. Setting up as a provider to the smaller retail stores no longer proved a viable option.
Again, these inventive entrepreneurs found a way through. Switching their sales to online only, they created partnerships with bigger companies, making this delightful scooter available throughout the world, including Europe, Scandinavia, Israel, UAE, Taiwan, Asia and Australia.
Ambosstoys: the vision
With this level of success, Elisha and Nguyen have already got the next toy lined up and due out in 2022. This time it will be with a focus on children three to six years of age: a two-wheel balance bike using the same philosophy of taking a classic design and turning it into a quality toy.
Ruesch cannot reveal the design before the patent has been registered, but watch this space: with Ruesch and Nguyen's vision of converting classic designs into quality, long-lasting toys, Ambosstoys could before long become a household name.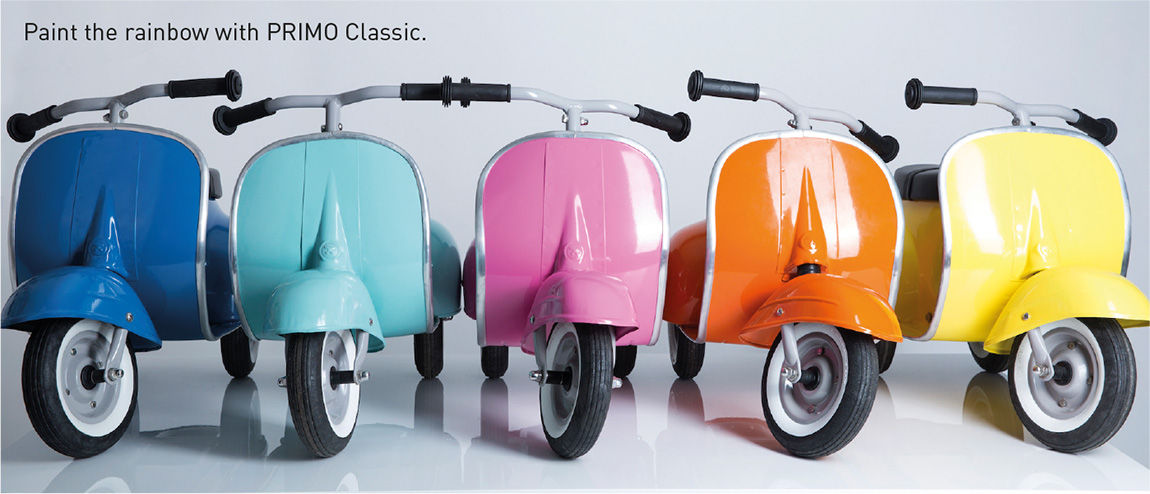 Web: www.ambosstoys-europe.com Facebook: Ambosstoys Instagram: @ambosstoys Youtube: Ambosstoys LLC
Subscribe to Our Newsletter
Receive our monthly newsletter by email