Andersen Interiørarkitekter and Katrine K AS: Juxtaposing old and new through attentive decoration
By Åsa H. Aaberge | Photos: Jon Gorospe
Meet the interior architects who sought to complement and enhance history in a contemporary and sustainable manner by refurbishing one of Norway's most esteemed libraries.
With a vision to entice the public in, Andersen Interiørarkitekter (Interior Architects) and Katrine Kristiansen took on the prestigious task of redecorating the venerable National Library of Norway in Oslo in 2017. Set in a building over a century old, the pursuit of the project was to preserve and prolong history in a timeless and contemporary manner.
"The building and its original interior are listed, meaning no new installations and interiors can be attached to walls, floors or ceilings. A site like this demands careful consideration," says interior architect Kari Cecilie Andersen.
For the project, Andersen teamed up with fellow interior architects and long-time colleague Kristiansen. Today, we meet them in the library foyer, an airy, stately space with arched ceilings, adorned with original hand paintings. "We wanted to conform and complement the existing premises rather than contrasting," explains Andersen.
A modern meeting place
The National Library has ambitions to become a bustling meeting place in the heart of the Norwegian capital. To create a welcoming ambience, the interior architects focused on revitalising the public areas of the building bit by bit, whilst bringing the library back to life and enhancing its former glory. That included establishing a new in-house café, a lecture hall, main reception, a lounge and a bookshop.
Meanwhile, existing spaces have been made more attractive and accessible for the public without compromising the conservation requirements. "The interiors, lighting and reception desk have all been specially designed by us. Existing benches and stools got new leather seats, and we have consistently incorporated iconic Nordic design elements as well," says Kristiansen.
Improving the library's Universal Design was a priority, with new and improved ramps and elevators added to ensure accessibilty for all. Making the library a more soothing space to spend time in was another major consideration. For better sound quality, floors were set with carpets and all hard surfaces replaced with smoother, less noisy materials to ensure good acoustics and to muffle disturbing sounds.
"In the cafe and lounge areas, it was important for us to ensure comfort and a warm ambience, with armchairs, soft fabrics and floor lamps for a cosy setting," says Kristiansen. Throughout the library, Andersen and Kristiansen have emphasised good light via repeating ring-shaped LED lights, specially designed in different sizes, that hang from the airy ceilings. The Café Å features custom-made pendants over each cafe table.
"We chose colours and materials with careful consideration of sustainability and durability. We chose solid oak for the custom-made furnishings and linoleum on worktops, counters and lecterns," says Andersen. The materials are natural, long-lasting materials that can be recycled, repaired and reused. Chairs and other furniture have been upholstered in leather and solid wool fabric. "We use tailored solutions to ensure distinctiveness and identity, as well as longevity," says Kristiansen.
Inspired by antiquity
As for the colour palette, tones used in the new interior took inspiration from the existing interioirs of the National Library, which rely heavily on oak and dark brown shades, and from the old leather-bound books' golden fonts and rich notes of red, green and black. In the cafè, the tables have durable marble tops with brass bases, paired with leather sofas that complement the wood-panelled room.
The National Library project was conducted in collaboration with Entra, who had the role of head builder and oversaw the practicalities on behalf of the National Library. Entra is one of Norway's leading real-estate companies in developing and managing energy-efficient buildings. Entra describes Kristiansen and Andersens' interior work as creative.
Whilst maintaining the authentic atmosphere and interiors was a priority, blurring the lines between history and contemporary was important for Andersen and Kristiansen. "Arguably one of the biggest tasks was designing and incorporating a new hub for the National Library's map centre. The maps are extremely fragile and sensitive to air and light, dating back hundreds of years," says Kristiansen.
In the back of the existing building, once a courtyard, Andersen and Kristiansen designed a lightproof, box-shaped aluminium construction as a modern contrast to the art deco-style building. It looks like an installation – a room within a room. The space exhibits one of the world's largest collections of ancient maps, atlases and geographical books of the Nordics.
Andersen and Kristiansen continuously work together and separately on interior architectural projects, including planning, refurbishing and decorating public spaces ranging from offices to parking garages and private homes. The duo work together as Oslo Interiørarkitekter and separately as Andersen Interiørarkitekter and Katrine K AS.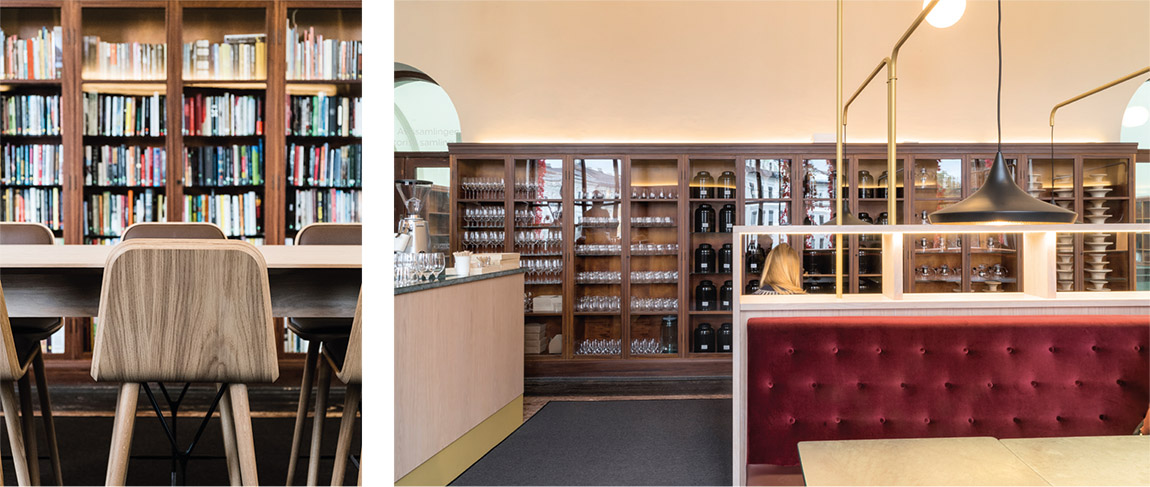 Web: www.aintark.no www.katrinek.no Instagram: @oslointeriorarkitekter @katrinek_interiorark
Subscribe to Our Newsletter
Receive our monthly newsletter by email