Anette Meldgaard Andersen: Disregard the usual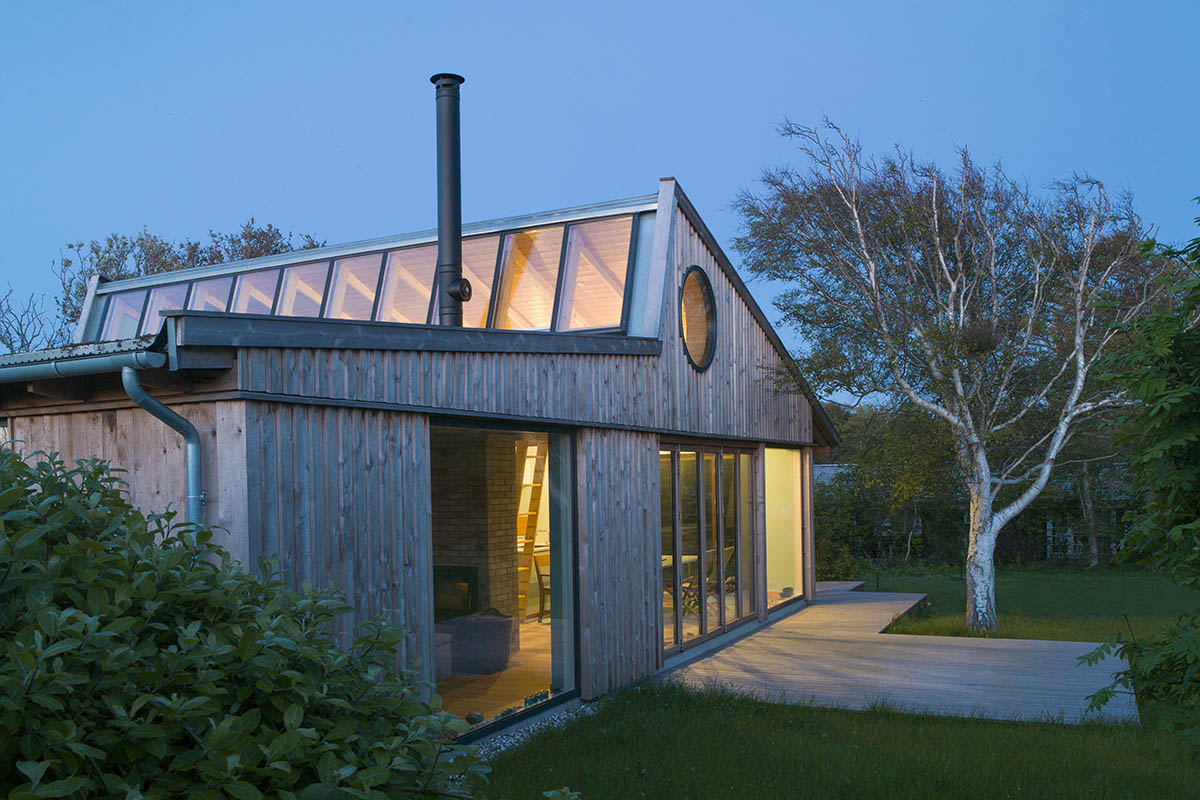 In Denmark, there's a common perception of what the cool materials are, what an aesthetically pleasing room is and what makes a nice-looking, modern building. Sometimes, however, things can become just a little… safe. "We all know that a herringbone floor looks good," says architect Anette Meldgaard Andersen. "But how interesting is it when we all walk around on those? Does it contribute to the space, the tactile sensation? Why not see if there's something else you think looks just as good, or even better? Or make the effort to reuse materials, even though it is unpredictable and difficult?"
By Louise Older Steffensen | Main Photo: sorennielsen.com
Meldgaard Andersen began her career at a larger architecture firm. She has always been interested in how people use and experience buildings – especially the most personal unit, the home. In 2004, she decided to become independent in order to fully dedicate herself to each project. "Architects have to be great all-rounders, and that's particularly true when running a one-person firm. I'm responsible for every part of the build, which I very much enjoy; for carrying it all the way through."
Meldgaard Andersen mainly works with single-family houses. "As the clients rarely have any professional experience with bigger building projects, I'm their anchorwoman, sparing them many frustrations and insecurities, so they can enjoy the process – building is fun!" she says. No matter the scale or type of project, she always begins with visiting the location, observing the surroundings, and getting to know the client's situation, thoughts and needs.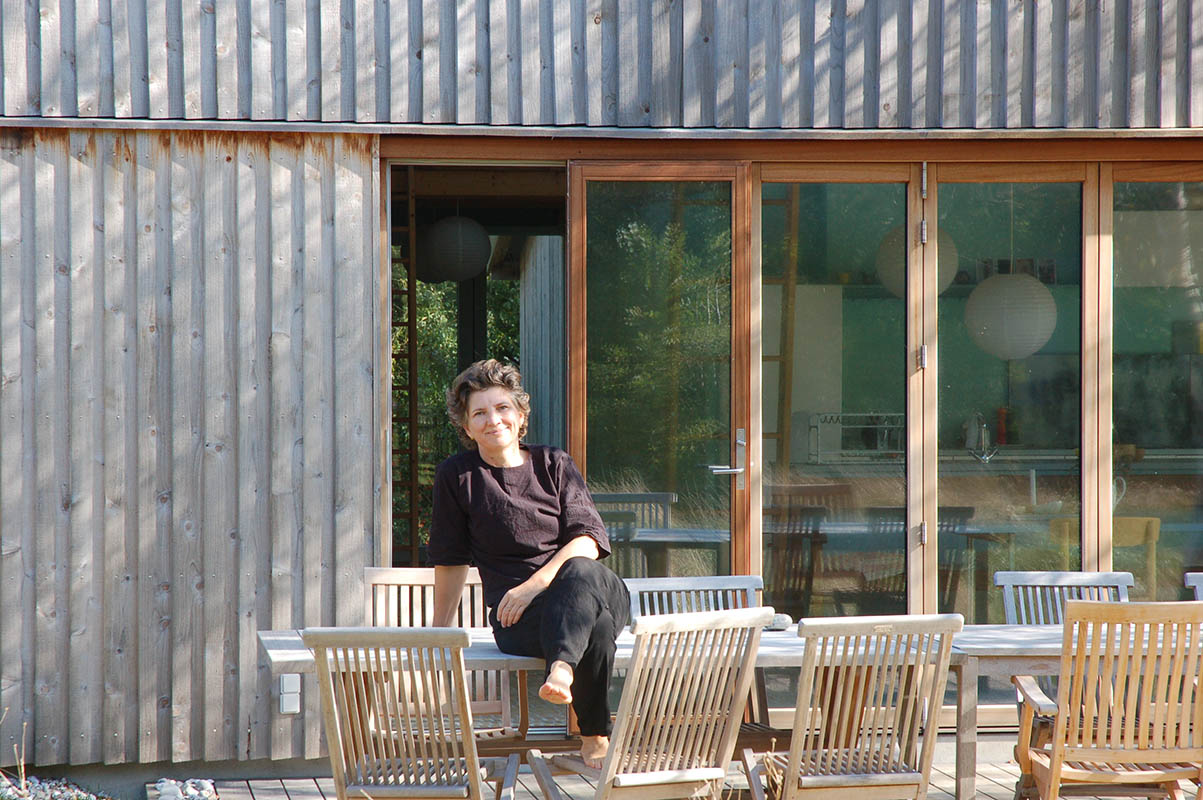 Meldgaard Andersen in front of Summerhouse.
Ideas taking shape
It is important to Meldgaard Andersen to always make sure that the client is confident and happy at every stage, from the sketch to the completed building. "I help the clients put their own initial thoughts down on paper, which often makes the project more comprehensible. I won't ever just be a medium for them, however," she asserts. "I've got a lot of experience behind me, and I often find that by showing the client more options, they end up with something else than what they originally expected, because they can really visualise the different options."
In 2014, a couple from northern Copenhagen approached Melgaard Andersen. They had recently bought a classic, yellow-brick 1960s house, but the 114-square-metre house didn't work for their family. "They needed more space and better light but were open to getting that in a more unusual way. Together, we found solutions that worked exactly for them, like the skylight based on the existing beams, and the slatted wooden acoustics ceiling that adds warmth to the white and open rooms. The slanted fibre-cement siding requires next to no maintenance, and the way the façade panels are individually tilted changes how you see them according to the light, adding interest to the exterior."
The architect's job is far from done once a sketch has been approved. Having Meldgaard Andersen on board ensures peace of mind and that every aspect is taken care of. Once construction begins, the architect becomes a mediator between the drawings and the builders. "I'm there all the way, from the theoretical beginnings to the most practical, gritty bits of the building site," says Meldgaard Andersen. "And what never ceases to amaze me is seeing an idea in my head materialise into a real, tangible building, experiencing the space and light for real – hopefully how I had imagined!"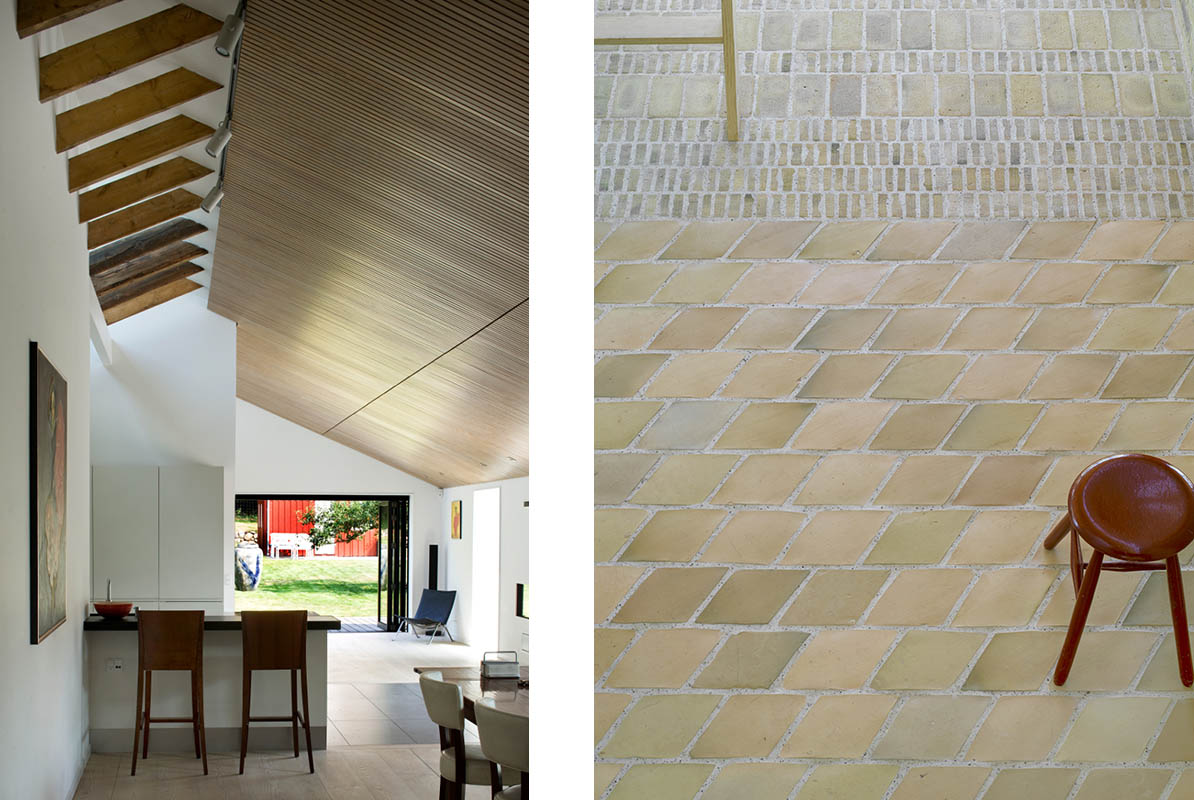 Left: Skylight based on the existing beams, with the slatted, wooden acoustics ceiling adding warmth in the white and open room. Photo: Torben Nielsen. Right: Photo: sorennielsen.com
A material girl
Recently, Meldgaard Andersen got to experience a very personal bit of magic. "Our newly-bought ramshackle summer house from 1960 was in need of some TLC. Unfortunately, I eventually had to conclude that saving the main house didn't make sense due to the orientation, state of insulation and layout. That meant I got to design a new house, connected to the original sleeping quarters that weren't demolished," she explains. This reflects an important issue for Meldgaard Andersen: to ideally maintain some of the existing building, such as beams, rooms or materials, to not waste materials.
"Retaining materials inevitably adds something you could never have thought out yourself, a certain light, an odd way of two spaces interconnecting, a clash of materials – which could end up being the favorite spot," she reflects. Inside the house, Meldgaard Andersen got to live out more of her own beliefs, using 15 years' worth of leftover tiles from projects to make a beautifully unique, lively floor, which has become a much-loved feature. "Tiles have such a warm, friendly quality that makes you want to reach out and touch them. Materials make a house more than just functional; they make the house come alive with personality and sentiment," she says.
"I've always figured that we gain something by daring to surprise ourselves and trying something out," she continues. "The recognisable and predictable can get in the way of actually seeing, perceiving and being – ingenuity gets squashed and any element of surprise disappears. Be open-minded, and choose some materials and solutions that really speak to you. What's the worst thing that can happen if you dare to try something a little different? It'll probably be just as good as the currently popular herringbone pattern – and it could blow you away!"
Phone: 0045 26 25 93 01
E-mail: ama@anettemeldgaard.dk
Subscribe to Our Newsletter
Receive our monthly newsletter by email