Ankarsrum: A retro kitchen classic that meets modern needs
By Linnea Dunne | Photos: Ankarsrum
"I think what's fascinating is that our product is over 80 years old, and yet it continues to meet the challenges of baking in the best way possible," says Marcus Grimerö. He is the CEO of Ankarsrum, the company that makes and markets the award-winning Assistent Original® kitchen assistant, a multi-functional stand mixer that helps with everything from making bread, pasta and ice cream to mincing meat or mixing smoothies.
With roots in a 1937 redesign of a bulky professional-use baking machine, Assistent Original® has been a much-loved modern classic for a long time. An increased focus on export markets over the past few years was helped by a widespread baking trend and an uptick in people wanting to learn more about cooking from scratch. Then 2020 came and brought with it an unexpected turn of events.
A true original for the perfect dough
The pandemic created plenty of challenges with regards to logistics and production, says Grimerö. "Every day has been a new challenge. You'd plan for tomorrow, and then tomorrow would come with new restrictions impacting the entire production flow." But the food and home-baking trend that had already started just grew stronger by the day. "Things like sourdough, which was already huge, requires regular attention, and as people were spending more time at home it meant that these interests deepened," says the CEO. "People were making their own pizza, and suddenly it became important to understand exactly how to make the perfect pizza dough. You could say there was an element of perfectionism about it."
When it comes to working dough, and indeed many other tasks, Assistent Original® is perfectly unique. While most modern stand mixers have an arm with a whisk in the overhang, Ankarsrum's classic has a rotating bowl with the motor and gearbox in the base, making it exceptionally strong and stable. "Instead of whisking the dough, the gluten strands are being pulled, which works the dough in a completely different way."
Exactly how to work the gluten perfectly depends on a number of factors – like the type of flour, the amount of flour and the amount of liquid. Add to that the wide range of new culinary traditions that comes with international export, and Ankarsrum found itself facing what Grimerö describes as a real communications challenge. "Pandemic or no pandemic, we're trying very hard to listen to and learn from consumers," he says. "Because our kitchen assistant is so different to what people in a lot of markets would be used to, getting to know it is a bit of a journey – and it has to be said, our customers have been fantastic. Many of them enjoy experimenting a bit, and in collaboration with our distributors and their networks we've learnt what works for different types of baking. And amazingly, Assistent Original® always rises to the challenge."
Two-way communication and inspiration
Communication has always been paramount for Ankarsrum, but Grimerö admits that the improvements to digital communication that followed the pandemic have helped when it comes to reaching new markets and supporting consumers. "We've always focused a lot on education and inspiration, but naturally, that's made a lot easier thanks to continuous digitalisation," he notes. And the same goes for the culinary enthusiasts who found themselves stuck in their homes; new online groups and networks have popped up, and foodies are connecting across borders, sharing inspiration and tips, united by their love of cooking and food.
Call it two-way communication, if you will – something Ankarsrum is making the most of. The charming retro design may be a nod to a proud past, but what you get when you buy your own Assistent Original® is an original that is being continuously updated and improved – very much thanks to customer input. "We know that some people are still using the kitchen assistant they bought in the '50s or '60s, but we've responded to requests for accessories to make sure that older assistants can meet the needs of today," Grimerö explains. "There's a blender, we've got pasta rollers, and now there's an ice cream maker as well!"
Back in the early days of the new Assistent Original® design, an early user called it "ingenious" and dreamed that it might persuade some men to give their housewives a break. That mission can surely be said to be accomplished by now, but the classic kitchen assistant isn't done tackling challenges. An entirely Swedish production line, alongside an encouragement to bake and cook more from scratch, is doing a lot for the environment. And in a world that can feel a little disconnected and frightening at the moment, the Assistent Original® is a reminder of the simple things in life – an invitation to connect, at our kitchen tables and across nation borders, through a shared appreciation of food.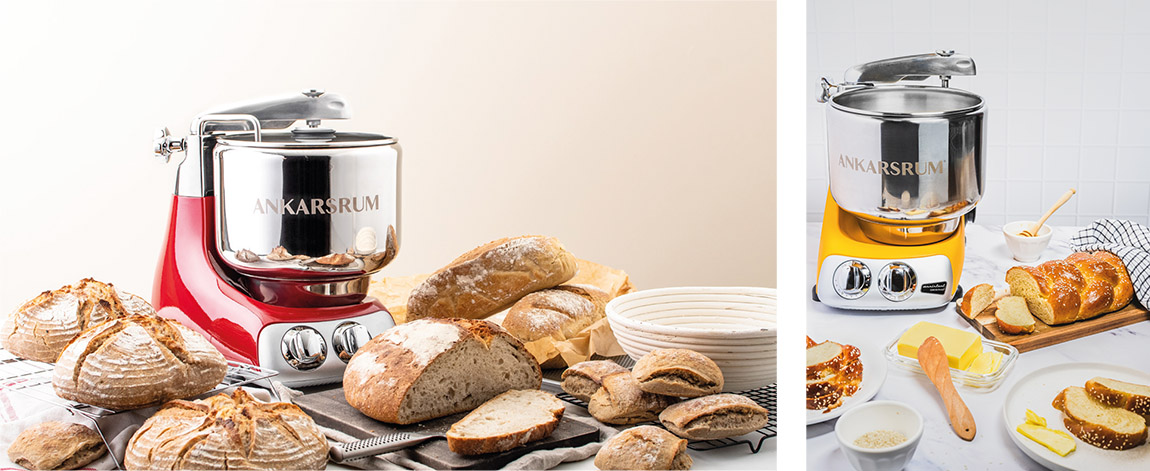 Web: ankarsrum.com Instagram: @ankarsrum
Subscribe to Our Newsletter
Receive our monthly newsletter by email