ARCHITECTMADE: Producing buried treasures
Text: Louise Older Steffensen | Photos © ARCHITECTMADE
P op into any Danish design store, and you are likely to see a stand featuring a zoo of small wooden characters as well as some elegantly simple home decorations and utilities in metal, glass and other natural materials. These beautiful objects have in common top-notch design pedigrees, high-quality craftsmanship, and a small but rapidly expanding company called ARCHITECTMADE.
ARCHITECTMADE was founded in 2004 by Morten Thonsgaard Jensen in an effort to bring back to life some of the forgotten musings and concepts of Denmark's most beloved architects and designers, including Jørn Utzon, Paul Kjærholm and Finn Juhl. Kristian Vedel's Bird and Peter Karpf's Gemini candelabra were the first to be produced.
"Some of our objects were little meticulous drawings of a thing that the architect just had to get down while working on a building or other bigger project," CEO Maria Tsomanis explains. "Others, like Finn Juhl's FJ Essence tea set, were projects that had to be put on hold due to their uncompromisingly simple lines and aesthetics – they were just too difficult to make at the time."
ARCHITECTMADE searches through archives, museums and other collections to recover objects deserving of new life. "Many places like the Danish Design Museum have wonderful archives full of treasures just waiting to be rediscovered. When we find something timeless or unique, we then turn to investigating how – and whether – it can actually be produced."
A star-studded production
The people behind ARCHITECTMADE care deeply about their objects and everyone involved with creating them. "When we hit upon a new potential object, we first have to test whether putting it into production is actually feasible, of course," Tsomanis adds. "The organic, playful forms of that Finn Juhl tea set were what caused a lot of heartache originally – just how do you make that out of porcelain? As we sit and grapple with those challenges, our research team goes on the hunt to find the people who can make that happen, no matter where they are in the world."
With their minimalist forms and essential lines, the famous Danish architects and designers of the 20th century strived towards simple perfection in their sketches, drawings and ideas. "That is something we have to emulate – so we have to find the best craftspeople who know the ins and outs of their particular trade and, not least, of the materials that they work with," Tsomanis explains. The materials that ARCHITECTMADE's products are made of span everything from glass to porcelain to stainless steel to stone.
Quality control
"Even with the wooden objects that we have quite a lot of experience with by now, each type of wood is different, but each individual piece of wood is too. The knowledge and skill of our producers are outstanding and invaluable, and we couldn't do it without them," says the CEO, explaining that ARCHITECTMADE works closely with its producers throughout the production process, from the initial tests and experiments to each final product. "We make sure that conditions are good for workers everywhere we work and that their rights are upheld, of course, and we'll often work with smaller family businesses. This helps us have a close relationship to the workers themselves, but also helps us make sure that each individual design piece is crafted to the highest quality without falling victim to an uncaring production line."
Each individual piece is carefully looked over in Denmark to make sure that it is perfect. "The objects can have their own character – those made of wood or stone in particular always have individual patterns," says Tsomanis, "but each piece must adhere to the exact requirements and materials of the original designs." ARCHITECTMADE also works with some current designers, including Hans Bølling, father of beloved objects such as the Duck and the Discus. "That makes it a little easier to negotiate if something in the process turns out to be impossible to actually make – there's no negotiation with the older pieces where we can't talk to the designer. If we can't figure out how to make something exactly, then it doesn't get made."
The company's commitment to its products is proven by its repair facilities: if a piece is damaged, the owners can send it to ARCHITECTMADE for a stay at the 'hospital'. "We get a lot of lovely requests from people who were given one of our pieces as an anniversary or confirmation present and have fallen in love with its particular markings, for example, and who are distraught that they accidentally knocked it over. It means a lot to us that they care as deeply for the product as we do, so we'll gladly repair them," says Tsomanis. "They're built to last – hopefully they become modern-day heirlooms that'll continue to make people happy for generations to come."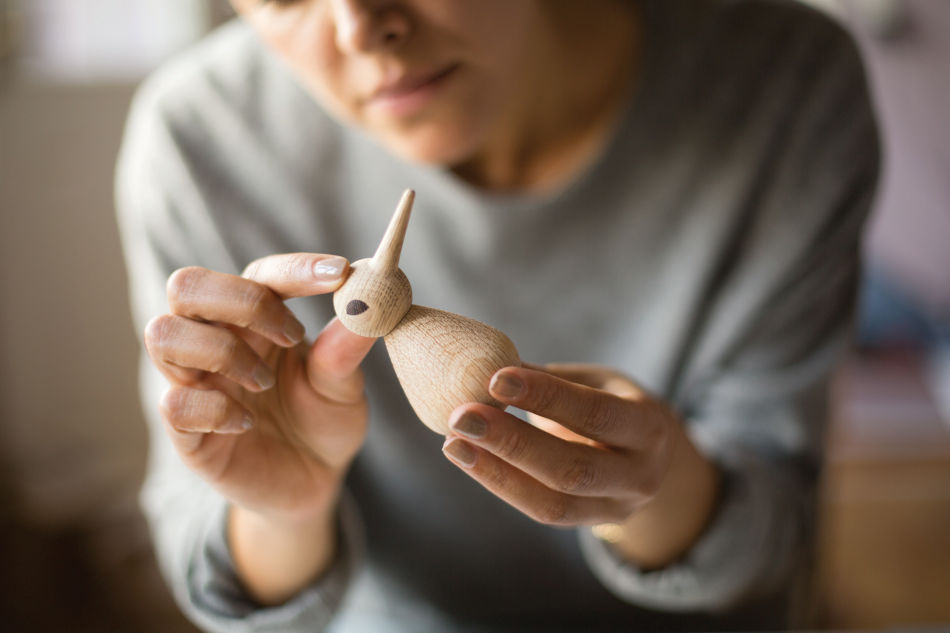 Web: www.architectmade.com Facebook: ARCHITECTMADE Instagram: @ARCHITECTMADE
Subscribe to Our Newsletter
Receive our monthly newsletter by email