Arctic Expedition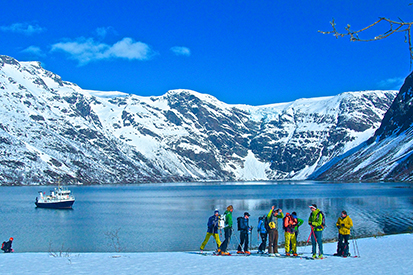 Arctic adventures
TEXT: ALYSSA NILSEN | PHOTOS © ARCTIC EXPEDITION
With their fleet of vessels and a wide range of destinations and boat-based activities, Arctic Ex-pedition and its team are dedicated to giving guests from all over the world the experience of a lifetime through Arctic wildlife, nature and adventures.
When people hear the word 'Arctic', their thoughts usually go straight to the never-ending winters, brilliantly colourful northern lights tearing up the night sky, frosty nature, deep fjords and steep mountains covered in snow. While all these things are true, and just as fantastically brilliant in real life as in people's imagination, there is a lot more to be experienced above the Arctic Circle.
One company dedicated to giving people a taste of the Arctic and all it has to offer, is Arctic Expe-dition, a boat-based company letting people experience the mythical and magical north in all its glo-ry. "We are in business all year round from our base in Tromsø," says CEO Stein-Are Blæss Paulsen. "We have northern lights cruises between September and March, our whale safaris start in October and go on all the way through January, and we also do fjord cruises around Tromsø."
But even though most of the experiences are boat-based, some of them include land-based activi-ties as well. Between February and October, the boats will take you to the astounding nature of the Arctic mountains in Tromsø or Svalbard, where you can try your hand at ski mountaineering, and go on expeditions or hikes.
"Arctic mountaineering is pretty new in Norway," Blæss Paulsen says. "In France, they've been doing this for decades, and the Alpine part of it is particularly popular, whereas Norwegians have traditionally stayed away from mountains when there's a lot of snow." The thing that sets Troms and West Finnmark apart from other destinations is their sea-to-summit opportunities. There are no ski-lifts or roads; you walk straight from the sea, climb upwards of 1,300 metres up a mountain, and then ski back down in pure, untouched powder snow.
The company also has an expedition boat, which does Hidden Fjords tours between Bodø and Alta from October until April, where whale spotting and the northern lights are among the experiences on the menu. The boat used for this tour has 26 cabins and can accommodate 54 passengers, per-fect for larger parties. "We do so-called expedition cruises, where we have several smaller boats that can travel out from the bigger one, meaning we don't need a harbour to make stops," Blæss Paulsen explains.
Dancing with whales
With five larger boats and northern Norway's two speediest RIBs (rigid-inflatable boats), Arctic Expedition can tailor each adventure to the passengers' requests. A trip from Tromsø to see the whales can be done in a day, whereas the expedition tours can last anywhere from four to ten days, depending on content. During the longer trips they take their guests through several ports, towns and cities on their journeys around the north, but unlike ships like Hurtigruten, with set locations and timetables, the crew at Arctic Expedition is completely free to go wherever they want, whenev-er they want.
"A new thing we've offered this year is snorkelling with whales," Blæss Paulsen says. "We basical-ly do the same trip as we do with our ski tourists, but we switch the skis out for snorkelling gear." This is an experience on offer from October through to January, and is not for the faint-hearted. Whales are amongst the biggest mammals on earth and will make anybody feel very small. No qualifications are needed to join, only the courage to get into the water next to an actual whale. "I'll stick to being the captain," Blæss Paulsen laughs, "but I have to admit, the sight of it is very impres-sive."
The Arctic is renowned for its winters, and most tourists will inevitably plan their trips with winter sports and activities in mind, but Arctic Expedition also offers adventures in the summer half of the year. From the summer of 2019, you can discover Lofoten by bike on their Hike & Bike cruises. Breakfast will be served on board, while lunch and dinner will be booked in locally at the places they visit throughout the cruise. That way, the guests feel more welcome at the places they visit, and they also give back to the local communities. "We don't want to just use the areas we visit – we want to spend time with the locals," says Blæss Paulsen.
Subscribe to Our Newsletter
Receive our monthly newsletter by email