Arctic Mountain Adventures: Adventurous winter wonders in the Arctic
TEXT: ÅSA H. AABERGE | PHOTOS: MATTHIAS SCHERER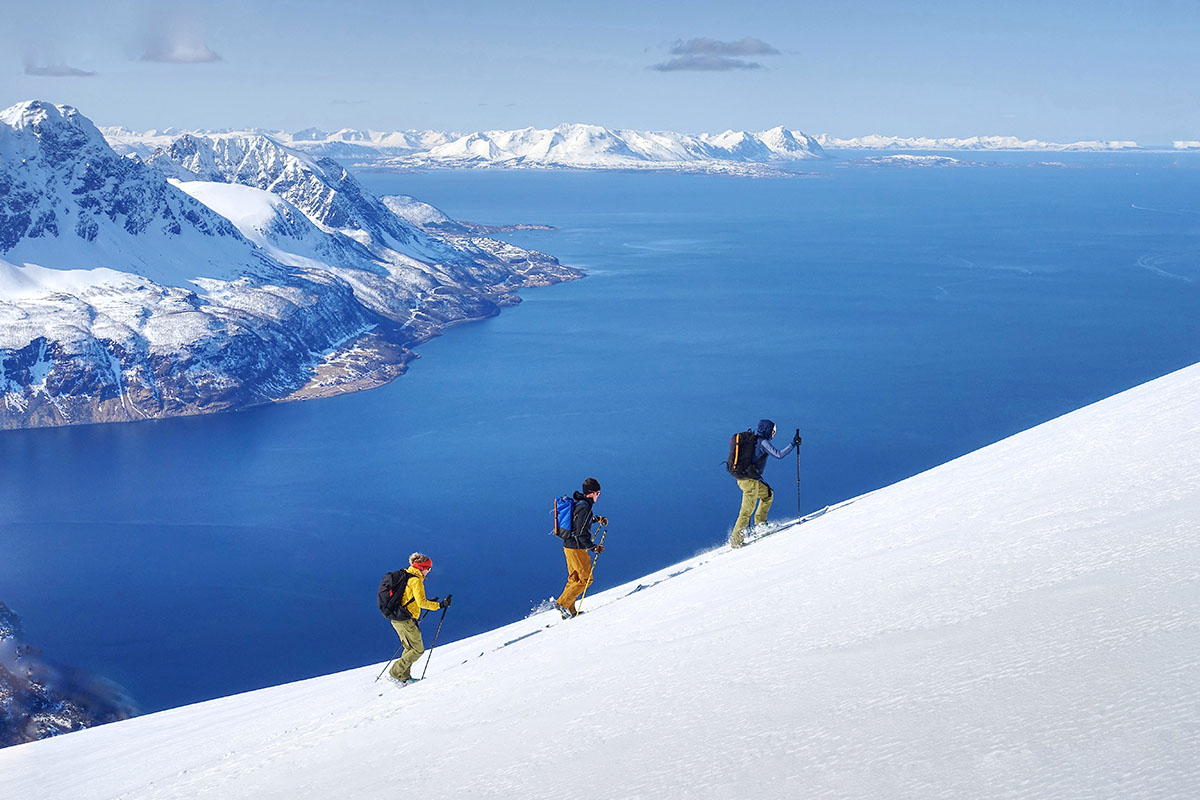 Ski from the summit to the sea surrounded by untouched, seemingly endless powder snow, crystal-clear air and dancing northern lights, steep mountain ranges and the sound of nature's tranquillity.
"What makes this area so unique, other than obviously the beauty of its nature, is how little known it is for travellers and the long, stable winters that make it an excellent place for skiing and ice climbing," says Matthias Scherer.
Scherer is a professional ice climber, alpinist and one of the founders of Arctic Mountain Adventures. He and his team have a passion and mission to share unforgettable moments and the magic of winter in northern Norway by guiding visitors on tailor-made ski mountaineering and ice climbing journeys.
Arctic Mountain Adventures is located on the shores of the Astafjord in Troms in northern Norway, within an hour's proximity to the Evenes airport. Here, guests from all over the world, from Hong Kong to Sweden, Australia and the US, come to experience the area's pristine mountains and spectacular nature.
Despite its pre-eminent skiing conditions, the Astafjord region is less famous than its neighbouring Lofoten area. However, its modest reputation is part of what makes the Astafjord adventure so unique. There's no after-ski and no high-tech lifts, crowds or queues, just pure nature, bracing air, untouched snow and calming silence. Nature itself is the adventure, so no helicopters or scooters are used to reach the peaks. "The exploration and discovery of the regional beauty are the goal for Arctic Mountain Adventures," says Scherer.
Tailor-made trips with experienced guides
Arctic Mountain Adventures has a group of highly experienced guides, who bring visitors off the beaten path to let them discover the majestic nature and the secrets of the mountains and wild terrain of the Astafjord. "The area can be tricky to manoeuvre and discover if you don't know it well. But it is an adventure to explore. That's why we offer tailor-made, guided trips to ridges and mountain peaks with easy as well as more challenging accessibility, many of which descend down to the sea," says Scherer.
All guides know their playground and the Astafjord region like the back of their hands. They aim to invite guests with them on safe, unique and unforgettable expeditions.
With Arctic Mountain Adventures, you can experience natural winter wonders with blue ice and fresh, white powder snow complemented by peaks up to 1,400 metres high. As Troms lies in the auroral zone, the magnificent northern lights can be seen all winter in the Astafjord area.
Arctic Mountain Adventures offers guided excursions for various levels, as well as ski and ice climbing equipment rental. The tour formats range from four to seven days in length, and all include daily accommodation at the Fjellkysten hotel, which is the basecamp for all adventures. Here, guests can enjoy local food and beverages and hot showers after a cold day outdoors, and relax in the Jacuzzi or sauna while admiring the view of the surrounding fjord and mountains.
The tour formats can be tailor-made to suit visitors' wishes, trying ski mountaineering or ice climbing exclusively, or a combination of the two. All tours have a limit of four people per guide to guarantee a custom-made, intimate and personal experience. Navigating the microclimate of the Astafjord region is essential to get the best adventure. Weather conditions, snow and ice conditions are carefully considered every day to find the best route possible for skiing or ice climbing.
A renowned festival for lovers of ice climbing
Arctic Mountain Adventures also hosts events and festivals in Troms. On 19-27 February 2022, Arctic Mountain Adventures and Fjellkysten hotel, in collaboration with Visit Narvik, will be hosting their annual Arctic Ice Festival. "Ice climbing here is an adventure. The area has both long ice routes and routes suitable for beginners," says Scherer.
The festival will offer daily events with the steep rock faces covered in gleaming blue ice as the main headliner, welcoming ice climbers and alpine skiers of all levels to the Astafjord.
Web: www.arcticmountainadventures.com www.arcticicefestival.com Facebook: ArcticMountainAdventures Instagram: @ArcticMountainAdventures
Subscribe to Our Newsletter
Receive our monthly newsletter by email