Åre Nature Adventures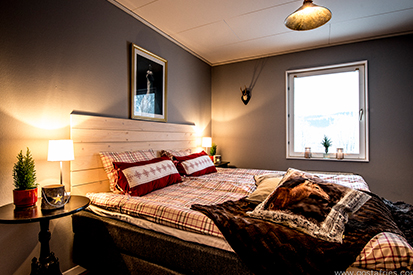 Adventures for all
TEXT: EMMA RÖDIN | PHOTO © ÅRE NATURE ADVENTURES
Swedish ski resort Åre has become famous for its great atmosphere, striking nature and great experiences, something the recently-launched Åre Nature Adventures (ÅNA) has made perfect sense of. By offering a range of adventures and unique package deals all year round, the company is attracting visitors from all over the world who leave with a genuine and unforgettable experience in the bag.
ÅNA is the little sister of Explore Åre and focuses on offering memorable adventures in small groups led by knowledgeable guides. For the relaxed guest, there is ice fishing, moose safaris and northern lights, while the thrill seeker can opt for dog sledding, snow quad and snowshoe hikes. "There is something for everyone," says CEO Marcus Airikka, and goes on to talk about the company's unique approach: "It is important to us that our experiences are genuine and not a reflection of mass tourism. That is why we only allow eight people per group, because if you bring an urban environment to a quiet place, you will lose the feeling of nature."
Another thing that sets ÅNA apart is the package offering and partnership with Åre Bed & Breakfast. One simple click on the company's website gives guests transfer from Östersund or Trondheim airports; accommodation and top service at the cosy Åre Bed & Breakfast, a local pearl tucked away in the village centre; and great food and activities to last them a full weekend. "All you have to do yourself is to book your travel to and from the airport," says Airikka.
ÅNA's personal and simple approach to great-quality experiences has already earned it recognition internationally. So, for your next holiday, why not head to Åre and let ÅNA guide you to your next adventure? Big or small, it will be one to remember.
Subscribe to Our Newsletter
Receive our monthly newsletter by email