Beauty Medical | Fillers and filter coffee | Top-three Beauty Clinics in Norway
By Lisa Maria Berg | Photos: Gudny Åman, PB Serum and Beauty Medical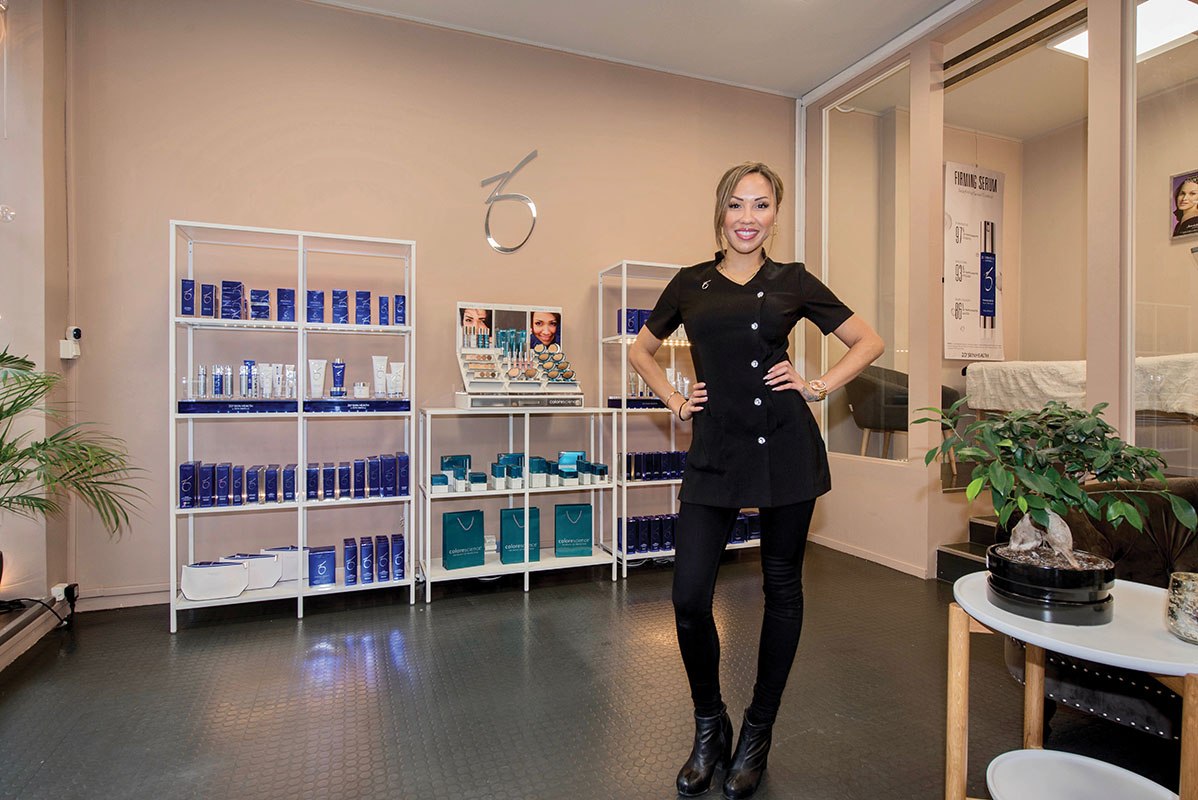 It is care that's at the core of the Beauty Medical ethos. Not only does the small Oslo salon welcome its clients to enjoy some high-class pampering and the latest in beauty technology; more importantly, they put the kettle on for you while you're there.
One might well raise an eyebrow, were a beauty salon to swear that beauty actually comes from within. At Beauty Medical, however, it is the team's every-day ambition to find the perfect balance between the client's wishes, the therapist's advice and the latest beauty techniques being incorporated. Founder and general manager Sandra Michélle Romano argues that it's not just an injection that will make your forehead appear less frowned, but rather the whole experience of walking into this particular beauty clinic. "It's the chat that comes with the treatment that makes a difference. It's the cup of coffee and the hug. It's being able to share experiences, things you've perhaps felt insecure about. I firmly believe it's the ability to see the whole person that makes us different," explains Romano.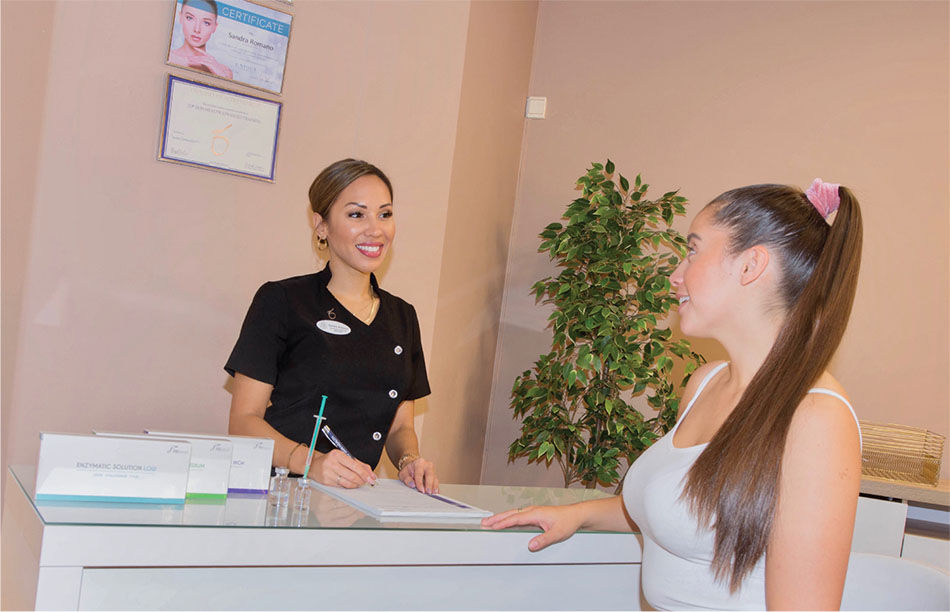 With the client at the centre
The clinic and its team have a wealth of experience behind them and both teach and speak at conferences at home and abroad. She's not shy, Romano – and why should she be? With clients spanning Norwegian celebrities and high-powered business women, she's put the 'Romano lip' – the clinic's signature treatment is its flawless lip fillers, contouring and Botox treatments – on the map, as well as the screen, since 2016.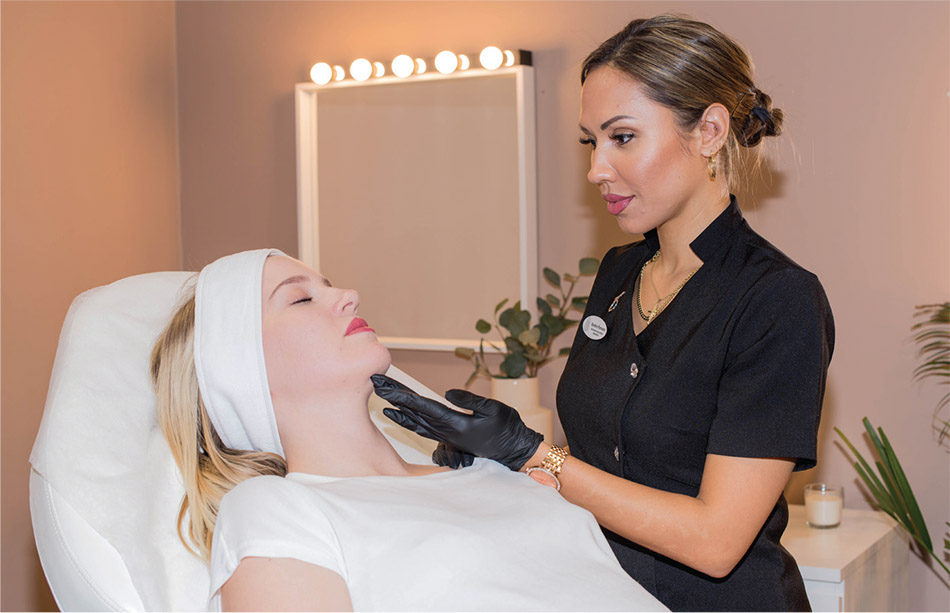 The clinic also finds itself having to redo jobs done at other clinics. "Every week, we have about six to ten women come in with enlarged and deformed lips after a badly done lip filling. Often, we find ourselves emptying their lips after a job gone horribly wrong. This is a big problem in the industry today, and something we want to combat by giving a good example of a job well done."
Romano, with a BA in nursing and training in most beauty technologies, shares her secret: "I come from a rather large family, and if I have a philosophy in life, it is to create the same relaxed atmosphere and togetherness in the salon that we have at home during Sunday dinners: frank, honest and friendly. That goes for the staff as well as our guests."
A stellar team
Beauty Medical has championed new technology for years. It was the first in Norway to introduce Carboxytherapy into its repertoire – a non-surgical, 100 per cent natural treatment using carbon dioxide to stimulate growth and revitalisation, apparently a wonder treatment for everything from cellulites, strechmarks and hair growth, to under-eye bags.
"I think that educating the client is key. Quite often, we end up sending clients home without an injection. Instead, we've offered radvice on skin care and suggested products that might help. Integrity is vital. We answer any question a client might have and talk about the products we use. Often, we'll advise on starting with a smaller dosage or even suggest they go home, have a think and come back to us when and if they're ready to go through with treatment. In short: we're never after anyone's wallet," Romano clarifies. Moreover, an in-house MD is available at all times, in order to reassure that the chosen treatment is conducted properly and without any side effects. With a highly educated team representing the helm of beauty technology in Norway, Beauty Medical appears more like a tight-knit family of beauty professionals than a clinic.
To the future
Humans have always wanted to look their best. Our fascination with beauty can be found in any culture in any part of the planet. Beauty has been just as vividly discussed by the great philosophers of the world as by some mates down at your local pub. Romano concedes that in many people's eyes, putting money towards altering your own appearance is considered vain – but ponders if perhaps there is a spot of Narcissus in all of us; that young, beautiful man who couldn't get enough of his own reflection in the water and sat pining for himself until he withered away of thirst.
"There still very much exists a mindset in Norway where a person cannot admit that they like to get a little something done. In fact, I think many even find it's vain to get your hair done on a regular basis! I think quite a few of the people who come to us still feel a taboo around telling their friends and family that they've come to see us. Funnily though, this leads to a lot of great stories. We've had clients come in for treatment, telling stories about how they're basically being showered in compliments, and not necessarily on how they look! They're just being told that they look happier!"
Beauty Medical:
— Founded in 2016 by Sandra Michélle Romano.
— Situated in the city centre of Oslo.
— Treatments include: HA fillers, Botox, PB Serum Medical, Carboxytherapy, Bloomea micro dermabrasion, Laser plasma pen, chemical peels, thread lift, hyperpigmentation, skincare, eyelash extensions, nail design, brow styling, permanent make- up, microblading and waxing.
— Brands include: ZO Skin Health by Dr Obagi, Mesoesthetics, Colorescience, and Zinzino Health products.
— Agencies: PB Serum Medical in Norway & Sweden (pbserum.com), Julié Carboxytherapy (smart-carboxytherapy.com), Elise plasma (unique-poland.com), and Bloomea (bloomea.com).— The clinic also holds classes in PB Serum Medical for doctors and nurses, and lash extensions/lifts by Nouveau Lashes.
A whole lot more than beauty
The clinic has never spent a dime on marketing; however, the word of mouth around its skills, hospitality and warmth has gotten around and made it busier and more popular than ever. For many, a trip to the beauty clinic isn't just about combing out some forehead lines or giving that lip a little lift. For some, it can mean a complete re-write of the relationship they have with their own body. Romano explains: "Many of our clients describe various things as being massive issues in their lives – be it scarring from acne, operations or perhaps burns. Being able to help these people means a lot, and the technology to do this has come a long way. The latest might be the PB Serum; it has completely revolutionised how we treat these kinds of challenges. To have someone come up to you and say you've changed their life is a powerful thing!"
PB Serum Medical:
PB Serum Medical, originally invented and manufactured in Spain by Proteos Biotech Laboratories, is a new biological therapy based on the use of recombinant enzymes in the treatment of many diverse skin problems, such as scarred tissue and burns, cellulites, localised fat and flaccidity/loose skin. PB Serum science has shown very favourable and encouraging results, and it opens the door to anew world of personalised and adjustable treatments. Beauty Medical is the first clinic in Norway and Sweden to offer this treatment and will launch its use of PB Serum at the Senzie Conference in Norway in November, and in Sweden as part of Stockholm Beauty Week in May 2020.
Address: Vogts gate 56, 0477 Oslo, Norway Phone: +47 40311017
Web: www.beautymedical.no
Subscribe to Our Newsletter
Receive our monthly newsletter by email