Beli Sands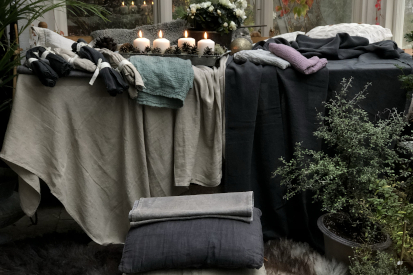 Linen stories
TEXT: EMMA RÖDIN | PHOTOS © BELINDA SANDELL
There is more to Beli Sands than just sophisticated linen textiles. Perhaps it is the fact that each piece tells a story that stretches across borders, encapsulating the successful marriage between Indian craftmanship and Swedish design, or maybe it is the inspiration of nature's sheer simplicity and vibrant colours. Whatever it is, Beli Sands is a brand to know.
Founder Belinda Sandell spent 20 years working across Asia within sourcing and production in fashion, before launching Beli Sands in early 2017 – a dream she had long wished to fulfil. Sandell works mostly with linen, but also uses cotton with different washes to interact with the former and to create a lived-in look. "I love nature, and because linen is a natural textile used for centuries, it felt like an obvious choice – it's very special," says Sandell. Her choice of fabric and technical skills give her products a feeling of timelessness, while still carrying a modern feel.
Sandell's collection includes sheets, table cloths, serviettes and aprons, and with roots in India, Sandell talks about her creations as a bridge between her native country and Sweden. "My collection has a Nordic design but is produced in India through my contacts there. It is a great opportunity to work with people from two countries, to bring out the best of both and still have the privilege to keep my roots," says Sandell.
She refers to her collection as 'linen stories', simply based on the idea of weaving age-old linen fabric into stories that suit every home at any given time. "My stories are about love and dreams and are expressions of care, mutual respect and a passion for what we do," the designer explains. "With Beli Sands, I want to share positive energy and harmony. We stand for sustainability and social responsibility and the conviction that everyone who works with us should be able to grow both independently and together with us."
Speaking of sustainability, Sandell talks about linen as a great textile due to its timid impact on the earth's resources, using very little water in production. Additionally, the Indian factory where the Beli Sands range is made oversees each piece from weaving to final product under one roof. The factory has its own wind power, bio-gas and water recycling facilities, which makes zero liquid discharge (ZLD) possible.
By offering products ideal for cosy gatherings, Beli Sands successfully caters for the season ahead and helps us create new stories with our loved ones.

Web: belisands.com
Facebook: belisands
Instagram: @belisands
Subscribe to Our Newsletter
Receive our monthly newsletter by email