Brakanes Hotel: Find peace among the apple blossoms
By Andrea Bærland | Photos: Brakanes Hotel
The thought of Hardanger most often brings to mind images of steep mountainsides, blossoming apple orchards and deep-blue fjords. In summary, a perfect postcard from Norway. This picture-perfect postcard can be seen in real life, from the windows of any of Brakanes Hotel's 142 rooms.
Brakanes has, through its 155-year-long history, grown from a humble coach station inn to become the cornerstone of Ulvik, a village in Hardanger, located right on the bank of the fjord.
The hotel, which was rebuilt after burning down to the ground during World War II, offers its guests all modern amenities. "We have a lot of visitors from all over the world. What draws them to Hardanger is the possibility of experiencing nature you can't find anywhere else," says sales manager Ingrid Prestegard, adding: "We've seen an increase in visitors who want to be active in the great outdoors." For these guests the hotel can arrange hikes, boat trips, water skiing, fishing and overnight stays in the forest.
For those looking to simply relax, Brakanes can arrange farm and brewery visits and historical and cultural walks. "In Hardanger you find a serenity that is hard to find elsewhere," says Prestegaard, suggesting that the combination of peace and adventure tempts many visitors to return year after year.
"In Ulvik we can offer breathtaking views, locally-sourced food and drink and plenty of adventures," Prestegaard concludes.
For more information, please visit: www.brakanes-hotel.com
Conferencing and Christmas parties
It is not just tourists who enjoy the nature and peace and quiet of Ulvik. When the peak season for tourists dies down, businesses descend on the little village for everything from seminars to parties.
"One reason why companies like to come to Ulvik is that it's small, keeping everyone together, rather than being scattered out shopping or bar hopping as one easily does in a big city," says Prestegard. Brakanes's conference centre has the capacity to offer input on both the professional and the social bit for up to 500 attendees.
But it is not all work and no play: Brakanes is also a popular destination for Christmas parties. Using locally-sourced produce the restaurant at Brakanes offers à la carte as well as a buffet of both local and more continental fare. The restaurant smokes its own meat in the smokehouse on the premises and, during Christmas, traditional, self-smoked pinnekjøtt (rib of lamb) is served. "We put a lot of work into our Christmas parties, in regards to both the food and the entertainment. It is never too early to book a party, but it can quickly become too late," Prestegaard smiles.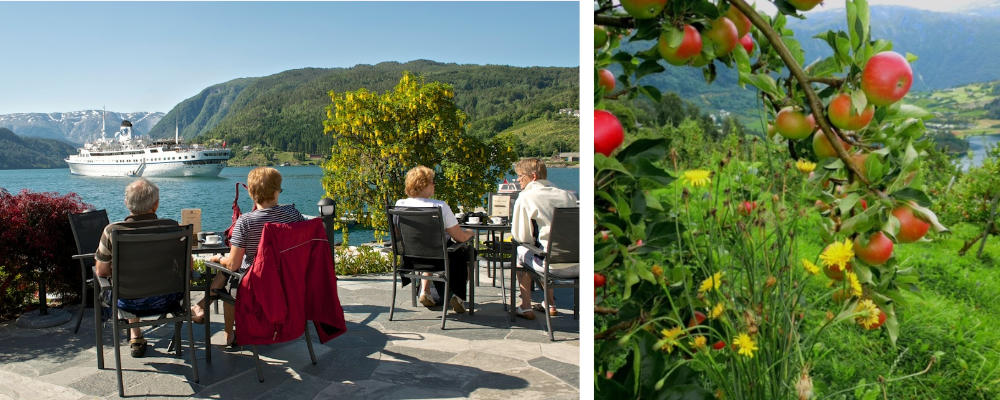 It takes a village…
With approximately 1,100 inhabitants calling Ulvik home, the tourist season significantly increases the number of people. "Thanks to tourism, Ulvik has become a very international and open-minded place to live," says Prestegaard.
In Ulvik, a strong sense of community and co-operation between the different service providers has evolved. "Our activity partners depend on us to give tourists a place to spend the night, and we depend on them to offer activities that will make guests want to stay," Prestegard explains. "We all depend on each other."
Brakanes has partnered up with institutions offering experiences based on everything from Ulvik's literary heritage to local breweries.
Olav H. Hauge Centre
Ulvik was home to Olav H. Hauge, one of Norway's most acclaimed poets, and in the recently-opened Olav H. Hauge Centre visitors can get better acquainted with the poet's life and work. "We have always used Hauge's poetry in some shape or form at hotel events, but at the Olav H. Hauge Centre you get a deeper understanding of his poetry," says Prestegard.
The centre also consists of a museum shop, a poetry library and a poetry workshop, and the youngest are captivated by the task of following clues of Hauge's cat throughout the exhibition. The exhibition is in English as well as Norwegian and guided tours can be booked in advance.
For more information, please visit: www.haugesenteret.no
Fruit and Cider route
The Hardanger region is well-known for its apple orchards, and three of the major farms, Ulvik Frukt & Cideri, Syse Gard and Hardanger Saft- og Siderfabrikk have joined forces to offer Norway's only fruit and cider route. In May every year the farms host the cider launch, allowing guests to walk from farm to farm and taste their fresh batches of cider, liquor and juice made from apples, while every October they arrange a similar fruit launch.
Apple tree walks with tours of the farms and tasting sessions can be arranged throughout the year, but Brakanes also offers weekend packages in conjunction with the launch events in May and October.
For more information, please visit: www.siderruta.no
Ulvikatorget
Ulvikatorget, which opened this summer, is a market where vendors of local products come together to sell their wares. Ulvik's only glass blower, Syse Glas, has also established a workshop where visitors can watch glass being made. By offering entrepreneurs office space, Ulvikatorget also contributes to further innovation in the village. While the village is fairly secluded, Ulvik is always bursting with great ideas and initiatives.
For more information, please visit: www.visitulvik.com
Subscribe to Our Newsletter
Receive our monthly newsletter by email