Bryggeriet Skands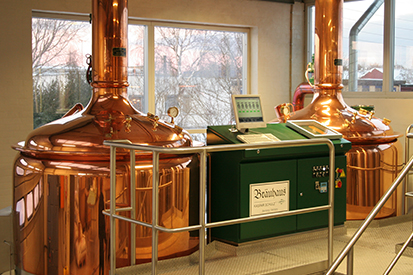 Denmark's history in a bottle
TEXT: SIGNE HANSEN | PHOTOS © BRYGGERIET SKANDS
If anyone thinks of beer as a relatively new drink, or a man's drink, Bryggeriet Skands is here to prove them wrong. In collaboration with the National Museum of Denmark, the Danish brewery has created a range of beers based on ancient recipes and inspired by strong Nordic women.
In 2011, the National Museum of Denmark contacted master brewer Birthe Skands, the founder of Skands, to ask if she could help recreate the 3,500-year-old brew found in a Bronze Age grave. She did, and the result was Egtved Girl's Brew, a modern beer based on Denmark's, and perhaps the world's, oldest beer recipe. Ernst Kristensen, one of the company's two current co-owners, explains: "Through the analysis the National Museum had done on the dried precipitate found in the grave, they had identified the different components of a 3,500-year-old beer, and they wanted us to try to recreate that. We did so, creating a beer with the same ingredients, but using modern brewing methods." The beer is one of four historic beers brewed by Skands, and one of 20 specialty beers. In total, Skands brews approximately 400,000 litres of beer a year at its brewery in Brøndby; most of this is sold in the capital region.
Continuing the journey
When Birthe Skands, a brew master with 25 years of experience, founded Skands in 2003, her ambition was to bring back the old craft of brewing. Taking over in 2017, Kristensen and his co-owner, Søren Truelsen, have striven to carry on that ambition by focusing on quality over quantity and speed. "It's slow brewing. Our beer is beer that gets the time it takes for it to mature. The yeast needs to ferment naturally, and that takes the time it takes – it takes a month to make a batch of beer," explains Kristensen.
Today, the brewery releases two new beers every year, and continues to research and improve recipes, including those for non-alcoholic beers. However, unlike other specialty breweries, the beer is not targeted at a small, beer-fanatic audience, but aims to please a broader clientele. "Our beer doesn't provoke; it's not seeking to be extreme – some specialty beers are targeted at beer nerds and specialists, but that's not us," stresses Kristensen. "We guarantee a good taste experience, which will please around 80 to 90 per cent of regular beer drinkers."
Strong women
After its foundation, Skands quickly gained a strong reputation for the craft and skill embedded in its brewing process. That was the reason why the National Museum turned to Skands when historians decided to try to recreate the beer found in the grave of the Egtved girl. The Egtved girl, one of Denmark's best-known and best-preserved prehistoric finds, was buried in the Bronze Age approximately 3,500 years ago. In her grave, next to her remains, archaeologists discovered a small birch bucket with a fermented drink. "Microscopic analysis of the dried precipitate in the bucket shows that the beverage was a beer-like drink made of wheat, cranberries or lingonberries, and honey," explains Kristensen.
Named after the Egtved girl, the recreated beer became a great success. It was followed by the Juellinge Woman's Brew, a brew based on the dried precipitate from a bronze kettle found in the Juellinge woman's Iron Age grave. Both beers were based on the old recipe but brewed using modern techniques. Based on the same method, a Viking brew, Lagerthas's Brew, and a Middle Age brew, Margrete 1's Brew, were also created.
"The Viking and Middle Age finds show the changes and the refinement of the beer as ingredients like hop began to make their way into Denmark from Germany," explains Kristensen. "And, after the first two brews, it was natural to continue the story and let the following few be inspired by two other strong women from Denmark's history." The four historic beers are all created in collaboration with the National Museum of Denmark.
Subscribe to Our Newsletter
Receive our monthly newsletter by email