Christensen & Co. Architects: Designing the revolution: hybrid architecture for flexible workspaces
By Lena Hunter | Photos: Christensen & Co. Architects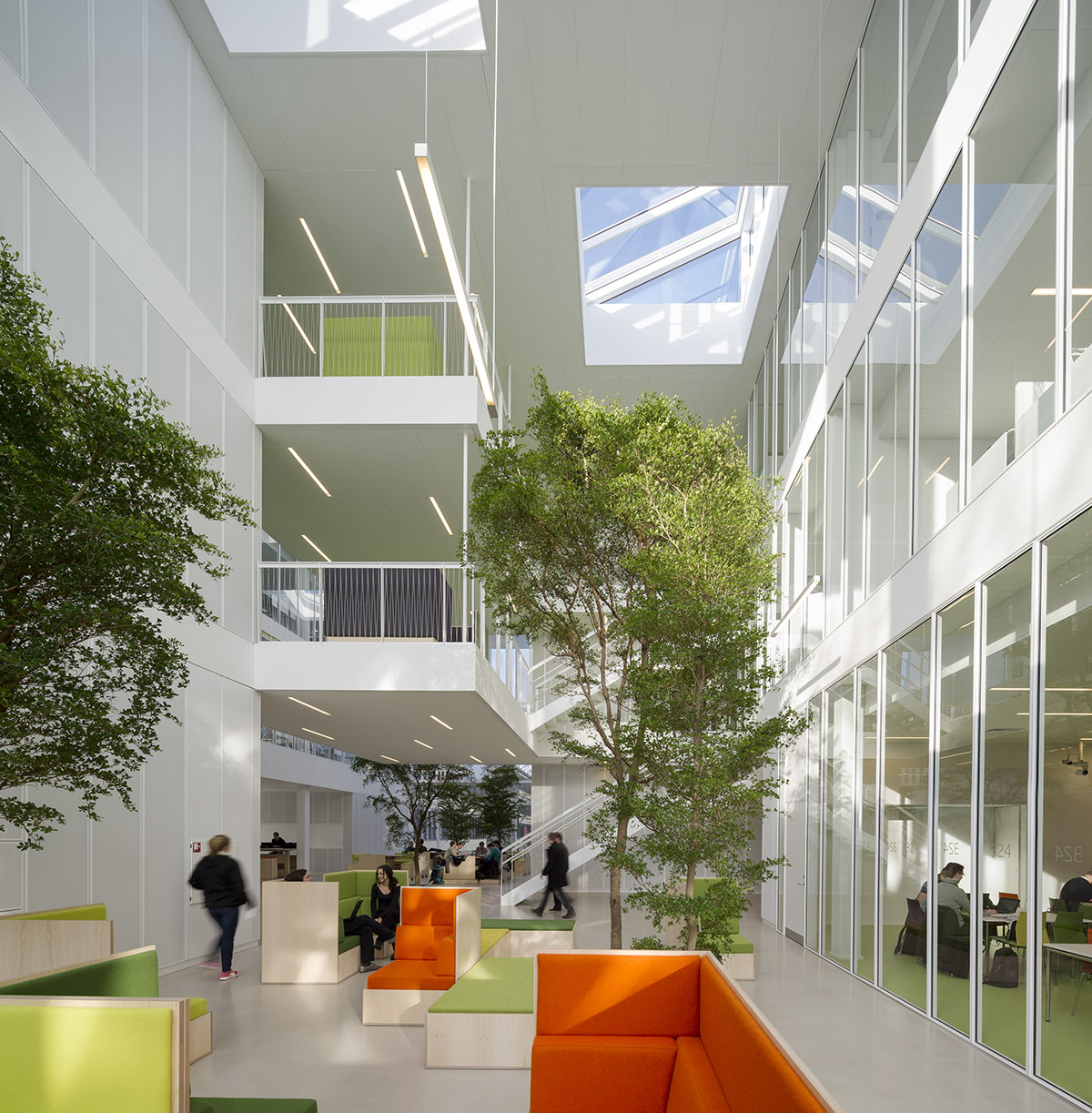 "Why would you leave your home, where you have all your comforts, if your office doesn't present an equally good environment?" ask Christensen and Co. Architects. The Copenhagen-based architecture firm has an unrivalled understanding of hybrid environments, having helmed projects for some of the most innovative shared spaces in Denmark across culture, education and housing. Now, the firm is emerging as a pioneer in the flexible workspaces of the future.
"The sudden rise in remote working during the pandemic caused permanent changes in the work-life balance. For a time, our homes became our offices, and now there's a revolution in the way we see our working spaces," says Mikkel Sørensen, architect and partner at Christensen and Co. Architects.
Indeed, according to figures from market-data specialist Statista, the percentage of employees working remotely in Denmark more than doubled from 2020 to 2022, and demand for roles that offer hybrid offices, hot desking and activity-based workspaces has skyrocketed.
"Today, the workplace has to deliver something different to the home," says Sørensen. "You might prefer to do tasks that require concentration at home, whereas for a collaboration or dialogue, you go to the workspace."
A myriad of data shows that flexible working encourages productivity, and that hybrid job posts receive higher numbers of applicants. To capitalise on the trend, many forward-thinking businesses are physically reshaping their offices.
Christensen and Co. Architects are experts in designing buildings that facilitate social and professional exchange, support collaboration and inspire creative thinking – with an unrivalled understanding of the nuances of shared spaces.
"We are projecting our experience from the university and research environment into the workspace environment," says Sørensen. "Many new workplaces don't necessarily have permanent personal desks or other office conventions, so you interact in a different way, which can support the formation of new ideas and relationships."
Architects of change
Particularly of note is their upcoming transformation project of the headquarters of Finansforbundet – the union of finance workers in Copenhagen. "This is a community-focused place both anchored in history and tradition and a future-driven foundation for development. To support this, we've designed an open and inviting house with easy access, an improved daily flow for employees, a healthy acoustic work environment and an energy-optimised indoor climate," explains Sørensen.
The rearrangement will see the top-floor member facilities moved down to ground level to encourage a holistic understanding of the ground floor as the social, professional and architectural heart of the building, with a visual connection to outdoor areas.
Meanwhile, the expansive atrium will offer open sightlines to a plethora of flexible workspaces, including digital meeting rooms, with screens and lounge furniture, quiet rooms and single-spaces optimised for peace and concentration. The atrium reflects the organisation's broader philosophy, with a transparent and porous design that signals modernity and innovation.
Higher-education design for flexible workspaces
There are many parallels between higher-education learning and flexible working, and much of the thinking behind Christensen and Co. Architects' workspace designs draws on their substantial experience in designing learning environments.
"In Denmark, we don't have a campus culture, so it's important that university architecture encourages students to stay on site. Similarly, today, it's important for employers to keep workers in the office. We know how to translate architectural solutions across those environments," says head of business development Marie Partoft.
A touchstone of both environments is the need for an interdisciplinary communal space. In 2013, Christensen and Co. Architects designed a bold new interdepartmental building for the Department of Applied Mathematics and Computer Science at the world-leading research institute, Technical University of Denmark (DTU).
"Compute B234 is a great example of architecture facilitating a cross-pollination of people and ideas," says Sørensen. "We designed a network of various study spaces and breakout zones, rooms for group meetings, lectures and seminars. Within the shared environment was the option for concentrated study. All these transitions draw researchers, alumni and students together, allowing them to be seen and interact informally, in an inspiring space that even has large trees growing inside. It's an incubator for the whole campus."
Similarly, in 2018, a project for DTU's Life Science and Bioengineering department saw the creation of a 13-metre-tall atrium – the heart of the building, dubbed the Biosphere. Here, thousands of golden-hued oak lamellas comprise a warm and textured façade, a visual gesture to biology and nature. "The laboratories are generic, but they are connected to this very different, warm environment, where there are meeting spaces, study spaces and relaxation spaces. That contrast is very stimulating," says Sørensen.
In both Biosphere and Compute B234, as with every project, sustainability permeates the design. This means long-lasting architecture that minimises resource consumption, creates cultural connections, and ensures functionality that can transform along with its users.
Designing from the inside out
Taking a humanist approach, Christensen and Co. Architects begin each project with thorough research into end-user needs. "Every architecture project is a co-creation process with the end users, engineers, contractors and municipalities. We'll have detailed dialogues with everybody involved in developing and using the space – even small kids. In the end, if people don't use the building, then it doesn't matter what we do," says Sørensen.
Sørensen emphasises that form is never at the expense of function – despite the firm's notably beautiful design language. "We design from the inside out, meaning that we begin by addressing the complexities of the interior spaces. Once we know how the building will cater to the needs of the users, we move outwards."
Furthermore, each project aspires to a 'no dead ends' interior layout, in which interlinking spaces create an atmosphere of prospect. "The idea is that there are always options. In the workplace you might pass a meeting room and observe a type of project that excites you. In a public-school, a big window into the sports hall or the art class can have the same effect."
By designing the context in which the workplace revolution will take place, Christensen and Co. Architects are at the core of the cultural paradigm shift. "Though we're founded on the ambition of accelerating sustainability in the built environment, we're not just talking about progressive, environmentally-conscious architecture, here. We're developing socially sustainable, future-proof workplaces that respond to the emotional and professional needs of employees, while enhancing business productivity in this new era of flexible working," concludes Sørensen.
Web: www.ccoarch.com Instagram: @cco_architects Facebook: cco_architects
Subscribe to Our Newsletter
Receive our monthly newsletter by email