Cocoon Company: The natural choice for a perfect night's sleep
By Heidi Kokborg | Photos: Cocoon Company
Imagine drifting off to dreamland wrapped in a chemical-free and allergy-friendly duvet and soft, natural bed linen night after night. Thanks to Cocoon Company, both you and your family can do just that. Made from natural resources like kapok, merino wool and peace silk, this bedding will make your bed your new favourite place. But beware: you might develop a habit of hitting snooze that bit more before being able to drag yourself away from your new duvet…
On average, we spend about 30 per cent of our lives in bed. It follows that you should be paying attention to what you and your family are sleeping in. Perhaps you are already aware of what you are putting into your body, but are you aware of the quality of your mattress, duvet, pillow and bed linen? Since you are spending almost a third of your life in direct contact with these products, you might want to start giving them a second thought.
"Since we founded the company, we have witnessed a real shift in the mentality among the customers. In the beginning, our customers were the eco geeks, but now our clients range from new mums to vegans, grandparents and young people. Today, we have eco-conscious customers everywhere from Hong Kong to California, from Greenland to New Zealand," says Torben Dahlmann, founder of Cocoon Company.
Cocoon Company is a family-owned company, whose mission is to take responsibility for our environment and help make the planet greener by producing high-quality bedding made from chemical-free, natural and organic resources, all in a sustainable way.
The green butterfly is your guarantee
The name, Cocoon, comes from the idea that a small, green and eco-conscious business transforms – just like a cocoon – into a green and sustainable butterfly. On each product, you'll find the little green butterfly, which is your guarantee that your new bedding product is sustainable, natural, chemical-free and hypoallergenic.
"We have made a conscious decision not to pursue the more traditional certifications. We have created our own standards, which are higher than most certifications. The green butterfly is our quality stamp that symbolises our high standard of sustainability in the products we produce," says Dahlmann. "We find it both interesting and fun, and challenging, to push the boundaries and keep developing. As a company and a family, we don't have the conscience to go halfway: we want to go all the way."
The idea for Cocoon's natural bedding products started many years ago, with two parents trying to find the perfect sleeping products for their youngest son, who tended to wake up hot and in a sweat. After trying everything from down to foam, Jane and Torben Dahlmann tried to look for alternatives to the more traditional choices, which is when they came across natural kapok fibre – a fibre that has, they found, been used for generations.
"It all started with kapok, a fibre growing as seed pods on tall trees in the wild forests. We use this natural fibre in duvets, pillows and mattresses. The kapok fibre is vegan, naturally hypoallergenic, organic and wonderful to sleep in. Kapok has so many fantastic natural qualities with regards to regulating temperature and moisture," explains Dahlmann.
Cocoon Company is constantly pushing the boundaries for what it means to be a green and sustainable company. In recent years, they have done a major overhaul of their packaging. Since 2018, they have reduced their use of plastic by more than 80 per cent. They are solely using natural tape made from natural rubber, and 99 per cent of their cardboard boxes are recycled. They don't use stickers; instead, they have a stamp with natural colours. They even separate the rubbish and drive it to the recycling stations themselves.
Invite nature into your home
"Peace Silk is a groundbreaking project, where the silkworm reproduces, the silk is produced in a humane way, and the silkworms can finish their life cycle and transform into silk moths," explains Dahlmann.
Cocoon Company is committed to taking social responsibility, and all their products are safely handmade in a way that is kind to both people and the planet. Animal welfare is also at the heart of the company, which is why their Peace Silk is produced following the ideology of Ahimsa. The word 'Ahimsa' originates from Sanskrit and means 'doing no harm against any other living things', and it is exactly this way of thinking that is the basis for all of Cocoon's products, which are made in a 100 per cent cruelty-free and animal-friendly way.
"We work with small productions, primarily in India. It is important to us that we have a close relationship with the people that work for us and with us, which is exactly why we visit them as often as we can," says Dahlmann. "All our raw materials are carefully selected with the greatest care for both the Earth and everyone involved in the process."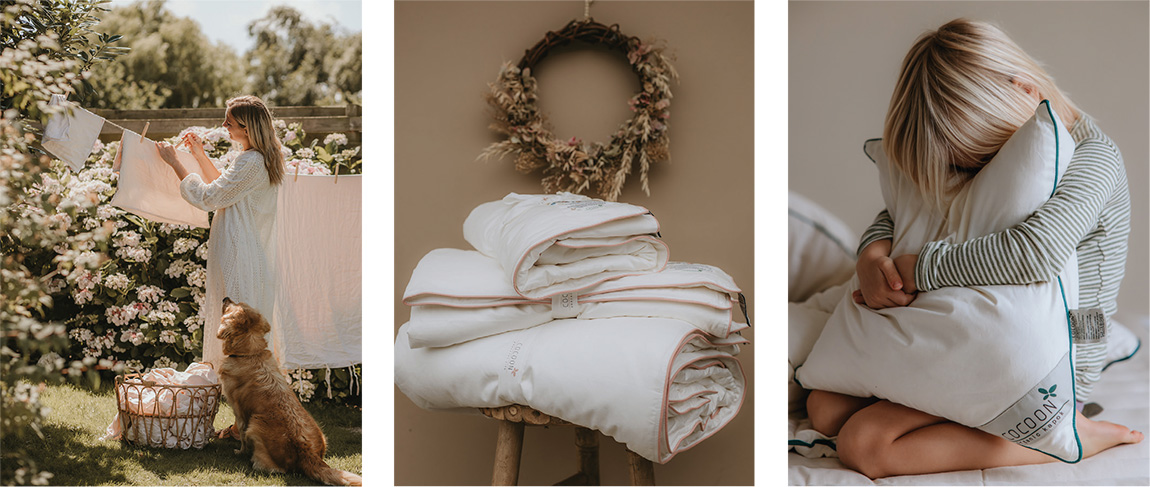 Web: www.cocooncompany.dk Facebook: Cocoon Company Instagram: @cocoon_company
Subscribe to Our Newsletter
Receive our monthly newsletter by email