Cosy Times Ceramics: Handmade ceramics and expressionist art on the banks of a Danish fjord
By Lena Hunter | Photos: Cosy Times Ceramics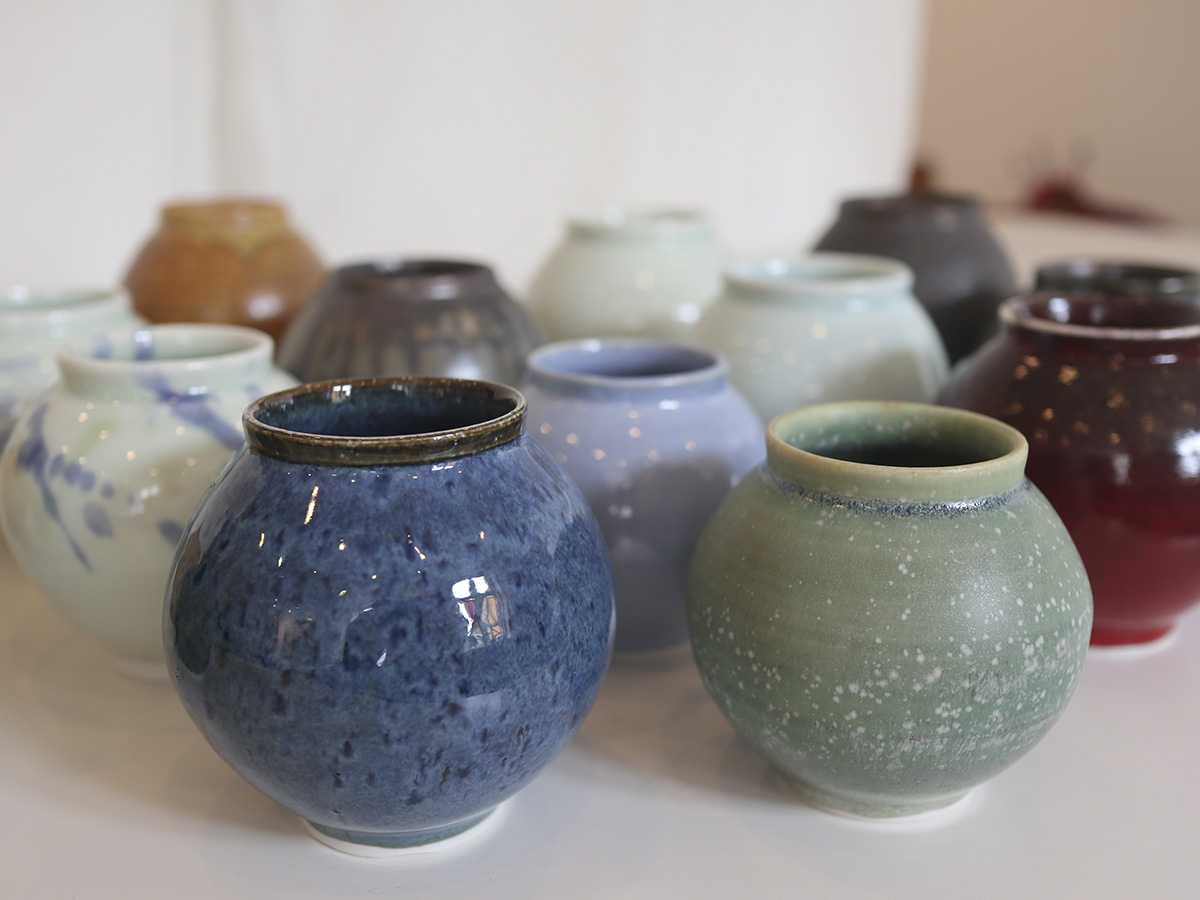 The Cosy Times Ceramics shop and gallery, in the Danish town of Kerteminde, is a stone's throw from the fjord. Here, the flat, sweeping banks are clustered with red-brick homes, wooden fishing houses and small boats bobbing on the swell. To the east, the waters open into the Kattegat Strait and the Baltic Sea. This is where ceramic artist Svetlana Slizova, owner of Cosy Times Ceramics, comes to get her hands dirty.
Cosy Times Ceramics' sunny front overlooks a busy, cobbled street corner. But inside, the shop is serene – adorned with expressionist art and low, white shelves bearing her gem-like collection of handmade bowls, vases, jars and coffee sets.
"I don't like mass-produced repetition. I work in small batches of simple shapes, and my work contains many one-offs. When making sets – coffee sets or salt and pepper bowls, where the size needs to be consistent – I weigh the porcelain clay bowls before throwing on the wheel. I like to create different shapes and then decide which glazes and finishing touches fit the best," explains Svetlana.
The lines of Svetlana's ceramic works recall both those of Greco-Roman art, as with her elegant poppy-seed shaped jars, and the Japanese ceramic tradition, in her range of petite, flared bowls and narrow vases. Likewise, the finish: "My glazing is inspired by the changes of the sea, sky and nature around the sea in different seasons. I constantly explore and am inspired by these elements," says Svetlana.
"I glaze by pouring or dipping," she continues. Often, the glaze will melt and run during the firing process, when the porcelain is heated up to 1,250 degrees centigrade. "It can run too low and stick to the kiln shelves. It's about finding a balance between the thickness of the glaze and the shape you're glazing. I like to experiment. Sometimes I find surprising results that I can explore further… and sometimes it can be a complete disaster," she says with a grin.
The magic of porcelain
Svetlana trained in ceramics with Michel Francois, a former artist-in-residence at Leach Pottery in Cornwall. "It all started as a hobby which inspired me to create my home studio in England. Michel introduced me to grogged porcelain, which contains particles of sand. I loved its plasticity and whiteness," she recalls. "I moved to Audrey Blackman porcelain – a very smooth clay, perfect for both modelling and throwing. It becomes white after firing and, if made thin, it fires translucent."
In 2020, she moved to Denmark, where her journey in ceramics took shape. Svetlana seems to light up as she describes the ethereal qualities of porcelain: "working with porcelain is sensual. It puts you into a kind of flow-state. There are a couple of quotes I read that capture the feeling: 'clay work is a way to get out of your head and into your body, much like meditation' and 'seeing your own finger marks means that a part of you is forever connected with every piece.'"
Perhaps that's why Svetlana's ceramic discipline lends itself so easily to organic forms. Indeed, her body of work, seen in its entirety on the white shelves of the Cosy Times Ceramics gallery, evokes the repeating, subtly irregular geometry of the natural world. But she is equally inspired by the art itself: "it's interesting to see how other artists approach their ideas and how their ideas take form," she says.
"For example, for the art fair in Kerteminde, I decided to create a collection of moon jars. These are curvaceous, plain white porcelain jars resembling the full moon, originally made in Korea during the Joseon Dynasty. I made three different sizes – mini, medium and large – in different glazes."
Expressionist painting meets ceramics
In July, Svetlana opened Contemporary Art Kerteminde – part of Cosy Times Ceramics – an art shop in which she hosts ongoing exhibitions. The summer's first show features colourful abstract-expressionist paintings by the Danish painters Preben Beck and Ulrik Dal.
"I wanted to surround my ceramics with the works of amazing painters to create harmony between different artistic mediums," she explains. But the cross-pollination of ideas at the new gallery goes beyond juxtaposition: "Ulrik and I have collaborated on a set of porcelain vessels," she explains. The range of coffee cups, bowls and vases combines a satisfyingly weighty form with willowy, stem-like lines – hand-painted by Ulrik in splashes of joyful crimson, steel blue and moody green.
An open studio
In fact, all the porcelain pieces at Cosy Times Ceramics and Contemporary Art Kerteminde beg to be handled; many are palm-sized, textured or seductively curvy. So, visitors will be pleased to hear that as well as being able to buy the ceramic collections on display and visiting the open studio, they will soon be able to work directly with Svetlana on their own clay projects.
"I'm developing the idea of sharing the knowledge of making ceramics by giving lessons in hand-building techniques, as well as experience on the wheel," she says. To visit Svetlana's atelier is to experience an ancient, largely unchanged process, steeped in modern influences, and inspired by the stunning Nordic surrounds. Plus, you might find some cute new coffee cups.
Web: www.cosytimesceramics.dk Instagram: @cosytimesceramics.kerteminde
Subscribe to Our Newsletter
Receive our monthly newsletter by email