Desenio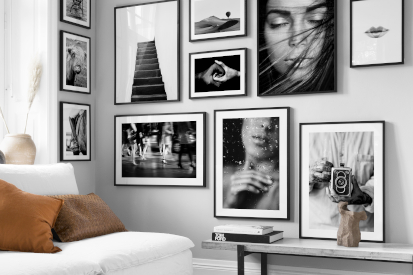 Walls of trends and beauty
TEXT: LINNEA DUNNE | PHOTOS © DESENIO
Founded in 2010, initially to help with sound absorption and acoustics, Desenio has grown to become a success story within affordable wall art. Today, it is the go-to hub for trendy prints, bold art and beautiful gifts, all born out of a passion for design and self-expression.
"We want to be at the forefront when it comes to interior design trends," says Annica Wallin, creative director at Desenio. She joined the company two years ago, tasked with finding a strong strategic direction for the assortment in line with the brand's quick global expansion. "My job has been to interpret future and ongoing design and interior trends globally, in order to set the direction for our team," she says.
It seems clear that Wallin has triumphed in her endeavour. Desenio is somewhat of a success story in the industry, and today, a creative studio brimming with expertise is at the heart of the company and all its work. "We have a team of photographers, illustrators and designers, who create all our new designs and also style and produce inspiration materials – anything to help our customers with the latest in styling and interior design," the creative director explains. "We've seen a real strength in this. We're quick to put new art out there, quick to jump on trends – while many others have long lead times with purchasing and all that. Our strategy is to create almost everything in-house, alongside some hand-picked collaborations with selected artists."
Affordable flexibility
From day one, Desenio has had a distinctively Scandinavian expression, and Wallin admits that there is a security in the company's strong roots in the interior design industry generally and the Scandinavian design heritage specifically. Yet, flexibility has been central to the brand's success, and that is unlikely to change. "We want it to be easy to change things up and replace art as and when our customers feel like it. You should be able to get both prints and frames at an affordable price," Wallin explains. "And it's important to us to be able to offer something for everyone, regardless of age or your stage in life – everyone should be able to communicate their style or personality with our prints. That's why we release upwards of 200 new motifs every month. We're working actively with creating designs to suit different profiles based on different trends."
That goes for geography too; the company might be Scandinavian through and through, but the range is always big and varied. "We release different collections targeting different countries and do what we can to adapt our range to suit each market," says Wallin. "In Scandinavia, for example, nature motifs in the blue-green colour range are currently very strong, while in Germany, we see a strong trend around romantic motifs, and in the UK, things are more arty and bold in terms of colours."
But while the creative studio team boasts an enviable amount of expertise and experience alike, all of the above is backed up by data and nothing is left to fate. "We have tools that help us pinpoint trends and see what works for our brand. The data tells us what might work with our customers, what colour schemes are growing, what types of artistic expressions are on the up and so on. When we see that something is doing well, we can be quick in designing more along the same lines – but this also means that we can afford to be brave and experiment more," Wallin explains.
News and trends
Recent news in our assortment portfolio includes our own studio collections – bigger photo productions from 'it' locations throughout the world – and personal prints with tailor-made messages, which are proving very popular, not least as gifts.
As for trends, Wallin reveals that the Scandinavian trend of light and neutral homes with pink and earthy tones is strong, while darker, warmer colour schemes that flirt with the '60s and '70s are also making a comeback, albeit in a more luxurious suit. Wood furniture and wall panelling are big, and the recent green trend with big plants and a touch of nature is showing no sign of stopping. In terms of motifs, line art and abstract, graphic prints are very on-trend, while photographic art and botanical and animal motifs are also remaining popular.
One trend that will likely never go out of style is that of environmental consciousness, something Desenio is very aware of. "If you're working with paper and want people to have that option of replacing their art regularly, you just have to be environmentally conscious," says Wallin, and reassures: "We work with eco-certified paper, and for every tree we use, we plant two more."

About Desenio
Desenio is a fast-growing design and e-commerce business that is market leading within posters and frames in Europe, delivering to more than 30 countries.
Desenio offers trendy, affordable prints and other wall decorations alongside fantastic inspiration and world-class customer service.

Web: desenio.com
Subscribe to Our Newsletter
Receive our monthly newsletter by email