Digitaliseringsinstituttet: Digital transformation in real life
Text: Signe Hansen | Photos © Digitaliseringsinstituttet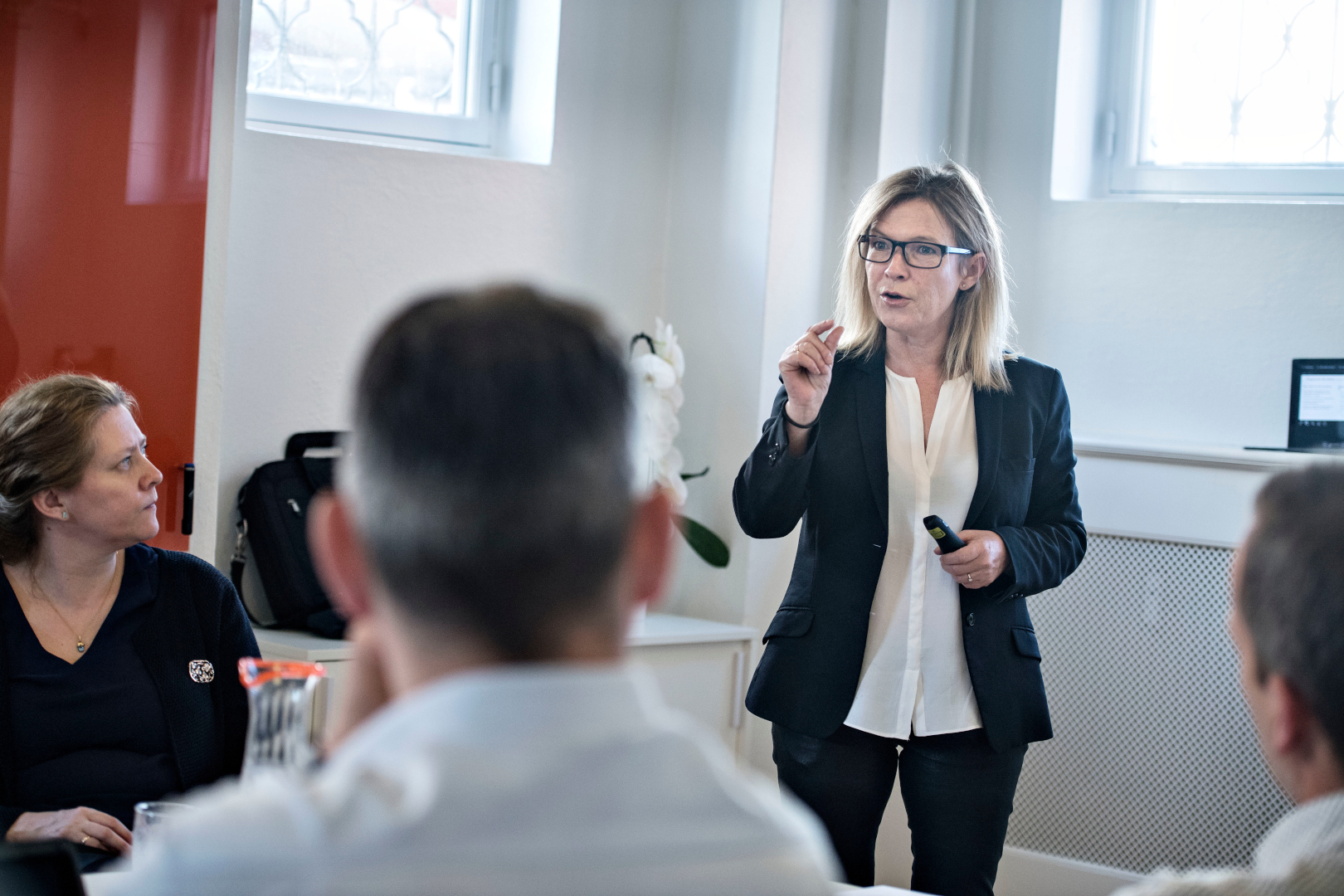 For many business leaders, the term digital transformation is one teamed with more fear than potential. While many experts offer stories of utopian successes and 'the danger of falling behind', finding someone who can illuminate the transformation to go from fear to actual change is trickier. Based on two decades of research and expertise, Digitaliseringsinstituttet does just that.
Founded by former professor at Aalborg University and IT University of Copenhagen, Pernille Kræmmergaard, Digitaliseringsinstituttet has helped more than 200 leaders from the public and private sectors turn digital fear and hope into concrete ambitions and actions. Klaus Larsen, IT director at Region Nordjylland, took part in the institute's Masterclass in Digital Transformation two years ago. "At that time, the market was teeming with experts telling us that digitalisation was the new big thing and that if we didn't catch up with it, we wouldn't have a future. Now, that's very easy to say, but no-one was offering to teach us how to catch up," he says. "I searched the market to find someone who could help us with a technological transformation, and Digitaliseringsinstituttet's Masterclass was the only offer I could find which combined theory with real possibilities."
Having taken the six-day programme alongside three other leaders from his organisation, Larsen was so impressed that he recommended the entire chain of management to do the masterclass.
Putting theory into practise
When Kræmmergaard, after 20 years in research, decided to found Digitaliseringsinstituttet, she was driven not just by the increasing requests she got from business leaders, but also by her own desire to provide companies with a realistic starting point in their digital transformation. "Our starting point is the current reality of the companies that take part in our course – we aim to meet them where they are and lead them forward on their own terms," she explains. "People are tired of hearing about big international corporations doing amazing things when they're struggling just to get a CRM system up and running."
Thanks to her many years in academia, Kræmmergaard, who teaches the majority of the masterclass herself, has connections to a host of global experts in the field. However, being an expert is not enough to qualify lecturers for the course. "I redesign the course every half year. I revisit the literature and look at new technology and interesting, new real-life achievements. It's not just about what's happening now, but also what will happen tomorrow," she explains. "I also bring in new lecturers, but when I invite people to be part of the course, it's not just because they are experts – it's also because they can deliver something specific that the course needs. And, it's not enough that they have the knowledge – they need to be able to convey it to people facing the practical issues behind their theories."
Shared experiences
Another distinct feature of Digitaliseringsinstituttet's masterclass is that it is not just concerned with digitalisation, but also with transformation management, strategy, and value realisation. This means that it is relevant not just for IT managers but for managers at all levels. "The diversity of the people taking part in the course is part of its beauty," says Larsen. "It creates a platform for an exchange of experience and, even though you work within completely different sectors, you can easily use each other. I was very inspired by the way some of the other participants worked with digitalisation in their company – when you digitalise, the core task and the core requirements are the same."
Indeed, one of the main ambitions of the course is to open up a constructive dialogue about digitalisation and to enable participants to continue that dialogue when returning to their organisation. Larsen has done exactly that. "When I got back, I went to the top management and told them that if they wanted to get the best from our organisation, we, the IT department, had to get a seat at the table. I managed to secure that because, thanks to the masterclass, I could explain to them exactly what advantages it could bring. That's the difference between this course and others: it's not just dry knowledge – you can actually go home, do some things differently and create results."
Facts:
Digitaliseringsinstituttet's Masterclass in Digital Transformation covers three modules: Digital Transformation, Business Development with Technology and Data, and Organisational and Management Competencies.
Each module has a duration of two days. The course is offered thrice yearly, twice in Copenhagen and once in Aalborg. Digitaliseringsinstituttet also offers tailor-made courses and seminars as well as a flexible and expansive online learning platform with compressed lectures, question-and-answer sessions, and more. Pernille Kræmmergaard is the author of the book Digital Transformation –10 evner din organisation skal mestre (Digital Transformation –10 capabilities that your organisation needs)published by Djøfs Forlag. The book will be available in English in summer 2019.
Web: dinst.dk
Subscribe to Our Newsletter
Receive our monthly newsletter by email