Discover Nordic wilderness on eLyly's compact, eco snow scooter
By Molly McPharlin | Photos: eLyly
If you're hoping to explore the vast, snow-covered scenery of the Nordic countries, or any other wintry destination, the eLyly electric snow scooter provides the ideal form of transportation by which to experience nature in an environmentally conscious manner.
Invented and designed in Finland by Pasi Kauppinen, the co-owner of eLyly and the family-owned and operated travel destination, Bear Manor, the patented eLyly snow scooter was conceived to offer travellers a new way to enjoy winter tourism. "There hadn't been any new innovation for years," says Minna Kauppinen, chief marketing officer of eLyly. "Not everyone wants to go skiing or snowshoeing. We've been moving in a more ecological direction. We wanted something that allowed visitors to see the region in a completely new, fun and environmentally-friendly way."
The eLyly snow scooter is the first scooter of its kind in the world. It can be used for all kinds of activities from touring to maintaining walking and cycling routes, or commuting to work. It can travel up to 25 kilometres per hour and has a distance range of some 20 kilometres. It charges quickly and efficiently from empty to full in two hours, and can be charged using a regular electric socket. The eLyly snow scooter is specifically designed for Arctic conditions. No driving licence or insurance is required to use the snow scooter, and it is light to transport and compact to store.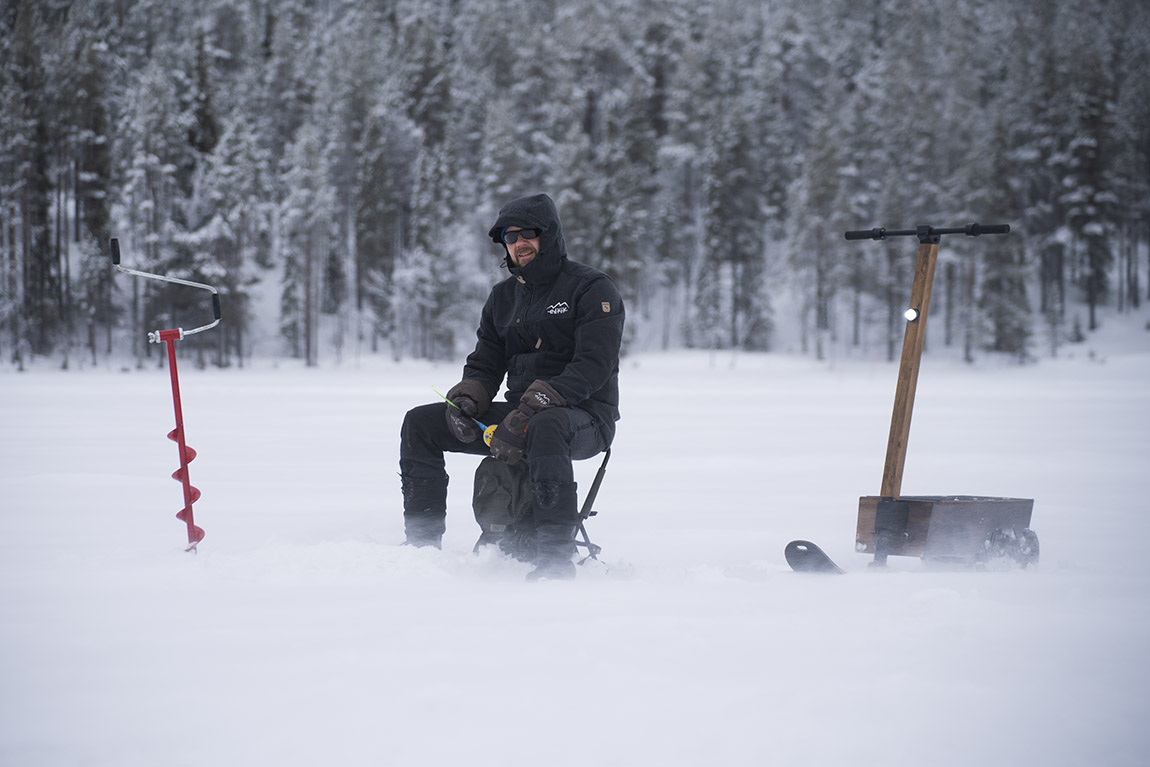 Explore the outer reaches
'Lyly' is the Finnish word for a long, wooden ski that was originally used for sliding alongside one shorter kicking ski. The lyly offered an innovative way to move across snow quickly and silently and was especially useful when hunting. The team at Bear Manor had the idea of creating a new form of the lyly for a different purpose. "These days, we had another kind of experience in mind – the ability to view pure nature in silence," explains Kauppinen.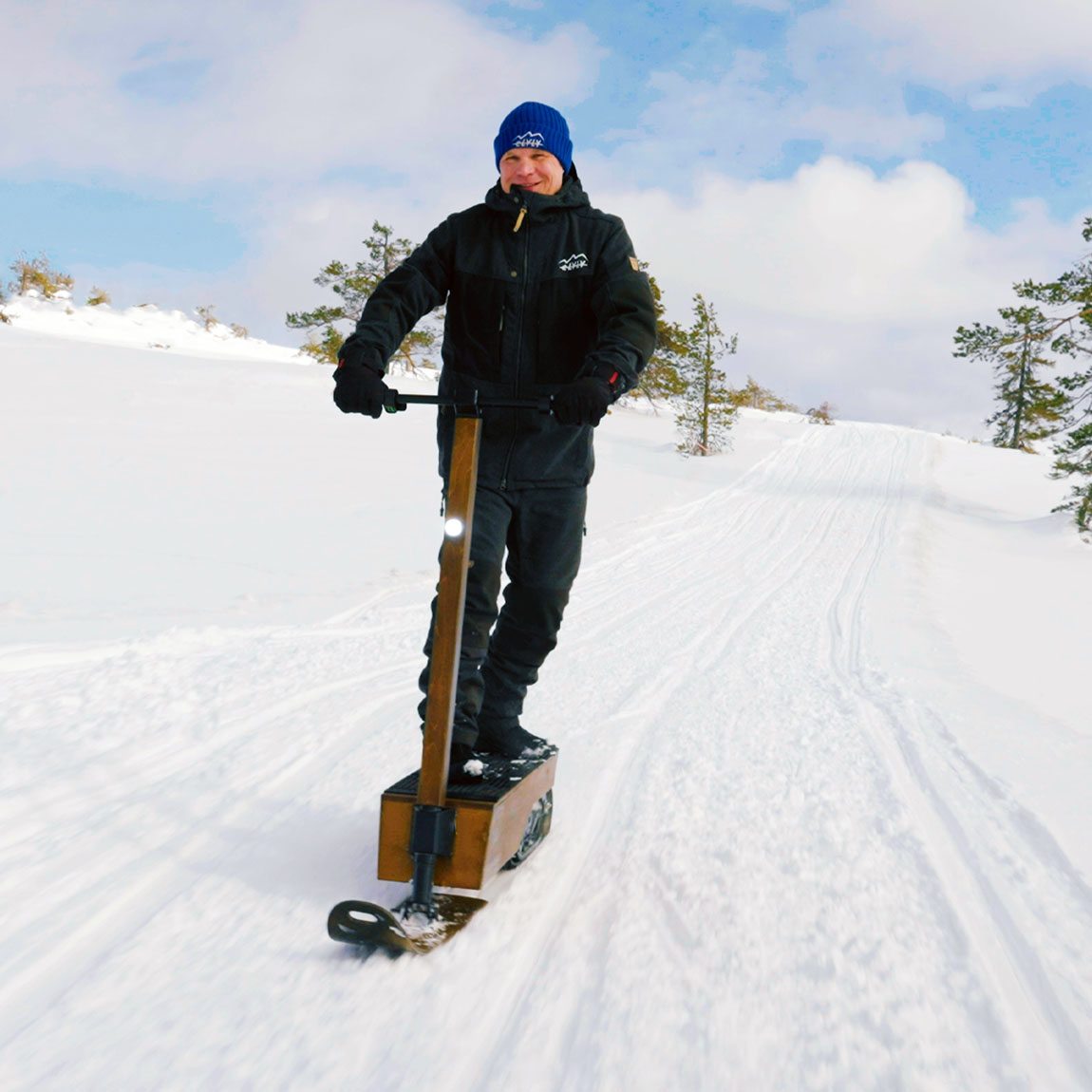 The eLyly snow scooter is made from sustainable wood and the small electric motor allows you to quietly glide through snow. As Kauppinen explains, if you wish to explore beyond your range on foot, hear the squeak and creak of packed snow under your boots, and see tree branches silently lean and bend under their white blankets, the eLyly snow scooter is the innovation for you. The visual design and finishing touches on the scooter were created by Finnish designer Harri Koskinen. He is originally from the northern part of central Finland, the same birthplace as eLyly.
Proudly Finnish
A number of partners in Finland already use the eLyly snow scooter in their business and with customers. These include Sport Corner Ylläs, a sporting goods store that rents the scooters to the public. Elsewhere, the Arctic Snow Hotel in Rovaniemi has them available for guests. Xwander Nordic Tourism and Lakeland GTE outdoor company also use the snow scooters in their winter safaris and travel experiences in both Finland and Norway.
The Kauppinens feel the eLyly snow scooter is a distinctly Finnish product. "The idea for the snow scooter and its research and design are all Finnish. The actual vehicle is made in Finland. Most of the parts are created for us specifically from Finnish subcontractors. The degree of Finnishness is very high, approaching 100 per cent. It also has a strong link to Finnish nature," they say.
For now, eLyly sells their snow scooter directly to companies and private customers from their online shop. In the future, they plan to offer their product in design stores and showrooms around the world. This will give more people the chance to experience winter destinations the fun, peaceful and eco-friendly eLyly way.
Web: www.elyly.fi Instagram: @electricsnowscooter Facebook: elylyelectricsnowscooter Youtube: eLyly LinkedIn: eLyly Oy Partners: www.sportcorneryllas.fi/en www.arcticsnowhotel.fi www.xwander.fi www.lakelandgte.fi/en www.bearmanor.fi
Subscribe to Our Newsletter
Receive our monthly newsletter by email