DOFTA: Heavenly fragrances from Sweden
Text: Malin Norman | Photos © DOFTA
R apidly growing Swedish brand DOFTA makes luxurious scented products: pure home and body fragrances for the ultimate sense of comfort and wellbeing.
DOFTA has experienced strong growth since its foundation ten years ago, with constant development of new fragrances and coverage in popular blogs, press and on TV. All products and formulations are specially designed and made from scratch by creative director Anna Riller. DOFTA's collections include perfumes, diffusers, scented candles, as well as body lotions and shower gels.
Demonstrating its potential, DOFTA has been named one of the ten most interesting businesses in southern Sweden by Business Sweden, which is owned by the Swedish Government and aims to help companies expand internationally.
International look and expansion
A lot is happening in the market and DOFTA continues to expand globally. Next up is a collaboration with a major player in Dubai, which holds extensive distribution across 19 countries. Following a revamp of the packaging a few years ago, the DOFTA look found its place. "We found our style with a more luxurious expression using elaborate packaging in white, black and gold," says brand manager Carina Svensson. "The overall look and feel is more international, and we can see that our exclusive products are increasingly popular abroad."
All DOFTA products are made by hand in Halmstad and come with a special quality guarantee. "This is Swedish craftsmanship," confirms Svensson. "You can clearly feel that the fragrances and raw materials are of the highest quality and with no added chemical substances. Our products are unique due to both their luxurious design and their pure quality – there really is nothing similar on the market."
One such example is the aromatic purifying lamps, which are based on patented technology that cleans the air on a molecular level. The lamps also gently release DOFTA's signature fragrances from the specially developed purifying oils into the air. In particular, the lamp Fantasy Drop is like a work of art, made in beautiful hand-blown glass.
News in the DOFTA family
Next season, DOFTA will launch more fragrance collections with a number of new products. "We are focusing more on the premium segment," confirms Svensson. "It all goes hand in hand, from the luxurious finish and sense of an exclusive product, to where we are seen and next to what other brands." For instance, DOFTA is collaborating with Candle Room, the first shop to open its doors by the Arlanda Express platform at Arlanda Airport.
Just in time for Christmas and an ideal gift for loved ones, DOFTA is also launching its Christmas Deluxe Collection in decorative red and gold packaging. "It's a great collection with an amazing scent," says Svensson, and continues: "Perfectly balanced, not too sweet. Those who have had the chance to try it already, love it!"
The exclusive DOFTA range is available online and at selected retailers such as interior design and clothing stores, beauty salons, hairdressers and spas.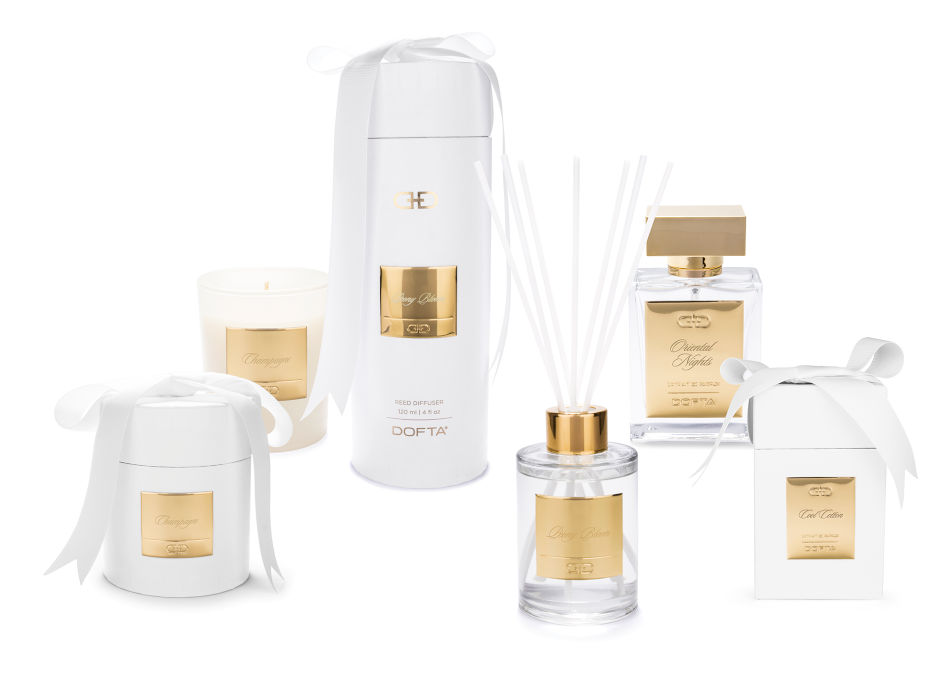 Web: dofta.com Instagram: @dofta
Subscribe to Our Newsletter
Receive our monthly newsletter by email