Dometic: Designed to entertain: a mobile outdoor bar to help you keep cool
By Marie Westerman Roberts | Photos: Dometic
Summer is the ideal time to host get-togethers and outdoor soirées with friends and family. Enjoying company, conversation and abundant sunshine is really one of life's great pleasures.
When entertaining outdoors, it is essential to keep beverages cold. The new outdoor entertaining solution from Swedish mobile-living company, Dometic, raises the bar (literally) on cooling, preparing and serving beverages. The Dometic MoBar, available in three models, is designed to elevate the entertaining experience for hosts and guests alike. Featuring rotomolded ice baskets that keep ice cold for hours on end, areas for storing glasses and additional beverages as well as preparation areas, MoBar is a solution so easy that it feels like having your own resident bartender.
Dometic is a global company with a long history of creating market-leading products for outdoor, home and professional use. As a company, they are constantly exploring new opportunities to develop their products and solutions.
"We know that there is a need for high-quality, stylish, mobile outdoor beverage cooling. With our energy-efficient cooling technology and smart Scandinavian design, we believe the Dometic MoBar will meet the needs of design-conscious consumers looking for outstanding products for their outdoor living space," says Dometic's chief marketing officer Brian Garofalow.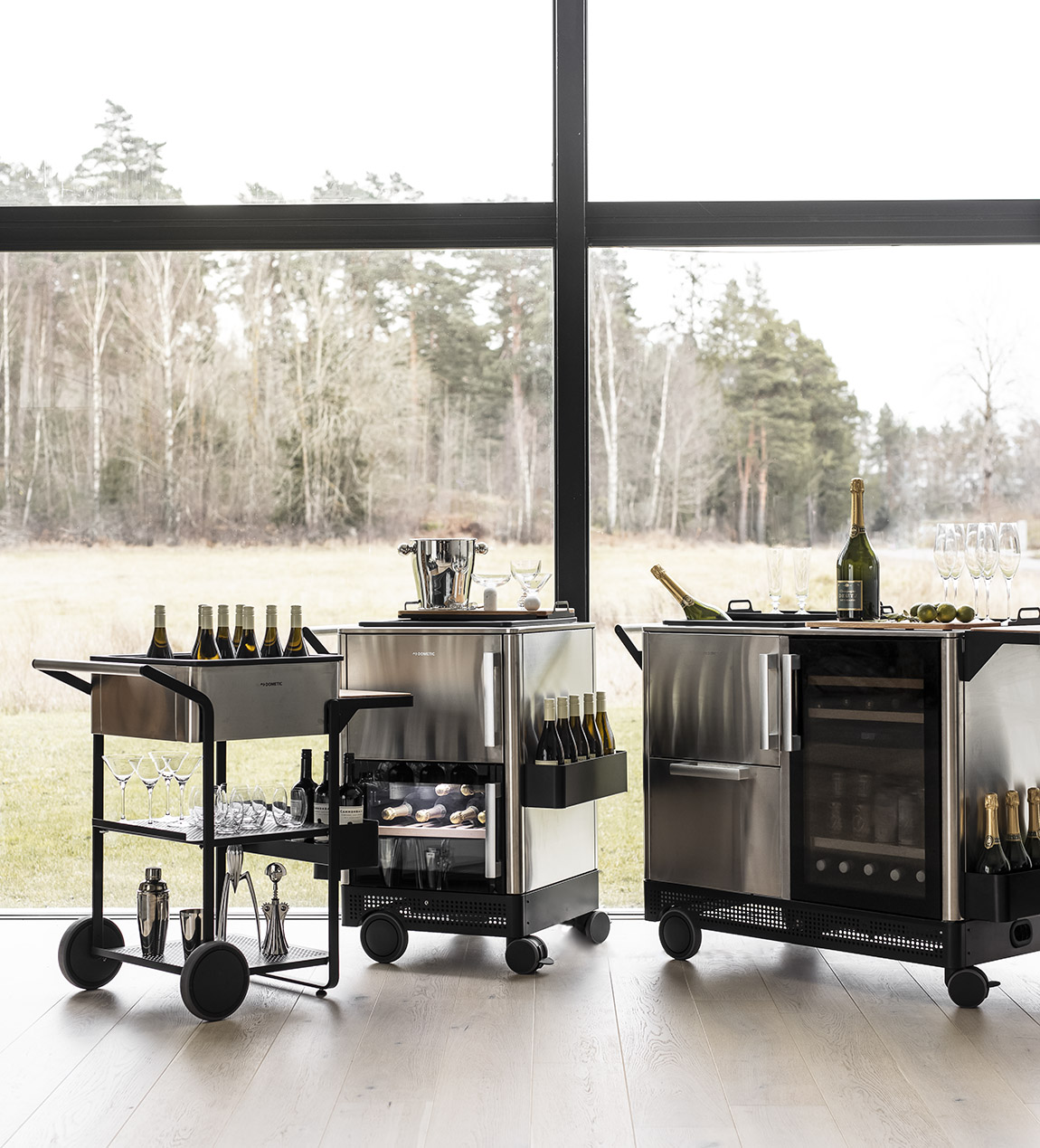 A natural gathering spot
The outdoor MoBar is easy to move around the party with its heavy-duty wheels and ergonomic handle. It allows hosts to enjoy the gathering without needing to run in and out of the kitchen to fetch more garnishes or ice. This mobile bar has been developed in collaboration with consumers and professional bartenders, and it creates a natural gathering spot for guests to interact with the host while being served or serving up specialty cocktails.
"Our job is to elevate at-home entertaining in innovative ways by leveraging our company legacies in compact design for outdoor living, refrigeration and industry-leading performance technology," says Garofalow.
Built to withstand all weather conditions, each MoBar is produced with commercial-grade 304 stainless steel, soft-closing hinges and rotomolded insulation ice-baskets which keep up to 22 bottles or 32 cans ice-cold. It's a fashionable way of serving beverages and with versatile design features and cooling performance, and stylishly enhances the entertaining experience – without compromising on functionality or convenience. Wherever your al-fresco gathering is, MoBar is ready and equipped to elevate the experience.
Subscribe to Our Newsletter
Receive our monthly newsletter by email