Edsbyn: Interiors inspiring creativity and productivity
Edsbyn has a long manufacturing history, having been established 120 years ago. But the company keeps its eyes firmly set on the future, aiming to provide interiors to make the next generation thrive and grow in the workplace.
TEXT: MALIN NORMAN | PHOTOS : EDSBYN
Located in the middle of Sweden, Edsbyn is surrounded by forests. With a history of manufacturing a range of wood products, these days the focus is on providing interiors for modern workspaces. As digitalisation is speeding up, demands in the workplace are changing too. Future workplaces are conscious, mobile and demanding, and Edsbyn is keeping up with its own designs and collaborations with prominent designers.
"Progress is exciting, and we are elevating our brand to stay ahead," says Bengt Gunnarsson, CEO, and ponders: "What happens after tomorrow? How can we get the next generation to thrive, and ultimately be creative and productive, in the workplace? We look at the next generation's employees, their future expectations and the type of environments and furniture we can produce to make people enjoy their time at work."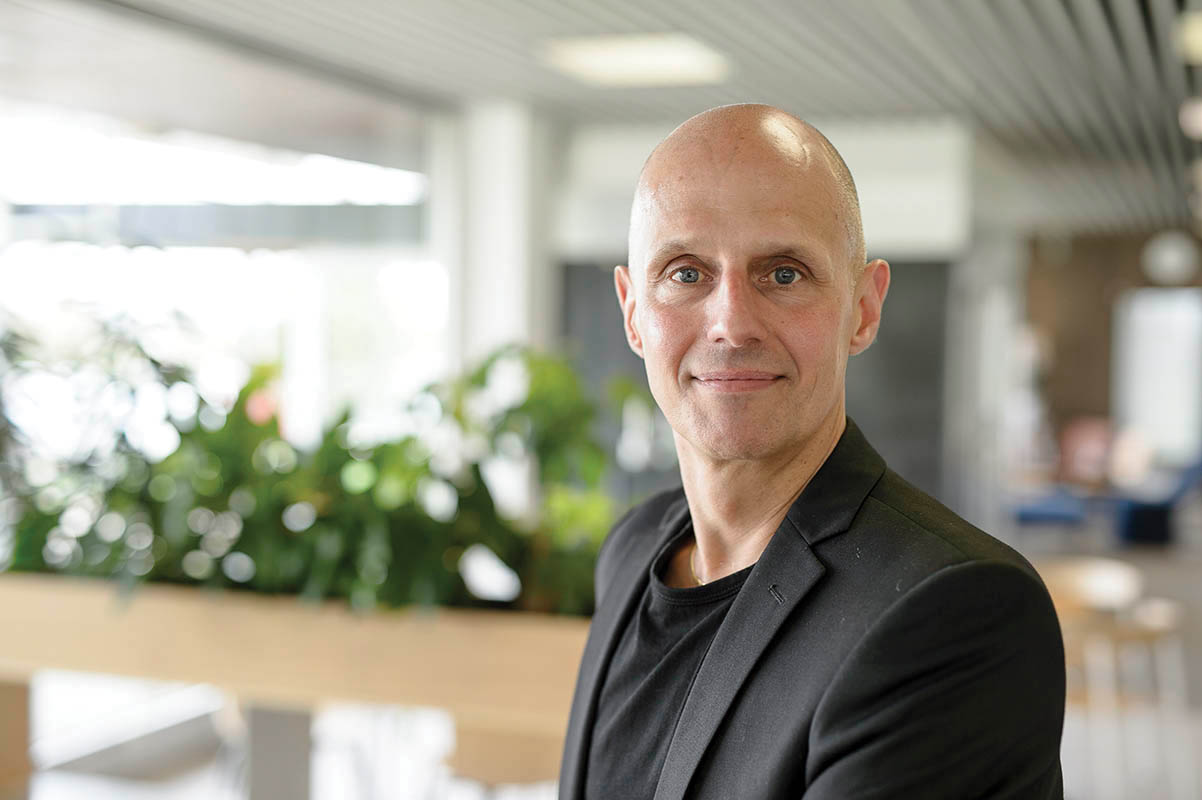 Bengt Gunnarsson, CEO
From offices to collaborative spaces
But before we look into the future, let us rewind to the '90s. In Sweden, offices typically had a separate hallway, conference rooms and a kitchen – and separate rooms for its employees. Everyone had their own desk, often a robust construction to carry heavy computer equipment.
Things have changed, though, and companies realise that it is costly to provide individual rooms for staff. There are new ways of working collaboratively, with activity-based spaces, which also impacts the choice of furniture, with new requirements for construction and size. "When we work collaboratively, we work better," says Gunnarsson. "Workplaces are no longer about a desk and an ergonomic chair. The new generation has different and higher demands on flexibility and atmosphere, and the interior should promote creativity and productivity."
Gunnarsson elaborates on the new interior trend: "Offices tend to look a bit like hotel lobbies these days, with a mix of seating in small groups of armchairs and tall bar tables. A meeting room can be a sofa group or a touchdown table in the middle of the communal areas – for example, the new Clair Café Sofa by Andreas Engesvik, Oslo, which is higher and suitable for working with a laptop and as café furniture. The sofa has straight contours, so can easily be placed next to each other or back to back, to create islands of sofas suitable for spontaneous meetings or lunch breaks.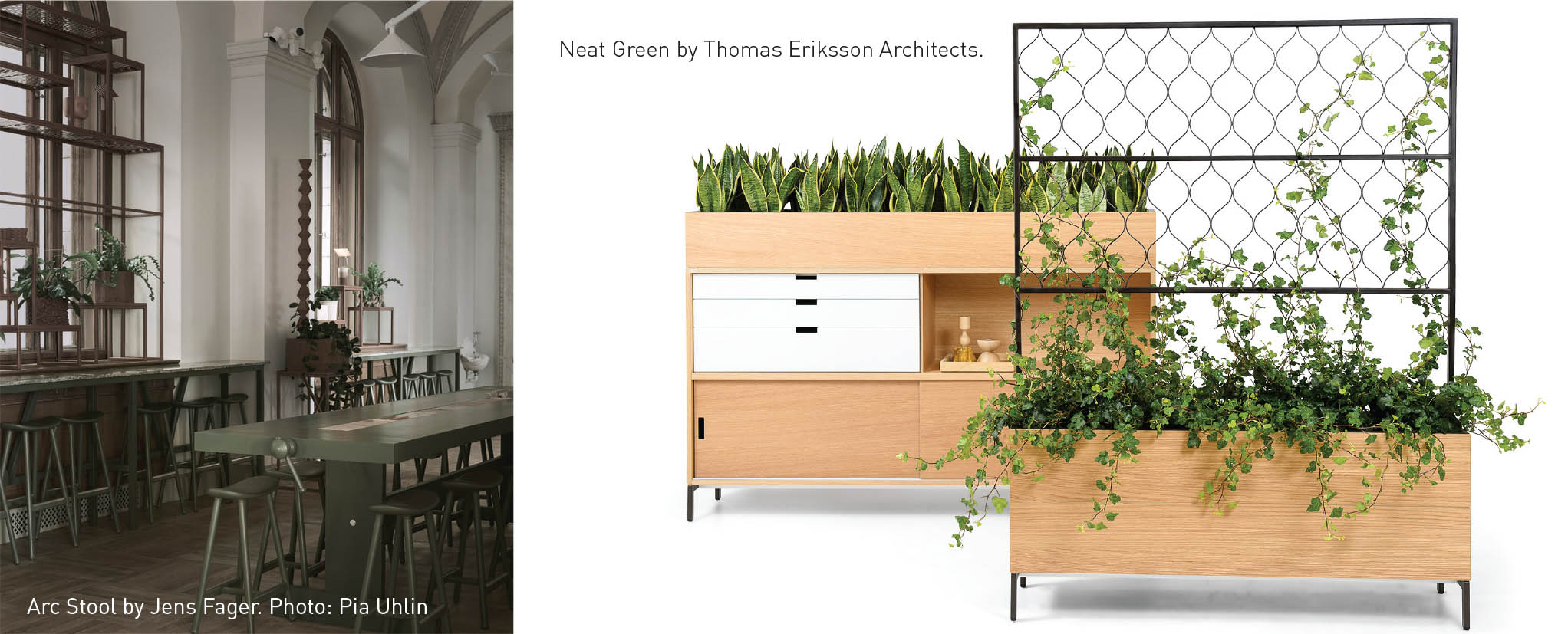 A sense of silence
Plants have proven health benefits, and designers understand that trees and plants can be used as functional furniture, in addition to decoration. With people's wellbeing in mind, Thomas Eriksson Architects designed Neat Green for Edsbyn, a range of stylish storage units with a functional plant box placed on top or at the base. These are practical, decorative and perfect for dividing spaces, and with added transparency depending on the type of plants.
Sound has an impact, too, as shown in the project My Soundspace, a collaboration with Martin Ljungdahl Eriksson, PhD at KTH Royal Institute of Technology in Stockholm, who is conducting research in how sound can have a positive effect in workplaces. "We believe that areas can remain open-plan with the help of furniture to reduce sounds," says Gunnarsson. "There is no need to limit the space and flow of rooms by building permanent walls."
Working with wood products, Edsbyn has had sustainability in its DNA for more than 100 years. It started by producing Fanett chairs, produced by waste wood from the production of skis, and these days, waste from production is used to heat the top-modern factory. Moreover, the sustainable product development has a long-lasting focus, with reusability at its core. For instance, it should be easy to swap only worn parts, such as the top of a desk, while keeping the legs.
An example of bringing the solid wood heritage into the future is Jens Fager's Arc Stool for the National Museum in Stockholm, already a classic. This will be added to the permanent collection at the National Museum, which has high demands on artistic expression and the quality of its items. "Arc Stool is a great step into future work places and public settings," concludes Gunnarsson. "The chair is sleek and light and can be easily moved. It suits all environments and you can choose how to sit on it. And solid wood can be refurbished to give it new life. It demonstrates how we work with sustainability."
Several other exciting collaborations around the promotion of a stimulating and creative working environment for the next generation will kick off this autumn, and will be presented at Stockholm Furniture Fair in 2020.
Web: www.edsbyn.com
Subscribe to Our Newsletter
Receive our monthly newsletter by email