Elfa: Creating space
Text: Pia Petersson | Photos © Elfa
For over 70 years, Elfa has provided much-needed storage solutions for over-filled wardrobes, narrow hallways and large families in small flats. Everything Elfa does, from creating big storage systems to paying attention to the tiniest of details, serves to free up much-desired living space and make life a little easier at home.
The story of Elfa started in 1948, when four bright men with a bunch of ingenious ideas about how to solve various practical household problems crossed each other's paths at exactly the right time. "Successful pioneers all have a few things in common: commitment, hard work and experience. The story of Elfa is based on precisely these things," begins Christine Dalman, senior PR specialist at Elfa.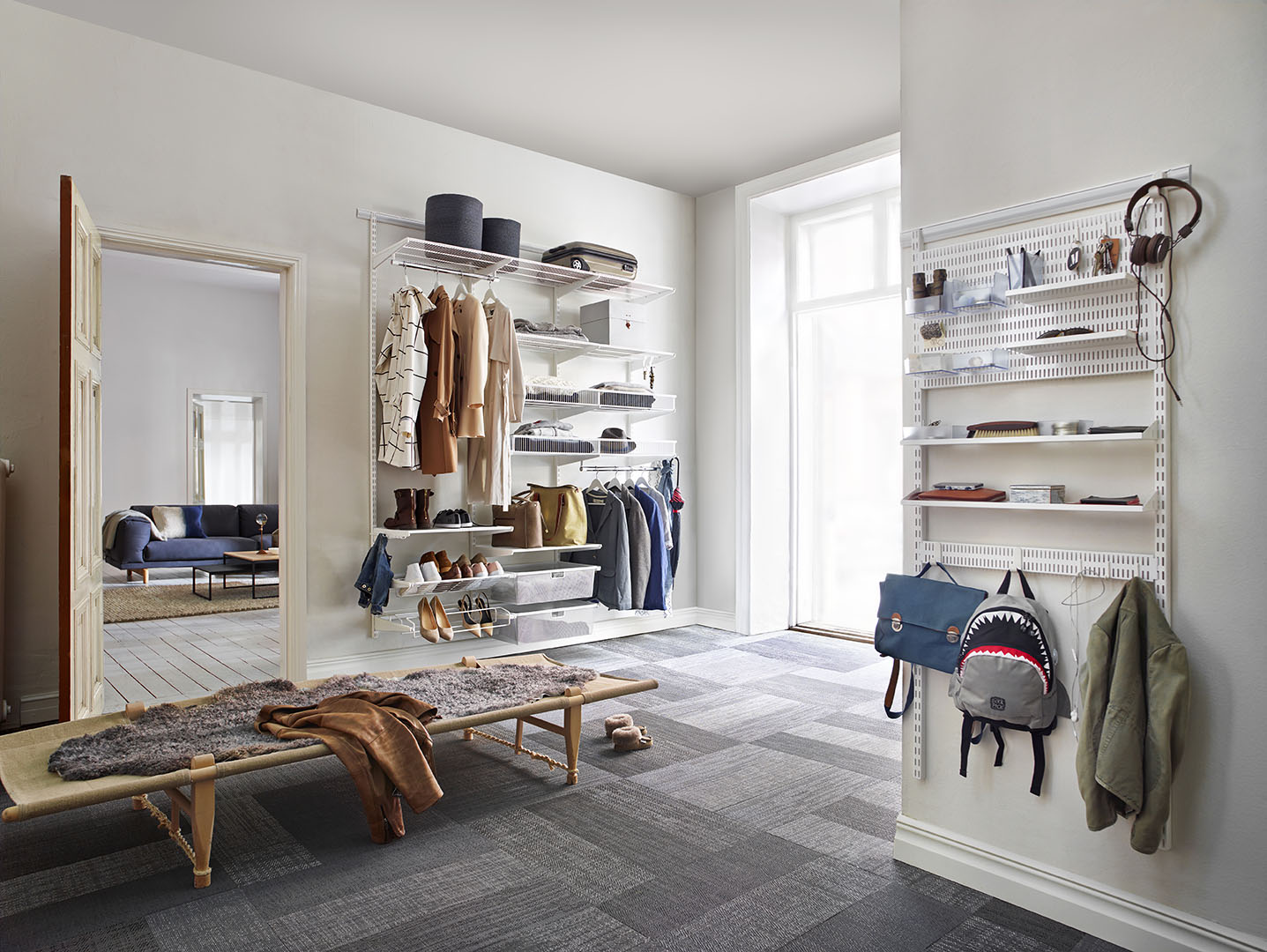 The four men – Arne Lydmar, Nils Strinning, Björn Hoff and Birger Sparring – got off to a flying start. The first of many smart Elfa products to hit the shops was a draining dish rack made out of metal wire covered in a durable, water-resistant coating, which provided more hygienic and functional washing up. The following seven decades have seen Elfa grow to become market leading in the Nordic countries when it comes to smart storage solutions.
So long, floordrobe
Creating space has become the main focus of Elfa. And space is something that is sorely needed. Most of us are probably familiar with 'floordrobes', overflowing drawers and piles of random things, which never seem to get sorted. "In fact, we collect so many clothes, shoes and things that most of us struggle to figure out where and how to store it all," explains Dalman.
Elfa recently published its fourth Storage Report, which showed that clothes that are rarely or never worn present the greatest storage problem in the Nordic countries. Dalman has a few good tips on how to solve this common problem. "Try to make it a routine to clear out a little every week, or every month if that feels more realistic. Put a recycling box centrally in the wardrobe; don't tuck it away in a corner. As soon as it's full, donate it to charity. Think twice before buying new clothes, and invest in quality garments that can be used for a long time," she suggests.
According to the Storage Report, many people genuinely want to tackle their home storage challenges. For one reason or another, most of us just don't seem to get around to it. The Storage Report states that having a day off, being in a good mood, being alone at home and listening to pop music make the perfect preconditions for a proper clear-out and storage reorganisation to take place.
Hang on to your hat
So how could products from Elfa help sorting out storage problems in the modern home? Well, for a start, there is a nifty, wall-mounted top-track system, which serves as the base for any inventive Elfa storage solution. Once the top track is mounted, there is no need for a screwdriver. Hang standards are easily placed on the top track, onto which different useful accessories can be fitted. And from then on, reposition and supplementation of the system as needed is easy. And there it is – the floordrobe is no more.
"With more than 70 years' experience, we offer not only smart, practical and functional storage, but also innovative future solutions for the modern home. Elfa constantly develops new ideas and concepts for all parts of the home – everything from the kitchen to the garage," Dalman concludes.
Christine Dalman's top tips for solving common storage problems 1. Think about whether you really need everything in your wardrobes and storage rooms. Perhaps there are clothes and other things that can be thrown away or donated? 2. Start by thinking about the actual space you have available. Measure width, height and depth. Then start planning your storage. 3. If you are planning a wardrobe, place the clothes in the order they are worn on the body. It will feel more natural to search the wardrobe in that order. 4. Get rid of any shelves that are too deep. Deep shelves lead to general disorder, and clothes end up being hidden and difficult to reach. 5. Make sure to keep the floors free from clutter. The more floor you see, the more order! And it will be easier to clean and keep it tidy. Web: www.elfa.com
Subscribe to Our Newsletter
Receive our monthly newsletter by email