Eriksgårdens Fjällhotell: A genuine boutique hotel in an outdoor paradise
TEXT: MALIN NORMAN | PHOTOS: ERIKSGÅRDENS FJÄLLHOTELL
At the foot of the mountain Funäsdalsberget, and overlooking the lake, is the award-winning Eriksgårdens Fjällhotell, which promises guests an unforgettable experience in a friendly atmosphere, with that something a little bit extra.
Eriksgårdens Fjällhotell is often described as the cosiest and nicest hotel in its region. It was named by Mercedes-Benz Magazine as one of the most fantastic hotels in the Swedish mountains, and was awarded Sweden's Best Ski Boutique Hotel 2020 at the World Ski Awards, a global initiative that recognises and rewards excellence in ski tourism. The hotel has been nominated for this year's awards too, with winners due to be announced this month.
It all started in 1927, when the doors to Ericssons opened as the very first guest house in Funäsdalen. It was built in a North American style, brought home by one of the Ericsson brothers, who had emigrated to Minnesota where he worked as a builder. Eventually, Ericssons became Eriksgårdens Fjällhotell, now an award-winning ski boutique hotel.
Since 1999, the hotel has been run by Magnus Ruhedorfer, who has heaps of experience from the hospitality industry in both Sweden and Austria. "As this is a small hotel, it becomes more personal and familiar for our guests," he says. "People appreciate the friendly atmosphere and good vibes amongst the staff, and often describe it as like coming home."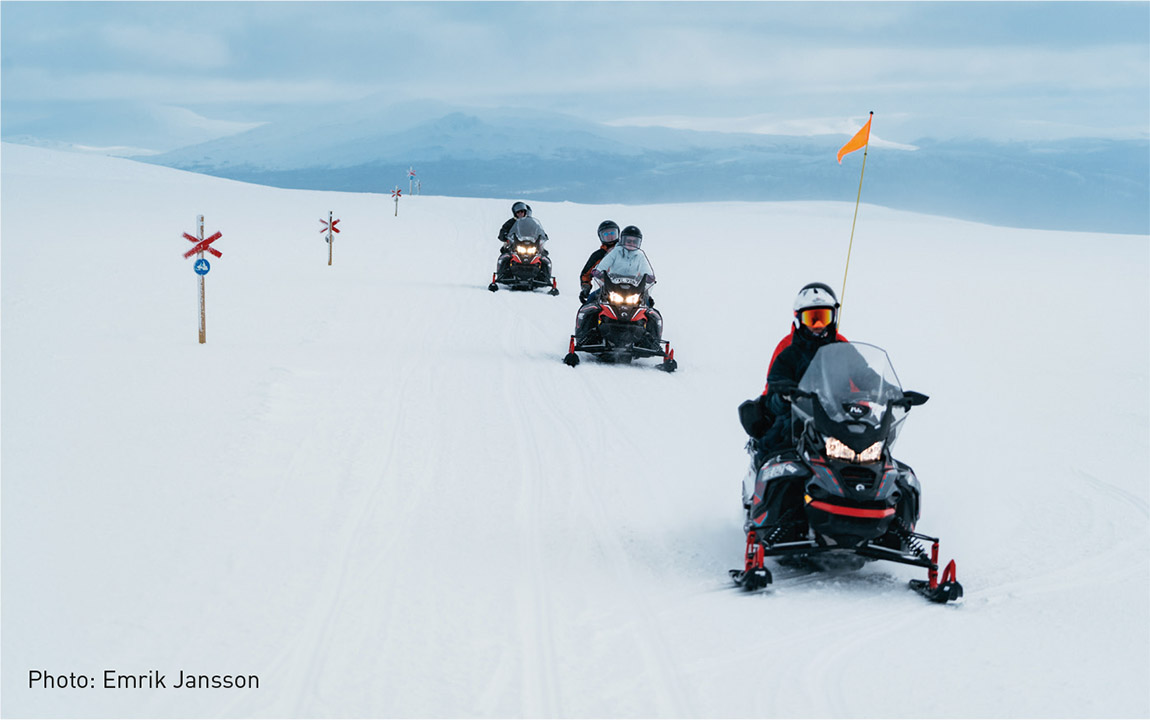 Thriving village with vast outdoor activities
Funäsdalen has developed a lot as a tourist destination since he moved there some 20 years ago, says Ruhedorfer, but argues that it's different from many other ski resorts. "Funäsdalen is a genuine mountain village with around 1,000 inhabitants, who live here all year round. It has all the services you may need and local businesses are collaborating to keep the village alive, but it's still peaceful and quiet," he says.
"And when you take the ski lift and get to the top of the mountain, the vastness is just magnificent," he continues. "In winter, world-class cross-country skiing and snowmobiling awaits, and in summer, mountain biking, hiking and fishing are popular activities."
With the gondola lift just one kilometre away from the hotel, you can easily get to the top of the mountain and its 136 slopes that spread over six main ski areas, and experience 300 kilometres of cross-country skiing tracks and a whopping 610 kilometres of snowmobiling tracks – the largest system in Europe.
Tasty food and a new relaxing spa experience
The hotel's main restaurant offers breakfast and dinner for hotel guests or via pre-bookings, while Eriks Kök & Bar, an à la carte restaurant and cocktail bar with inspiration from Nordic produce, is open seven days a week also for outside visitors. The hotel's lobby bar and lounge, meanwhile, is a cosy and comforting place to enjoy a cup of coffee or a glass of wine by the open fire.
Two years ago, the hotel introduced a fantastic 250-square-metre spa with a swimming pool, a Jacuzzi, and no less than three different types of sauna: traditional, steam and infrared. Guests can also indulge in a relaxing massage and other treatments – or just chill out in the calming environment, perfect for the whole family after a day of outdoor adventures.
Web: www.eriksgarden.se Facebook: EriksgardenFunasfjallen Instagram: @eriksgardens_fjallhotell
Subscribe to Our Newsletter
Receive our monthly newsletter by email