Erséus Arkitekter: Architectural landmarks built for the people
By Nina Bressler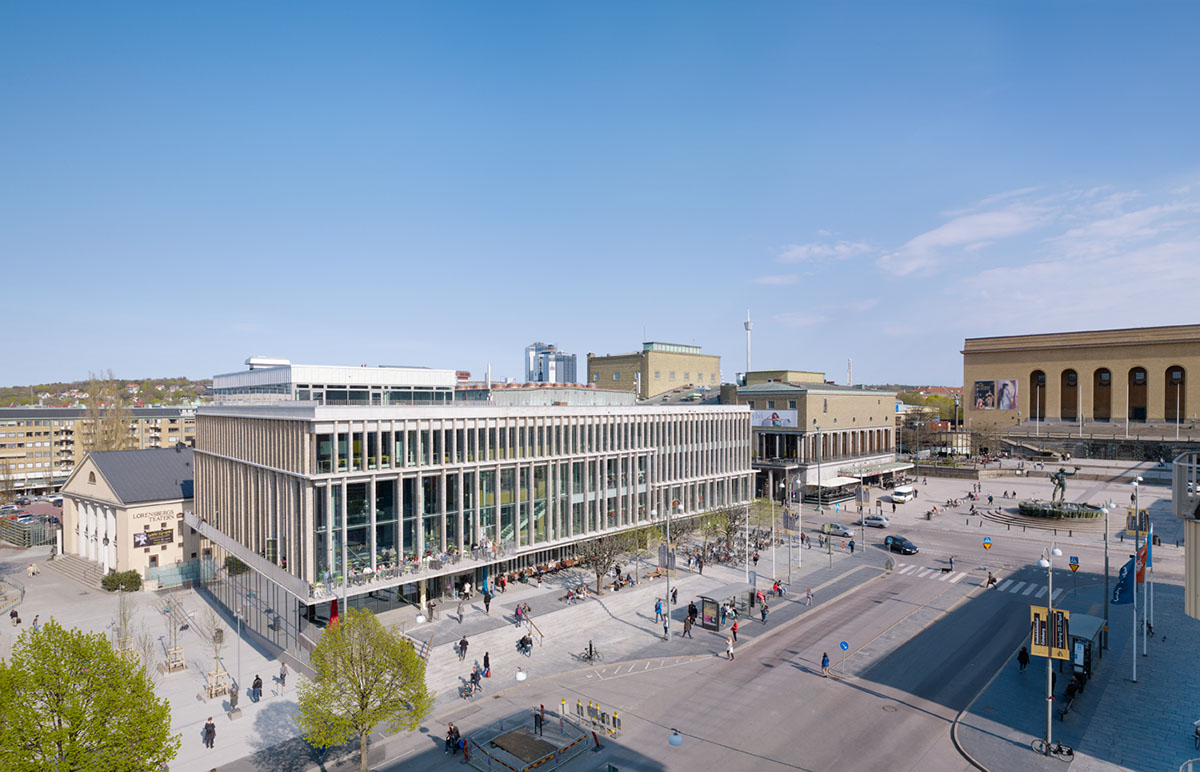 Erséus Architects is the studio that doesn't shy away from a new challenge. Energised by an exciting variation of projects, they have managed to put their distinguishable mark on a number of locations around Sweden, where the human experience always takes centre stage.
The firm has been around since 2002, founded by Peter Erséus with the intention to keep it small and personal. Nearly 20 years later, reality panned out a little different. "I never intended it to expand exponentially, but little by little, our projects have grown in size and the company with it. We're about 35 employees today, with one office in Gothenburg and one in Stockholm. It's a good size that really allows us to explore projects around the country, yet at the same time enables us to keep things personal – support between colleagues and close relationships with our clients are essential," says Erséus.
They put great emphasis on nurturing a dynamic company culture where everyone's voice is heard. Everyone has something to contribute and life-long experience doesn't necessarily mean you have all the answers – there's a firm belief here that the best ideas are sprung from a combination of mindsets where each and every individual adds something unique to the final result.
Architecture made for well-being
"Our starting and end point for every project is the human being that will spend time in the building and its neighbouring area. How do we enhance well-being for the people that will inhabit the space, the individuals moving inside and around the building? Does it contribute to quality of life, does it encourage creativity?" Erséus asks.
"We want to be the voice for the people who will spend their lives within close proximity to the building, and we believe it's our responsibility to bring forth the human experience during the design process," he explains. Sustainable choices are an integrated part of the firm's work, and it works thoroughly to achieve environmental grading on all of its projects.

Buildings designed to astonish
High-profile buildings play a substantial role in the firm's portfolio. Through successful participation in architecture competitions, it has been rewarded with the opportunity to influence the cityscape in more than one place. Clarion Hotel Draken will become a defining part of central Gothenburg, where the 34-storey-high edifice will provide the perfect spot for a rooftop bar, top restaurant and conference spaces – a landmark for Gothenburg, where groundbreaking design will serve to enhance the city centre.
Another long-anticipated project intended to replace a water tower with a residential building in the southern city of Växjö was also entrusted to the firm. Its proposal of a tall, black building with balconies facing every direction is now proudly overlooking the city, where the residents can enjoy breathtaking views stretching miles across its surrounding landscape.
And not only do the firm's projects affect external onlookers, but the architect himself tends to be struck by pinch-me moments too. "We were awarded the project to rebuild and extend the City Library of Gothenburg. It's located right in the heart of the city, next to its most iconic spot, Götaplatsen. To have one of your own projects there is something else. Something that started like a thought inside our own minds is realised for the benefit of other people. I feel very privileged to do what I do – we have the ability to create, shape and improve the life of many," Erséus reflects.
The energy of creating something new
"Our aim is to break new barriers and to create buildings for purposes we haven't done before. We would never say no to a job – the more challenging the project, the more alert we become, bringing more energy to the team and onto the drawing table," says Erséus.
One example of first-time challenges is a crematorium designed for the Swedish Church in Gothenburg. How do you create a dignified space, paying respect to the deceased and their relatives, while also creating a room that fulfils its functional purpose? Its many contrasting functions paved way for something of a creative test, and a square-shaped building with slightly concave walls and windows placed in playful compositions, allowing light to flow through a spacious indoor setting, became the answer. Wood, white and black, in stark contrast to one another, provide a space for contemplation, and its design has been awarded and recognised on numerous occasions.
"Our dream project is simply what we haven't done before. New projects require new ways of thinking, and that is what develops us as architects. An opera house, a football stadium, maybe?" Sounds like yet another landmark may be on the horizon.
Web: www.erseus.se Instagram: @erseusark
Subscribe to Our Newsletter
Receive our monthly newsletter by email