Ester Visual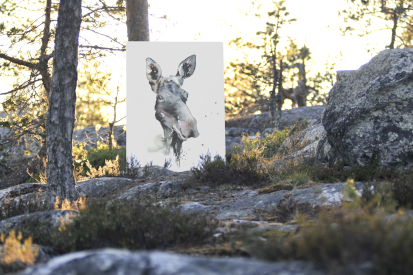 Capturing the fragile beauty of the Arctic Circle
TEXT: SIGNE HANSEN | PHOTOS © ESTER VISUAL
Combining rich visual impressions with clean Nordic lines, the delicate prints by Finnish Elisa Ahonen have an almost mythical charm. The representations of fauna and wildlife are inspired by the nature around the artist's home in the Arctic Circle.
It was the large, fluffy ears of a hare that first inspired 37-year-old Ahonen to start her series of watercolour wildlife paintings. Although Ahonen, a master of arts, never imagined she would become an entrepreneur, she soon after started her print business Ester Visual. "I had never painted animals before, but one day I saw a picture in a magazine; it was a brown hare, and the ears – they were just so intriguing. That moment I knew I had to paint that brown hare and its ears – I knew the ears especially would be amazing in watercolour," says Ahonen.
One of the distinct features of Ahonen's wildlife prints is the charmingly timid and vulnerably naïve states of their subjects. It stems from a conscious decision by the artist to do things differently. "I wanted to paint local animals but somehow wanted to do it differently," explains the artist. "I didn't want to just do the brave and dangerous animals, but the familiar ones too – like the moose, but not the big moose with the great big antler, the female moose without antlers."
The animals' charm quickly caught the eye of Finnish interior designers, and since the first hare, the wildlife series has been expanding continuously. Later, Ahonen added a series of delicate depictions of the fragile, beautiful local flora, and more are to come. Still, all Ester Visual prints are done locally and under close supervision of the artist herself. "I always try to use local businesses. It's more sustainable that way, and it's the easiest for me as I have to go to the printer to check the quality and redo it many times before I'm satisfied," Ahonen explains.
The prints from Ester Visual are sold by about 20 retailers in Finland, Sweden and Italy as well as online. In addition to paper prints, they are available on trays, tea towels, coasters and large, easy-to-hang metal prints.

Web: estervisual.com
Instagram: @estervisual
Subscribe to Our Newsletter
Receive our monthly newsletter by email