Fashion Diary – July 2019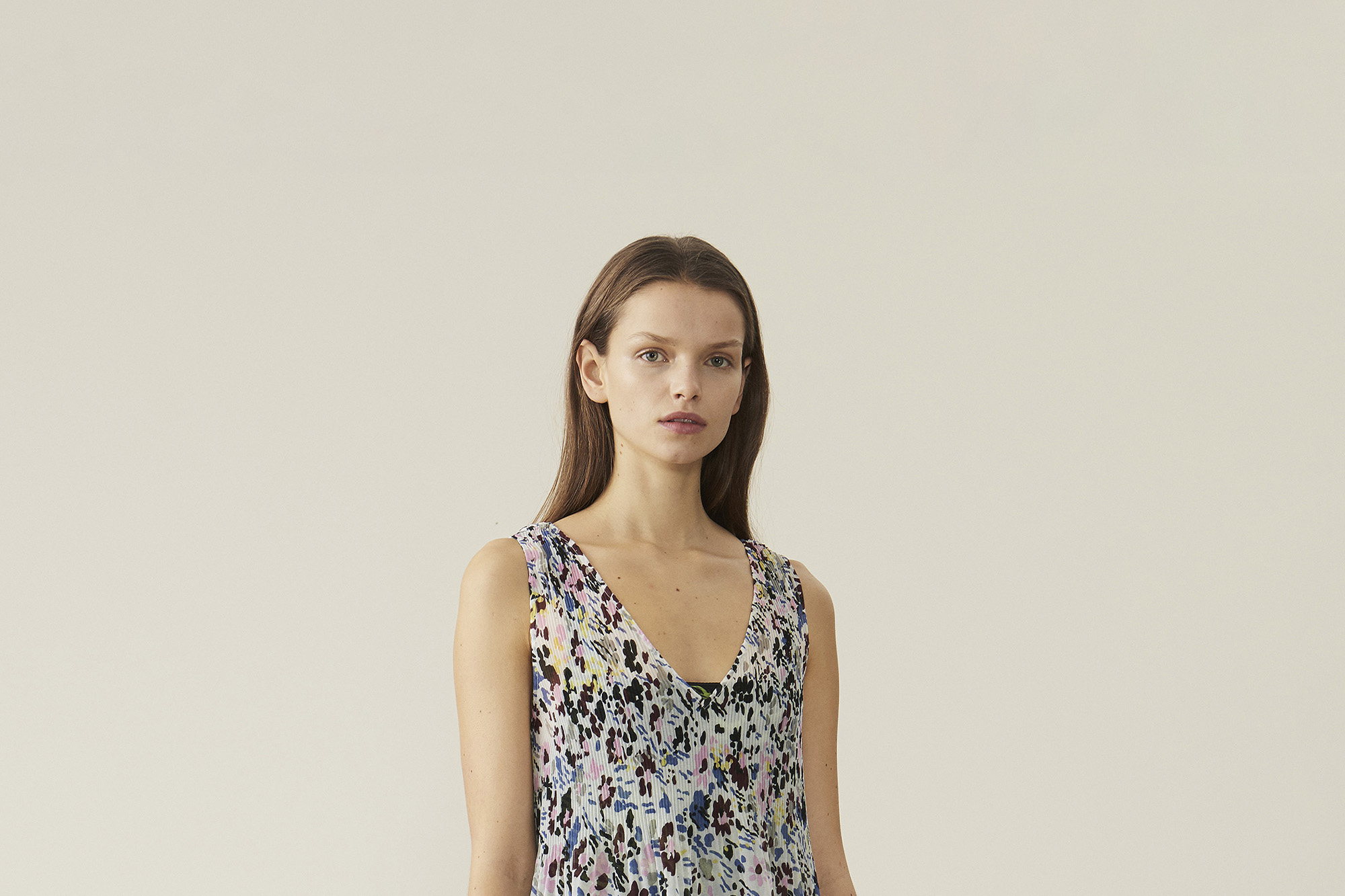 This year, mixed patterns are a big trend. We dare you to not be afraid to mix it up, and be bold with print clashing. By combining feminine patterns and stripes with bold colours, you get a casual chic look with a dash of fun. This summer, more is more!

Left to right: Blazer from Sand Copenhagen | T-shirt from Nudie Jeans Co
If you are scared to add too many patterns and want to tone it down a bit, this modern-fit blazer from Sand Copenhagen is a great choice. It comes in a delicate pinstripe pattern that is easy to mix with other patterns, and has a cut that sharpens the silhouette. Made of pure linen, it adds a luxurious feel.
Sand Copenhagen, 'White Star DB' blazer, £445
Tie dye has made a serious comeback this year, and is an easy pattern to play around with. The tie dye effect on this tee from Nudie Jeans Co is designed to look like a clouded summer sky. When wearing it, you will bring a little rain with you wherever you go.
Nudie Jeans Co, 'Roy Meanwhile Tie Dye' T-shirt, £65

Left to right: Scrunchie from Ganni | Swimsuit from Becksöndergaard
With the current nostalgic trend in the fashion world, the scrunchies are back! We think this decorative yellow silk scrunchie is a great way to add a touch of print to your outfit. Wear it around your wrist or in your hair.
Ganni, silk mix scrunchie, approx. £14
We adore this cute swimsuit from Becksöndergaard, a Danish brand creating accessories for women who love unexpected, playful and colourful design. The frill details, striped print and pastels will make you look great on the beach this summer. Why not put a skirt over it and use it as a top too?
Becksöndergaard, 'Stria Teo' swimsuit, £75

Left to right: Socks from Happy Socks | Sandals from Custommade
Happy Socks creates high-quality socks that combine unique designs and craftsmanship, spreading happiness by turning an everyday essential into a colourful design piece. With their Swedish edition box, you get three pairs of Swedish-themed socks featuring the Dala Horse, the traditional kurbits pattern, and a multi-coloured elk – the perfect gift for any lovers of Swedish culture.
Happy Socks, 'Swedish Edition' gift box, £29.95
The more patterns, the better. Mix these high-heel sandals with another floral pattern, stripes, or even graphic prints, for a daring look. The sandal comes with a printed band to wrap around the ankle and a small strap underneath to make sure the sandal sits nicely on the ankle. The printed band is removable.
Custommade, 'Marita' print sandals, £200

Left to right: Outfit from Ganni | Outfit from minimum
Soft florals are a big part of the current trend, and perfect for a timelessly feminine look this summer. This pleated 'Georgette' dress from Ganni is perfect for casual summer days and can easily be thrown over your swimsuit for trips to the beach. Add this bright yellow leather drawstring bag with tortoise shell acetate detail, and you will shine like the sun.
Ganni, pleated 'Georgette' dress, approx. £120
Ganni, leather drawstring bag, approx. £440
The oxholm shirt and frilund shorts combo, both from minimum, is perfect for a cool, relaxed summer look with a twist. Achieve a matching outfit, as seen here, or mix the top or bottom with a different pattern or coloured item for a unique and eye-catching style.
minimum, 'oxholm' shirt, £80
minimum, 'frilund' shorts, £80
TEXT: INGRID OPSTAD
Subscribe to Our Newsletter
Receive our monthly newsletter by email