Fashion Diary – November 2021
By Åsa H. Aaberge | Press photos
Dropping temperatures make for great style opportunities. This season's chicest option is layering with love. Think wool, cashmere, sustainable materials and durable outerwear that take you through changeable and colder weather with style. Opt for a timeless, earthy palette that is seasonless and pairs well with items already in your wardrobe.
WOMAN
1. (Soft Goat Cashmere, Chunky Scarf beige)
A warm, soft scarf that feels like a hug is essential to stay cosy in the cold. This chunky scarf from Swedish brand Soft Goat even doubles up as a blanket. The light beige tone harmonises well with any colour, making the scarf the ultimate wardrobe staple. Wrap it around your shoulders, pair it with a cashmere jumper and loose wool pants, and you are ready to embrace the cold.
Soft Goat, chunky scarf, €235
Soft Goat, ribbed, o-neck, €245
2. (Acne Studios, Lug Sole ankle boots)
The best thing about a chunky pair of leather boots, apart from them being comfortable, functional and perfectly on-trend, is that they do the job when the ground gets wet, slippery and cold. Wear these Acne Studios boots for Sunday walks, on your way to work and everywhere you go in between.
Acne Studios, Lug Sole ankle boots, €590
3. (Crystal Haze Jewellery, Afrodita hoops)
The ideal way to elevate any look is to add some sparkle. Even if you are all snuggled up in comfortable clothing, you deserve to shine brightly. These Afrodita gold-plated hoops from Norwegian brand Crystal Haze add the perfect finishing touch.
Crystal Haze, Afrodita hoops, €142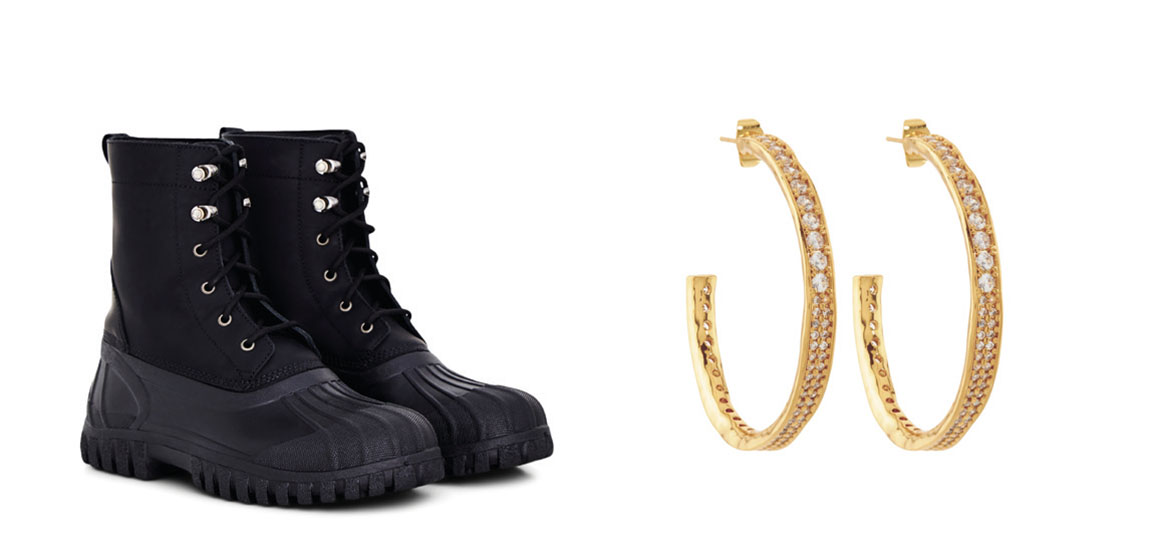 4. (Cos, Belted wrap coat)
An oversized, lightweight coat in wool can easily be used across seasons and shifting temperatures. This loose and light wrap coat from COS is ideal for layering thicker garments underneath during the colder months of the year. The belt adds an elegant element to the relaxed silhouette.
Cos, belted wrap coat, €225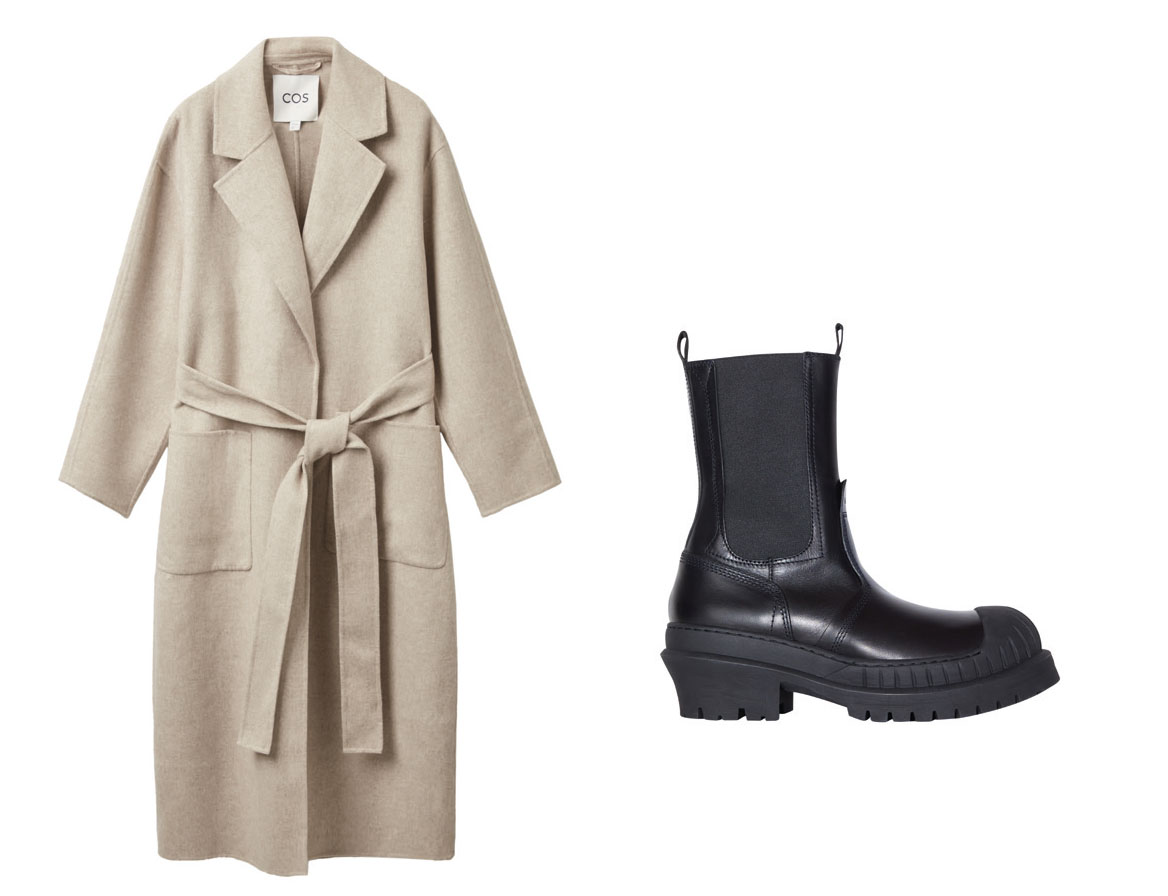 5. (ByMaleneBirger, Vestling Wool Blend skirt)
Trousers might be great, but a skirt can level up your style in the cold. This cream-coloured skirt from Danish brand by Malene Birger is elegant and made in a mix of recycled wool. Put on thick tights underneath and pair with chunky boots, a cosy jumper and some jewellery for a delightful fusion of chic and comfort.
ByMaleneBirger, Vestling wool blend skirt, €195
MAN
6. (Norwegian Rain, Moscow Homme)
Lightweight, tailored and warm – the Moscow coat from Norwegian Rain is fit for both biting cold and rain, made with materials such as Norwegian wool and a waterproof outer shell. On sunny days, zip off the hood, and on freezing days, pull up the wool-lined collar. A classic, for now and for years to come.
Norwegian Rain, The Moscow coat, €1,100
7. (Soft Goat Cashmere, Men's shirt Walnut)
A cardigan in cashmere helps you stay warm both at home and at work. Pair with a thinner turtleneck underneath when the temperatures drop, or leave it open combined with just a plain T-shirt and joggers at home.
Soft Goat Cashmere, men's shirt walnut, €245
8. (Rains x Diemme, Antra boot)
For the woods, for the rain, the city and beyond, these boots from the recent collaboration between Diemme and Danish brand Rains are classic and durable. The slimmed-down ankle and leather lining offer an elegant contrast to the waterproof rubber sole.
Rains x Diemme, Antra boot, €315
9. (Holzweiler, Lupa wool trousers)
A pair of pleated trousers feels sophisticated and can complement knitwear nicely during autumn and winter. These Lupa trousers from Holzweiler offer comfort and style, with a timeless fit and delicate wool texture.
Holzweiler, Lupa wool trousers, €250
10. (Arket, woven cashmere scarf)
A cashmere scarf adds a touch of sartorial elegance to any look.
Arket, woven cashmere scarf, €69
Subscribe to Our Newsletter
Receive our monthly newsletter by email