Fashion Diary – September 2019
As the last moments of summer turn into cooler days and with autumn upon us, this is the perfect time for a little wardrobe overhaul. We look at ways to bring some of this year's biggest fashion trends with new into the new season, with the help of some great Scandinavian fashion brands.
TEXT: INGRID OPSTAD

Left to right: Shirt from Han Kjøbenhavn | Dress from Stine Goya
Checked shirts are back in fashion, and this classic, long-sleeve checked version from Han Kjøbenhavn will make you look effortlessly stylish. You can pair your checked shirt with casual denim jeans or a smart dress trouser, depending on the occasion. Either way, you will be right on trend.
Han Kjøbenhavn, Army shirt, approx. £217
What's not to love about the floral trend we have seen throughout 2019? This cute babydoll dress from Stine Goya is both floral and puffy, which, to us, is a great combo. Its silhouettes, print and colours reflect the 1950s, '60s and '70s, reminding us that retro style is still cool. Just add thick, dark tights and you are autumn ready.
Stine Goya, 'Jasmine' dress, £294

Left to right: Scarf from Acne Studios | Slippers from Hope Stockholm
This summer, neon green was popping up everywhere, and it is shaping up to be the must-try trend of the year. Brighten up your wardrobe with accessories like this cosy and soft three-tone scarf with fringed ends, from Acne Studios.
Acne Studios, 'Kelow' dye scarf, £210
Snakeskin print is all the rage this year, and since next season's footwear focus is all about the pointed toe, we think this pair from Hope Stockholm is perfect. It is handy too: the heel on the Medina slipper is reversible and can be folded up to be worn as a full-heel shoe, or down to be worn as a slip-on.
Hope Stockholm, 'Medina' slipper, approx. £274

Left to right: Wristwatch from About Vintage | Necklace from Edblad
2019 has been a year of looking back and finding retro touches from the past. This 1969 Vintage unisex wristwatch from Danish brand About Vintage by Skov Andersen, ticks all the right boxes and comes with different strap options.
About Vintage by Skov Andersen, '1969 Vintage' wristwatch, approx. £225
This year, we have seen the return of the chunky gold-chain necklaces. Make a statement with this Bond necklace from Swedish design company Edblad. Embrace a bit of maximalism and layer them up while mixing and matching different chains to get the perfect look to go with your outfit.
Edblad, 'Bond' necklace, £74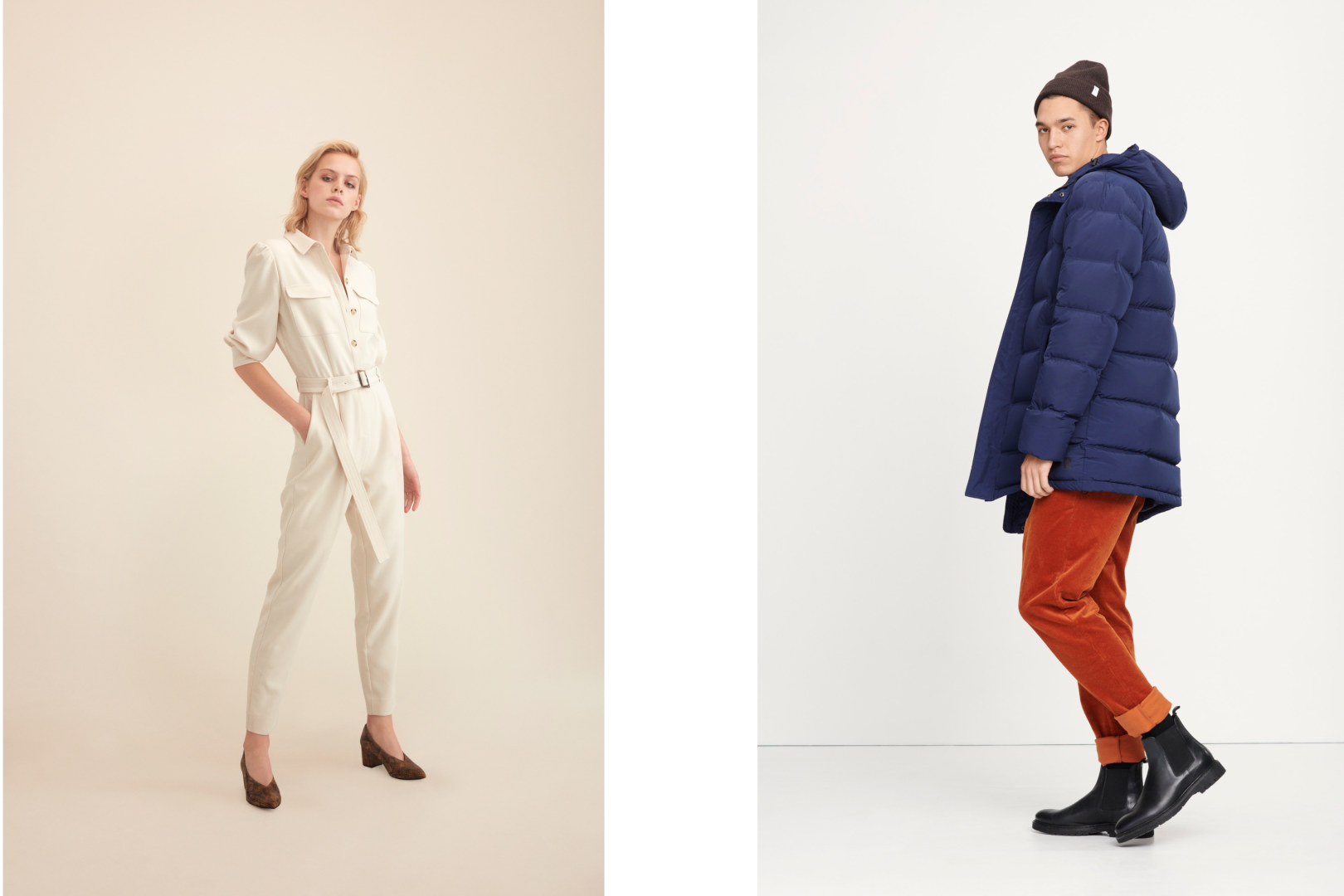 Left to right: Jumpsuit from Gestuz | Outfit from Samsøe & Samsøe
Boiler suits and jumpsuits have been popping up everywhere this year, and this is probably the easiest outfit idea to bring with you into autumn. Go for this form-fitted and belted number from Gestuz and catch two trends in one – because beige is still a big hit!
Gestuz, 'Ettagz' jumpsuit, approx. £218
Functional, comfortable and easy, the puffer jacket is here to keep you warm and look fashionable this season. This blue number from Samsøe & Samsøe is a great option, and we suggest teaming it up with coloured corduroy trousers – a textile we will see a lot of in the fashion world in the coming months.
Samsøe & Samsøe, puffer jacket, £330
Samsøe & Samsøe, trousers, £110
Subscribe to Our Newsletter
Receive our monthly newsletter by email