Fjällbäcken Lodge: An old-fashioned welcome in an idyllic mountain retreat
Text: Liz Longden | Photos: Mårten Wikner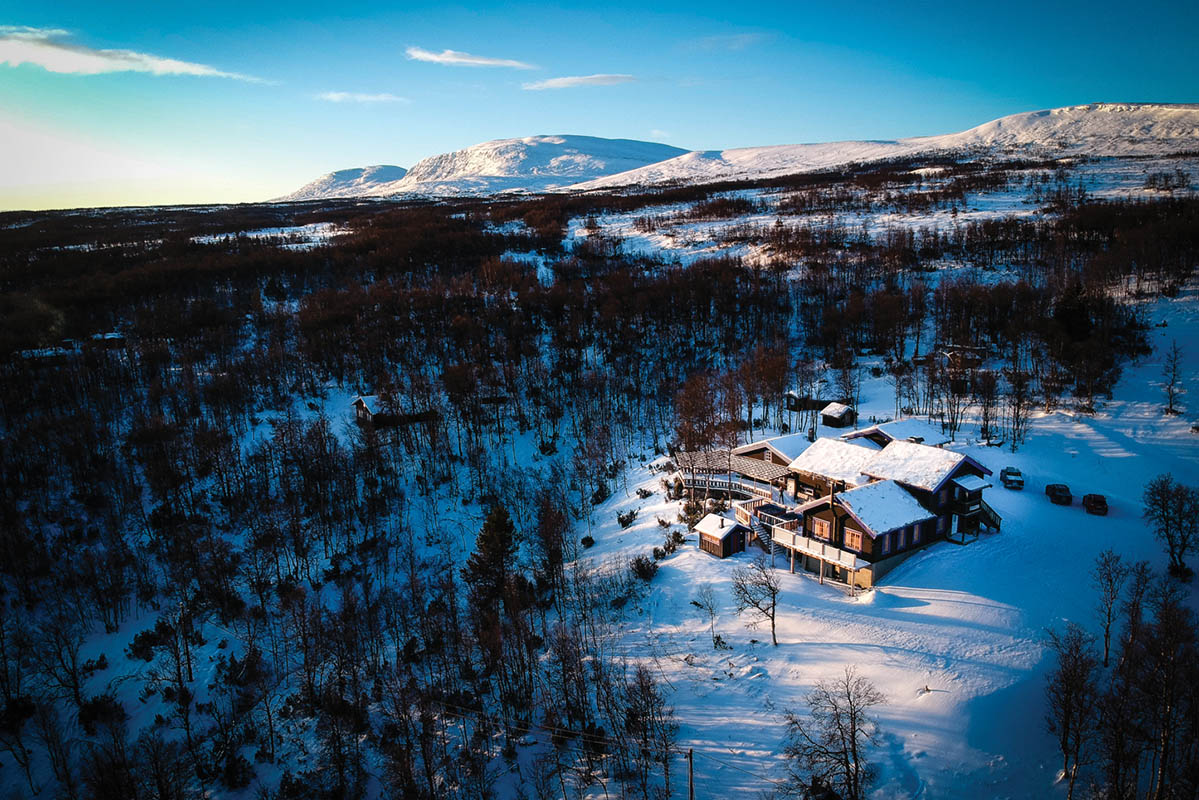 I t isn't often that attending a conference can be described as a heavenly experience, but Fjällbäcken Lodge is not a typical hotel and conference centre. Nestled in the spectacular, wild landscape of the Funäsfjällen mountain region, the lodge offers an intoxicating blend of top-class food and hospitality in a soul-warming traditional ambiance.
The land on which Fjällbäcken Lodge is built has been in Jon Wagenius's family for generations, with the oldest of the buildings dating back to the 1800s. Original timbers and roaring fires, combined with the secluded setting, help to create a uniquely intimate and relaxing atmosphere. And, with only one group taken on at a time, Jon and his wife Mia, who own and run the hotel together, take pride in giving guests their undivided attention. "Our team is very small, so we're very close to our guests," Jon explains. "We accompany them on any activities, and then we cook for them in the evening, so there's a very homely feel – a little like staying with a friend."

This ethos of traditional hospitality is mirrored in the hotel's food. Served in a rustic dining room, which offers breathtaking views of the neighbouring mountains, the food's emphasis is on authenticity and quality. "We serve proper food. There's no hocus pocus or gimmicks. Instead, it's about high-quality, local ingredients," Jon says. And when he says local, he isn't exaggerating. Jon and Mia often catch their own game and fish and forage for mushrooms and berries themselves, or buy in produce from their neighbours. And it's perhaps just as well that the fare served up is hearty, because the local area offers an exhaustive range of outdoor activities, from helicopter skiing, snow scooter safaris and climbing up frozen waterfalls in the winter, to mountain biking, canoeing and pony trekking in the summer.
The lodge makes a fantastic venue for any private getaway, but its cosy and exclusive ambiance has proved especially popular with companies looking to take the team-building exercise to another level. Official plaudits have been delivered by the Swedish business magazine Affärsvärlden, which listed a trip to Fjällbäcken Lodge first in its list of "heavenly experience", must-visit Swedish mountain destinations, but the accolade has been regularly echoed in feedback from the lodge's regular guests — the TripAdvisor website has graded the hotel with a five out of five rating in every category. Or, as Jon somewhat modestly puts it: "We find that when people come here once, they tend to come back again."
Web: fjallbacken.se
Subscribe to Our Newsletter
Receive our monthly newsletter by email