Gabestad Økogård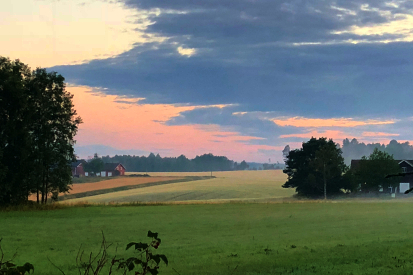 A relaxing holiday in the countryside
TEXT: ÅSA H. AABERGE | PHOTOS © ANNIKKA WILAND STENDEBAKKEN
Ever felt the need to just disconnect and recharge in a peaceful environment? Well you are encouraged to do precisely that at Gabestad Økogård, where guests are routinely welcomed to a slow-paced holiday in the calm Norwegian countryside, surrounded by lush nature and farm life. Enjoy days filled with long walks in the woods, art and organic food.
"We want to share this amazing place with others, and let people into our farm to enjoy the calm atmosphere," says Annikka Wiland Stendebakken, who runs the farm with her family.
The farmhouse can host up to seven people for overnight stays and a quiet atmosphere is always on offer. Horses, dogs, hens, geese, and ducks live at the farm, and any visiting children are welcome to enjoy horseback riding. The farm is completely organic and the hosts serve home-baked bread and fresh, organic eggs from the farm's hens.
Gabestad farm even features a small art gallery, where various visual art is exhibited, amongst it, Stendebakken's own artwork. Painting courses are arranged at the farm too, at which the host teaches landscape painting. "What could possibly be better than painting in amongst all of the scenery we have here at the farm?" questions Stendebakken.
There is no television or other distractions here, just the breath-taking nature which surrounds guests everywhere they look. An opportunity to enjoy relaxing farm life, mixed with a dose of culture and interesting history, would best describe a stay at Gabestad. The farm prides itself on being at one with nature and the surrounding lakes, fields and woods, however, it is located merely an hour's drive from Norway's vibrant capital, Oslo.
Web: langsomferie.no
Subscribe to Our Newsletter
Receive our monthly newsletter by email