Garnhimmelen: Happiness is… knitting!
By Eva-Kristin U. Pedersen | Photos: Garnhimmelen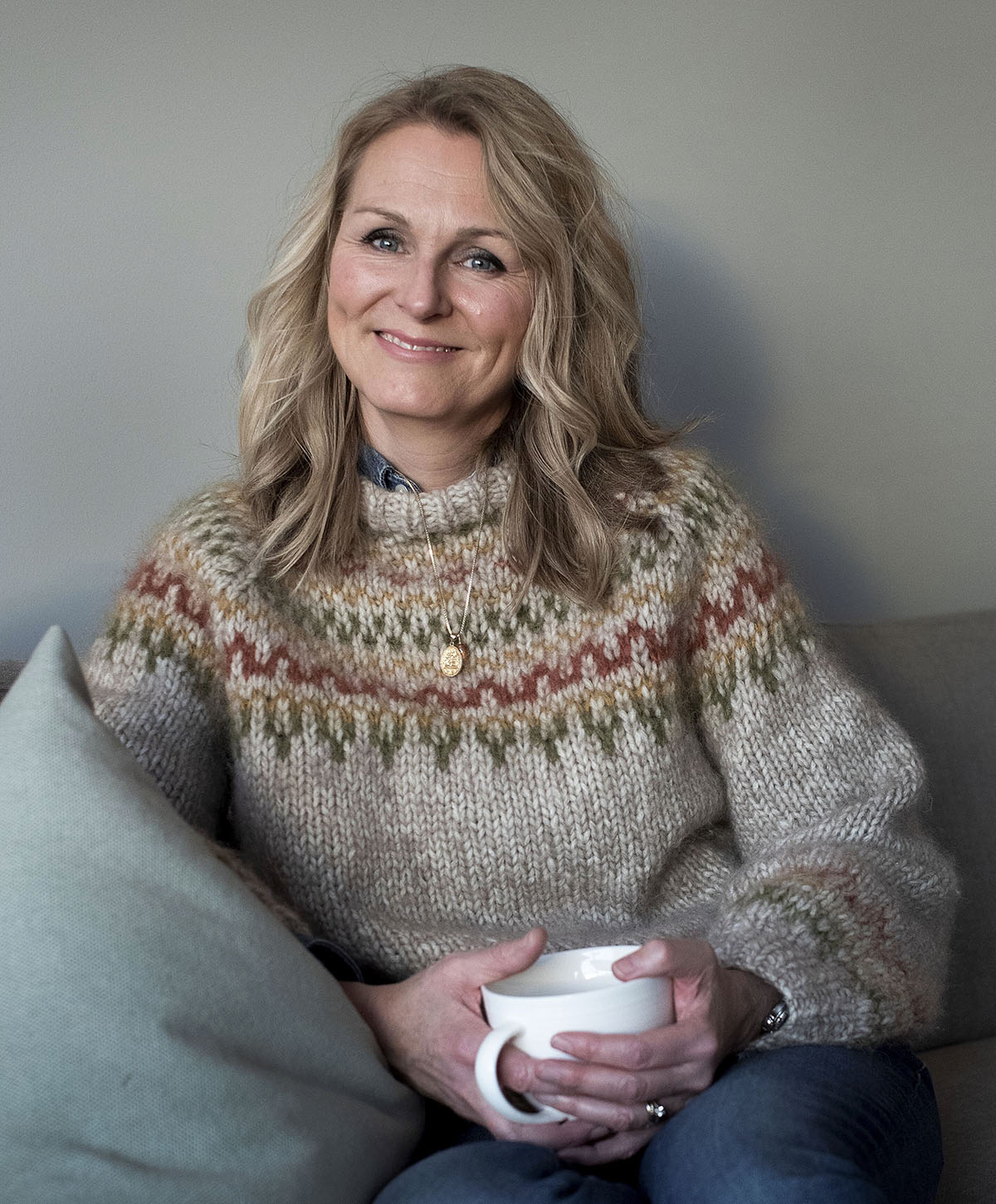 Siv Kristin Olsen has made a business of her hobby and now sells her knitting patterns across Norway and beyond.
"When I first posted a picture of one of my sweaters on Instagram, I didn't want anyone to know it was me," Olsen reveals.
Her friends quickly discovered the identity behind the secret knitter, however, and @knit_by_siv was born. Working primarily with other people's patterns, Olsen often found herself modifying the models to get exactly the shape she was after. Then one day, she sat down to make her own knitting pattern.
A sweater to honour a community
"The breakthrough was a sweater I designed in honour of the small community where we had a cabin – Skånevik. I posted a picture of it on Instagram in 2019 and the feedback was overwhelming. A lot of people asked if I sold yarn for the sweater. That's how it all started", Olsen explains.
She started acquiring yarn for redistribution and quickly filled not only the basement but every available space in her house. What started as an Instagram post, was growing into a business.
"This is my full-time occupation now. I have really nice storage and even a couple of assistants," says Olsen, who originally trained as an optician. While she's added more designs since, the Skånevik Sweater remains a bestseller, alongside the autumnal Min Høstgenser.
Inspired by colour
"I'm inspired by colour," says Olsen. "I love earth colours but I'm experimenting with other tones as well," she says, adding that while she's keen on the vintage-look, it's important that the design is timeless.
"When you spend so much time on making something, you don't want it to go out of fashion quickly," Olsen emphasises. She explains that her knitting patterns are suitable for everyone and that many use her Min Høstgenser as their very first knitting project. "That makes me really happy," she says. "I want my sweaters to be possible to complete even for beginners."
With love from…
Olsen hasn't yet found the time to sell ready-made sweaters, though she says she would like to. So far she has prioritised her online shop – something she puts a lot of energy and love into.
"I pack everything in silk paper and write a personalised message to all customers," says Olsen. "I want them to be happy when they receive the package." As happy, one would suppose, as those that get to wear the handmade sweater, conceived and created with love and care.
Web: www.garnhimmelen.no Instagram: @knit_by_siv Facebook: garnhimmelen.no
Subscribe to Our Newsletter
Receive our monthly newsletter by email