Garo AB: Powering a sustainable future: "Innovation is in our DNA"
By Nina Bressler | Photos: Garo
Swedish company Garo AB has expressed a spirit of innovation from day one. As one of the leaders in the market of charging solutions for electrical cars along with other vital electrical components, they know how to make an impact through smart solutions and when to venture into new territories, where others may hold back.
Talking to CEO Patrik Andersson, the depth of entrepreneurship that runs through the veins of the company is clear: "The company was founded in Gnosjö in 1939 and the head office is still based here, even if we've expanded across the borders into the UK, Ireland, Finland, Norway and Poland. This area is famous for its entrepreneurial spirit – the Gnosjö spirit – and many companies have been born around here," he says.
"There is a fantastic atmosphere of companionship between individuals and businesses, and the way people help each other out really drives innovation forward to a degree that is quite impressive – despite it being a relatively small town. The fact that Garo always has been alert to new trends and willing to evolve has really helped the company maintain its leading position on the market."
Electrics and E-mobility
Their products are divided into two categories: electrics and E-mobility. Being one of the first companies to truly see the value of chargers for electric cars and its future impact on transportation, they delivered their first charging stations back in 2008 and quickly became a leading supplier on the market.
Today, they've adapted their charging stations to suit everything from private homes and apartment blocks, to office spaces and public spaces, such as highway charging. Different models provide various levels of charging speed, and the company offers products and solutions that can be adjusted to match different capacities – depending on the demands of the client.
Garo also supplies smart solutions for private homes, maritime activities and camping sites. Meter boards and cabinets, safety components, surge protectors and car heaters are helpful – often vital – additions for homes. Meanwhile, their Koster posts provide life and lighting to harbours, by powering four boats simultaneously and bringing light and drinking water to water-bound areas.
"We do everything in-house; product design, electrical development, security solutions, software development, service and support. Thanks to everything being made by us, we can maintain a flexibility rarely found elsewhere, develop new ideas and make rapid changes in response to new demands on the market," says Andersson.
Their unique blend of skill-sets, ranging from electrics to modern programming, helps to bring the product offering to another level. Andersson continues: "We deliver peace of mind to our customers when they know that we don't just deliver products, but also apply all the standard electrical security measures that are required, too. We retain our employees for a long time, which is another invaluable asset to us: we can retain our knowledge in the best possible way, use their wealth of experience and improve our solutions for the future."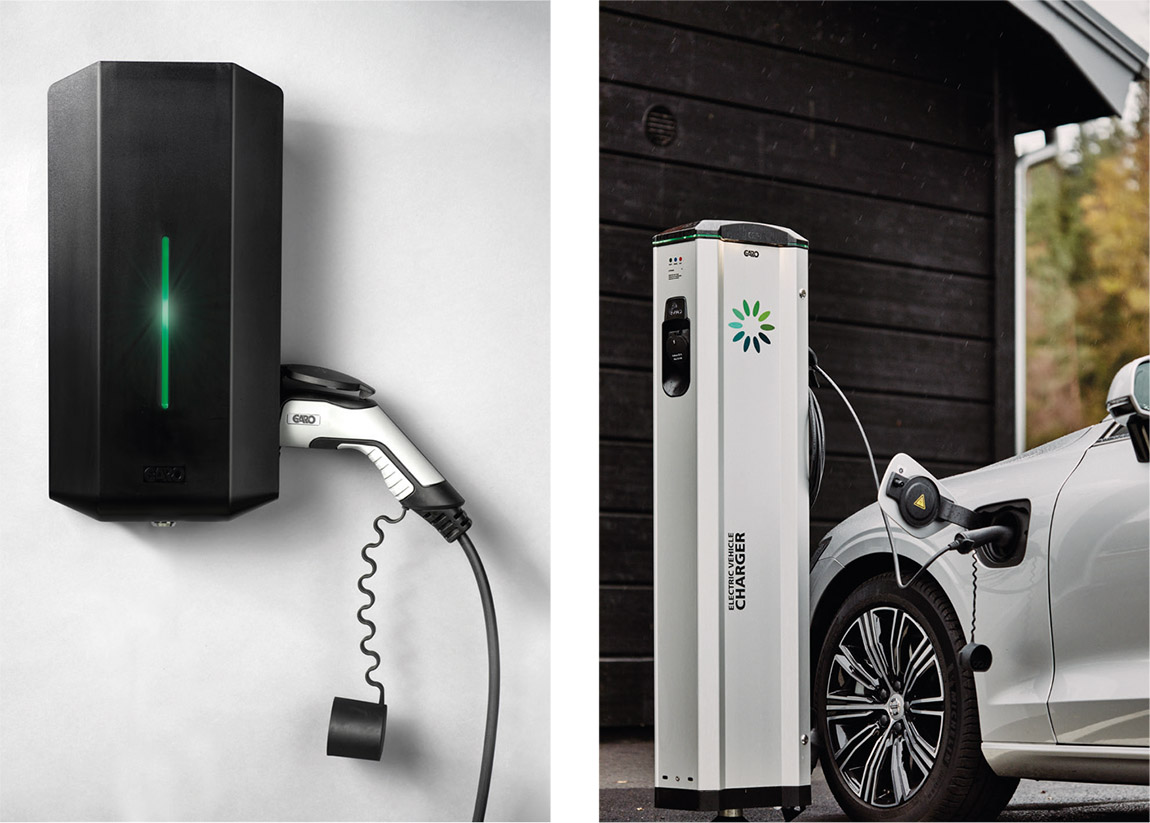 Sustainability is the future
Sustainable methods are as ingrained into the company as their innovative mindset. Sustainability means more to them than simply using environmentally-friendly products to reduce emissions, but applies to the entire production cycle.
They constantly question: how can we make the product last longer by using smarter solutions and appliances? What components can we change in existing products that are better for the environment? How can we change the packaging to make it smarter, and reduce space to make transportation easier? Garo's products are largely locally-made, with two production sites in Gnosjö, one 30 kilometres away in Värnamo, and another in Poland. The proximity to production helps to reduce waste, and adds another layer of flexibility.
Their charging stations are helping society through the paradigm shift from fossil fuels into a greener future. With electric cars becoming the norm, there is no doubt that the company will continue to pave the way with more products that will help the world become more sustainable. Smarter homes that save on energy consumption provide an avenue for this. "Garo is well-known for quality, which is one of the reasons for our longevity on the market. A sustainable mindset is part of how we achieve it. We're creating products made to last and perform better. It's not a mere gimmick to adapt to current demands, but it's been part of who we are ever since the beginning. Simply put, it's part of our DNA," concludes Andersson.
Web: www.garo.se
Subscribe to Our Newsletter
Receive our monthly newsletter by email