Gjestehuset 102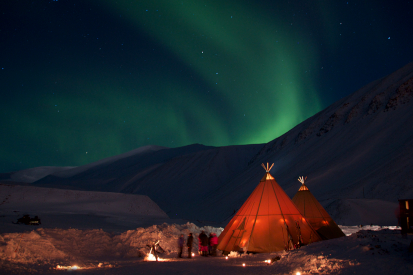 Your starting point for amazing adventures
TEXT: INGRID OPSTAD | PHOTOS © MARCELA CARDENAS
Visit the northernmost budget-friendly accommodation in Svalbard to experience lodging with character, casual atmosphere, history and soul. Considered as a cultural heritage site, this home away from home hosts people from all over the world, and serves as the perfect start for your arctic adventures.
Located at the top of the Longyear Valley in Nybyen, two kilometers away from the city centre, Gjestehuset 102 is a great spot to relax in. "We offer lodging with character, history and soul. The standard here is simple but pleasant, and we pride ourselves on being the northernmost budget-friendly accommodation," says booking manager Olena Hindseth.
From 1946 until 2001, the guesthouse was the home of the local miners, but in 1999, it was bought up by Arne Kristoffersen and made into accommodation for tourists. With 61 beds spread over two floors, the charming and cosy guesthouse conveys an informal and friendly atmosphere. If you are lucky, you can see polar foxes and reindeer walking by your bedroom window, a truly special sight.
The staff will gladly share their knowledge of Svalbard and its history, and the aim is to be your home away from home. Here, you will easily get to know other residents of different backgrounds and nationalities while exchanging experiences and tips. "We have a kitchen and social areas for our guests to use as they please, whether that is cooking a meal or chatting with each other over a coffee," Hindseth explains.
Gjestehuset 102 is a great start for your arctic adventures. In collaboration with Svalbard Wildlife Expeditions, the guesthouse has a new winter campaign this season, offering up a three-day trip. "We want to help our guests to get outdoors in the beautiful nature. Our philosophy is that people should use their body as a machine, and we place a high focus on providing environmentally friendly activities such as snowshoeing, hiking and skiing in the winter," says Hindseth.
Since the guesthouse is surrounded by two glaciers, steep mountains, coal mines, fjords and magnificent wildlife, you can experience a bit of everything when you visit. "During the darker season, you will see the beautiful starry skies, the moonlight and the impressive pink light during the polar nights. Catch the Northern Lights dance across the sky, a beautiful and unforgettable phenomenon visible both day and night here," Hindseth concludes.
Svalbardpanorama: A hiking trip to Platåfjellet, with a great view of Longyearbyen.
Frozen: Explore a frozen world in the ice cave.
Dark Season Campaign available from 1 October, 2018.
Subscribe to Our Newsletter
Receive our monthly newsletter by email